Assamese communty in Pune oppose CAB for legalising illegal Bangladeshi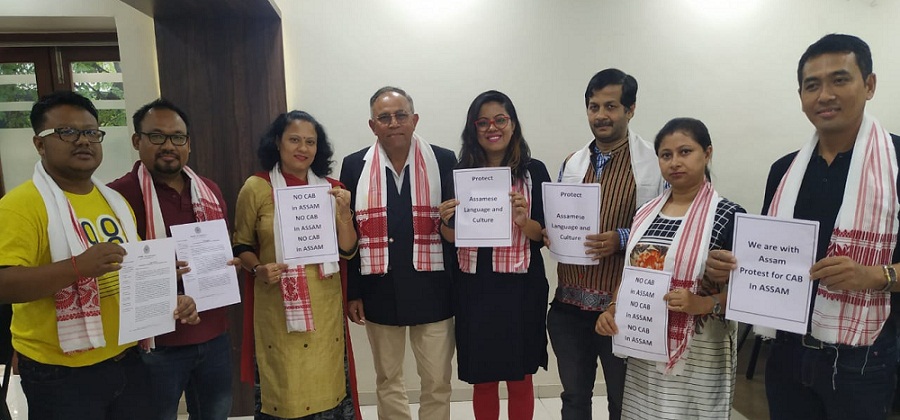 Pune, December 14, 2019: ASOMI – the Assamese Diaspora in Pune is deeply concerned with the passing of the Citizenship Amendment Bill (CAB) 2019, which became a law on 12th December 2019. While the law is applicable throughout the country, it's reception and apprehension in Assam is very different from the other states in the country.
Dr. Samiron Phukan, president of ASOMI, while addressing press conference today at Patrakar Bhavan, said, "CAB has been exempted from most part of the North East and is applicable only in the area which is not included in the 6th schedule and does not have Inner Line Permit (ILP). The general apprehension amongst the state population is that this legislation (CAB) will legalize Bangla-speaking Hindu Bengalis whose rising numbers will threaten the local language and culture. In fact, the number of Bengali speakers have been growing steadily in the state while the population of Assamese speakers is shrinking. Many indigenous Assamese people have also lost land, resources and even Vaishnavite monasteries-known as Satras to encroachment by illegal immigrants. Legal protection for their land, language, culture and political rights has been a long-standing demand of the Assamese people in the face of continuous infiltration from Bangladesh."
Col Tarun C Borah (Retd) added, "This law leads to a confusion w.r.t the Assam Accord signed to detect and deport illegal infiltrators. The Clause 6 of the Assam Accord also aims to protect, preserve, and promote the cultural, social, linguistic identity and heritage of the Assamese people. With the implementation of CAB and the inflow of migrants to the state, the demography, culture, and the language of the state are under a serious threat! These confusions have led to the recent protests in Assam, which have by now spread to the various parts of the country as well as outside India. The protest has turned violent in last 2 days in Assam."
ASOMI vice president Mousumi Bora, finance secretary Nripen Gogoi, cultural secretary Devika Borthakur, joint cultural secretary Bishmita Dutta were also present on the occassion.
In this context ASOMI has demanded the following:
1) The Central Government should immediately pronounce measures to conserve the linguistic and cultural identity of the people which could be threatened by this supposed demographic change.
2) Immediate implementation of the Clause 6 of Assam Accord which give legal and administrative protection of the indigenous people of Assam.
3) The extra population that has migrated to the state should be distributed proportionally to all the states, so that Assam does not have to bear the burden and risk a shift in the indigenous demography.
4) Bring back immediate normalcy to the region and punish the opportunist group(s) which made turned the protest a violent one.