#BalakotAirStrike : Vir Chakra for Abhinandan, other fighter pilots also awarded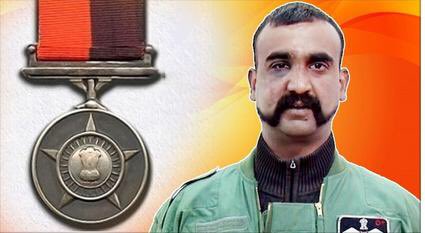 New Delhi, August 14, 2019 : On the eve of Independence Day, the Government of India has awarded Vir Chakra to Wing Commander Abhinandan Varthaman, who had struck Pakistan's F16 with his Mig aircraft. Later he was held captive for 60 hours in Pakistan after his aircraft was shot down in an aerial dogfight, a day after Balakot air strike deep inside Pakistan.
Besides that 5 Yudh Seva Medals & 7 Vayu Sena Medals (Gallantry) awarded, and most of them had taken part in the air strike.
YSMs
Air Cmde SK Vidhate
Gp Capt YS Negi
Gp Capt Hemant Kumar
Gp Capt Hansel Sequeira
Sqn Ldr Minty Aggarwal
VM(G)
Gp Capt S Tamaskar
Gp Capt Pranav Raj
Wg Cdr Amit Ranjan
Sqn Ldr R Basoya
Sqn Ldr PA Bhujade
Sqn Ldr BKN Reddy
Sqn Ldr Shashank Singh
Capture
On 27 February 2019, Varthaman was flying a MiG-21 as a part of a sortie that was scrambled to intercept an intrusion by Pakistan aircraft into Jammu and Kashmir. In the dogfight that ensued, he crossed into Pakistan territory where he was struck by a missile. Varthaman ejected and descended safely in the village of Horran in Pakistan administered Kashmir, approximately 7 km from the Line of Control.
It was claimed by local villagers that Varthaman could be identified as an Indian pilot by the Indian flag on his parachute. Upon landing, Varthaman asked the villagers if he was in India, to which a young boy replied in the affirmative. Varthaman reportedly followed up with pro-India slogans and asked for drinking water while informing the locals of a back injury. The locals responded with pro-Pakistan slogans, after which Varthaman began to run while firing warning shots. He ran for approximately 500 metres, to a small pond, where he attempted to sink and swallow some of his documents. Subsequently, he was captured and manhandled by the villagers before being rescued by the Pakistan Army.
Later that day, the Indian Ministry of External Affairs confirmed that an Indian pilot was missing in action after a MiG-21 Bison fighter plane was lost while engaging with Pakistani jets. A statement released by the IAF also said that prior to his MiG's crashing, he had managed to shoot down a PAF Lockheed Martin F-16. On the 2nd of March 2019, nearly two days after the aerial engagement between PAF and IAF, in a media briefing the IAF displayed the parts of AIM-120 AMRAAM missiles which could be used only by the PAF's Lockheed Martin F-16.They also claimed that they had identified the electronic signatures of the aircraft and confirmed that it was the Lockheed Martin F-16 that was used. According to an agreement between the US and Pakistan, Pakistan is allowed to use the Lockheed Martin F-16 against terrorism only. Pakistan's Inter-Services Public Relations Director General refuted the later claims and asserted that F-16s were not used at all.
Videos
Videos and images released by Pakistani authorities showed Varthaman being rescued from a violent mob by Pakistani soldiers, being interrogated while tied and blindfolded with a bloody face. Other videos showed him receiving first aid and being further interrogated over tea. The media received mixed reception with some criticising them as a "vulgar display" whilst others praised the intervention of the Pakistani soldiers when Varthaman was in the hands of the mob. The release of these videos were suspected of being a violation of the Geneva Conventions and were deleted by Pakistani authorities after they went viral. However experts differed whether the Geneva Convention applies in this case. In the first few videos, Varthaman did not divulge any details other than his name, his rank and that he was a Hindu.
Early life
Abhinandan was born on 21 June 1983. Abhinandan's family is from Thirupanamoor, a village about 19 km from Kanchipuram. His father retired as an Air Marshal (OF-8) in the Indian Air Force and his mother is a doctor.
Abhinandan did his early schooling at Sainik Welfare School, Amatavatinagar in Chennai. He graduated from the National Defence Academy, and was commissioned into the combat (fighter) stream of the Indian Air Force as a flying officer on 19 June 2004. He was trained at the IAF centres in Bathinda and Halwara, promoted to flight lieutenant on 19 June 2006, and to squadron leader on 8 July 2010. Abhinandan was a Su-30 MKI fighter pilot before being assigned to the MiG-21 Bison squadron.
Abhinandan is married to a retired IAF Squadron leader Tanvi Marwaha and lives in Chennai. He has 2 children.