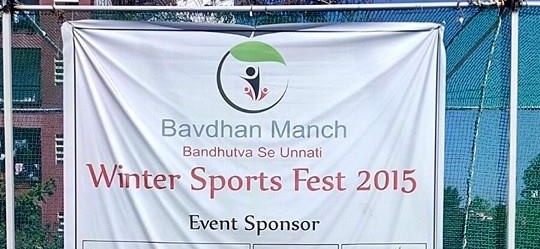 Bavdhan, Pune – Bavdhan Manch Winter Sports Fest 2015 Junior and senior Football matches were played on Sunday.
A total of 20 matches were played back to back without any break.
One team D Palace received walk over to enter quarter final.
First game ended in Penalty shoot out.
Cool Homes and Madhukund won with the biggest margin 4-0.
Devi Deep came back down 2-0 to win 5-3 in second half.
Aditya Shagun won in the only sudden death of the day in QF.
Ritwik Jagtap and Atharva Jori both under 14 played in the senior team for CoolHomes. Ritwik scored 3 goals for his team.
All three teams from Beta reached QF.
Pebbles B was the youngest team of the tournament.
Gupte Kaka was the oldest player of the tournament. Catalyst for win of his team High Class residency in 1st round.
More than 50 goals scored in action packed competitive football.

There was tremendous crowd support and cheering.
Wonderful organization by Bavdhan Manch team Kedar Bapat, Sachin Sancheti, Siddharth Garg led by Arun Patil. Great overall management and also all details well looked after.
Umpiring team included Kaustubh Birje, Saurabh Birje, Shambhu and Saurabh all of them are coaches at Beta Academy.
Event Sponsor is Chellaram Diabetes Institute and Event supporters are Saraswat Bank, Winning Edge and Tweeties. Thanks for grounds to Mr. Anish Dhoble and Mr Dilip Anna VedePatil.
Next events are Indian Games cricket and football finals on coming weekend. Also prize distribution, cultural program and Chit Chat a panel discussion for development of Smart Bavdhan with Pune's Additional Municipal Commissioner, Editor of Sakal Newspapers and other dignitaries.
Participation certificates for all will be given on 20th December.
Join us for a mega Fun Fair on Sunday 20th Dec 5-10pm. More than 75 stalls. Food, Games, Nail art, Jewelry, and more.
Fun Games for all on Sunday 5-8 pm. Register in advance for fun games on 9730135568.
For more details, updates, videos, pictures please keep watchingwww.facebook.com/bavdhanmanch
To volunteer for Bavdhan Manch call 8055087012