'Bheetar Bahar Sarvatra': Vijay Chormare's Collection Of Poems Published In Hindi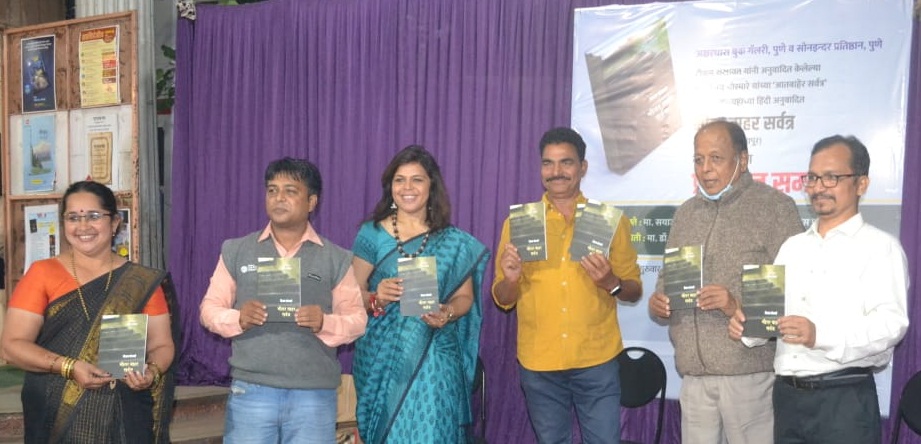 Pune, December 26, 2020: "Writers and Poets should always spread good thoughts in the society. Artists, writers, poets should keep the flow going. It is for the betterment of the society", said renowned litterateur Ramdas Phutane.
He was speaking at the book launch of "Bheetar Bahar Sarvatra", Hindi translation of well known Marathi poetry collection 'Aatbaher Sarvatra'. The original poetry collection in Marathi is by senior journalist and renowned Marathi poet Vijay Chormare. Now, this has been translated in Hindi by poet Tikam Shekhawat.
The event took place on pre eve of Christmas at Akshardhara Book Gallery of Pune and has been attended by the invitees only. Senior actor Sayaji Shinde, Renowned Marathi Poet Ramdas Phutane and Urdu Poetess Monika Singh unveiled the book.
Chormare said, "I am happy that the poems are translated into Hindi. We have a huge number of Hindi readers and with Hindi translation, my poems will reach to a larger audience."
Monika Singh, who is also a bureaucrat, said, "Tikam has contributed to Hindi literature by translating the poems of an intellectual poet."
She also recited two poems 'Saad Sa Sawal' and 'Dor'. Shinde recited 'Sarkar Ek' and 'Sarkar Don', poems on this occasion.
Expressing happiness over translating the poems, Shekhawat said, "Chormare's poems are pure and unaltered. His poems connect with the common man."
Chormare recited 'Nila Popat' poem on the occasion while Shekhawat recited the Hindi translation of Chormare's poems.
Phutane said, "Through writings, the writers must provide food for thought to the society. Society is kind and through this kindness, we are moving ahead. He congratulated both the poets and mentioned that he too has started writing in Hindi."