Birth Centenary of Liberator of Daman Brigadier SJS Bhonsale, VSM

Shilpa Ghogale
Pune, November 28, 2020: On the birth centenary of my dearest father Brigadier SJS Bhonsale, VSM, Jay to his erstwhile colleagues and friends, I feel at a loss for words. The dimensions of words seem too limited to encompass a unique gentleman of royal lineage and striking bearing, singularly good-looking, a brave soldier and a caring gentle father.
My father was commissioned into the British Indian Army in 1943, when the world was embroiled in a long drawn out World War. An outdoor man, he hoped to see action across the borders. He served in the Frontier Force Regiment until the war ended and joined the Maratha Light Infantry on the Independence of the country. He often spoke of his days in the North-West Frontier (NWF), Landi Kotla, Landi Khana, Khyber, Multan and Peshawar with a faraway look. He reminisced about his colleagues and friends he had made for life, some of whom he had the opportunity to meet after more than 50 years in the UK. He always spoke of the officers who moulded him and those he looked up to. His value system was intact as he came from a well established family from Kolhapur.
Flying in to join my father in Srinagar in 1948-49, was my dear mother Neela Bhonsale (née Salvi), a newly married bride with just a single suitcase equipped for the winter of Kashmir! She had forfeited completing her graduation but was strong and determined. She was a smart and intelligent lady. Her impeccable style, inherent good taste, energy and goodwill became a shining example to admire and emulate!
My father did a long stint with The United Nations Military Group India and Pakistan, as a Liaison Officer, earning much praise and recommendations from foreign nationals.  Gen. Jacob L. Devers, USA, Retd. (Military Advisor UN, Rawalpindi,  India & Pakistan) in 1951 wrote about him, "Bhonsale really doesn't need any testimonial from me, as he is highly thought of by Major General Nimmo and the UNO Staff there in Srinagar. However, I want to say that I have known few officers of his rank anywhere in the world, during all my military career, who have appealed to me more. He has instinctive good judgment, unquestioned character, and a sense of what is right. I asked him a good many questions which an officer with less courage and honesty than Bhonsale would have trouble to answer. He is a great credit to the Indian Army, as he would be to any army."
This was reiterated by Maj. Gen. Bennet L. de Ridder, DSO. A/Chief Military Observer who wrote, "He has proven again and again to be officially of invaluable assistance, and personally an outstanding representative of his Army and Country."
Although, he had staff and regimental assignments in the East, his major commands were in Jammu and Kashmir.  His command of the 1st Maratha Light Infantry, Jangi Paltan (its nom de guerre) gave him an opportunity to prove himself to be an able commander. After a glorious stint in the Poonch sector, he led them to the liberation of Daman in December 1961 during the Goa-Daman-Diu operations. The military operation is recorded in detail in the regimental and other history books. From my father's memoirs, I quote,  "Lt. Gen. J N Chaudhuri, Army Commander, came forward and said that he had given wrong information about the enemy, yet we had accomplished the task against such a formidable enemy force. He congratulated me and the battalion for this gallant action."
Later in 'A Saga of Service', Maj. Gen. E D'Souza wrote, "When singled out for an independent operation, Op Vijay, the battalion, under his leadership, produced the goods by capturing Daman against an unexpectedly large force of the Portuguese, earning for himself VSM. When operations are discussed, Daman will always be linked with Lt. Col. SJS Bhonsale."
Welfare activities for the jawans and their families were adhered to with genuine interest by my mother. She kept our morale high during the long separations that Army families often see. We wrote weekly letters to my father and waited eagerly for replies from c/o 56 APO! Dad's annual leave periods were cheerful and festive with troops of friends and relatives visiting. He would give us surprise visits on our birthdays; his gifts to us were treasured even after the watches had stopped working and the perfume bottles emptied!
In the 1960s my father was a Brigade Commander for four years, again in Jammu and Kashmir, for the first half of which, we, his family, stayed back in Pune. Who could assess him better than his then young Brigade Major (BM), later Maj. Gen. Vijay K Madhok, who wrote of him in 2004, "In sum, Brig Bhonsale has what the Staff College or NDC cannot teach. Prudence, a sense of justice and ability for rapid decisions, gifted with a rare common sense and a most cheerful disposition, he generated trust and lead by example. Above all he ensured that his subordinates conduct was dictated by moral values."
My father's last posting was as Sub Area Commander, Pune. Retirement at 51 years was too early. He served another 25 years as the CEO of a private company, a tough and challenging task for a disciplined and confirmed 'Fauji'. His contributions there were very well appreciated. He advocated to all his juniors to continue being active and fruitfully busy for as long as possible.
We devoured his book collection, mostly autobiographies and histories. He loved books by Jim Corbett and had stacks of outdoor magazines. Bal Gandharva, Vasantrao Deshpande renderings, and ghazals by Jagjit Singh, Mehdi Hassan and Ghulam Ali were among his favourites. He loved the Marathi stage but was very selective in his choice. India – Pakistan cricket commentaries thrilled him. He heard political dialogues and followed keenly which way the country was headed. After all, he had seen the first action in Ladakh and served with the  J & K Militia. He had evicted the last vestige of Portuguese rule from Daman, India.
We still share his choice in pets usually Labradors and Golden Retrievers. 'Sussex', his first Golden was a gift from a British officer who was leaving the country after partition. Thereafter there were always  retrievers in the family with fancy names like Penny, Gina and Lara!
We were unfortunate to lose our dear mother rather early. My father faced the trials and tribulations of his life with steadfast strength, spiritual and moral courage born out of a strict regime of physical fitness, mental activity and a very moderate indulgence in food and drink.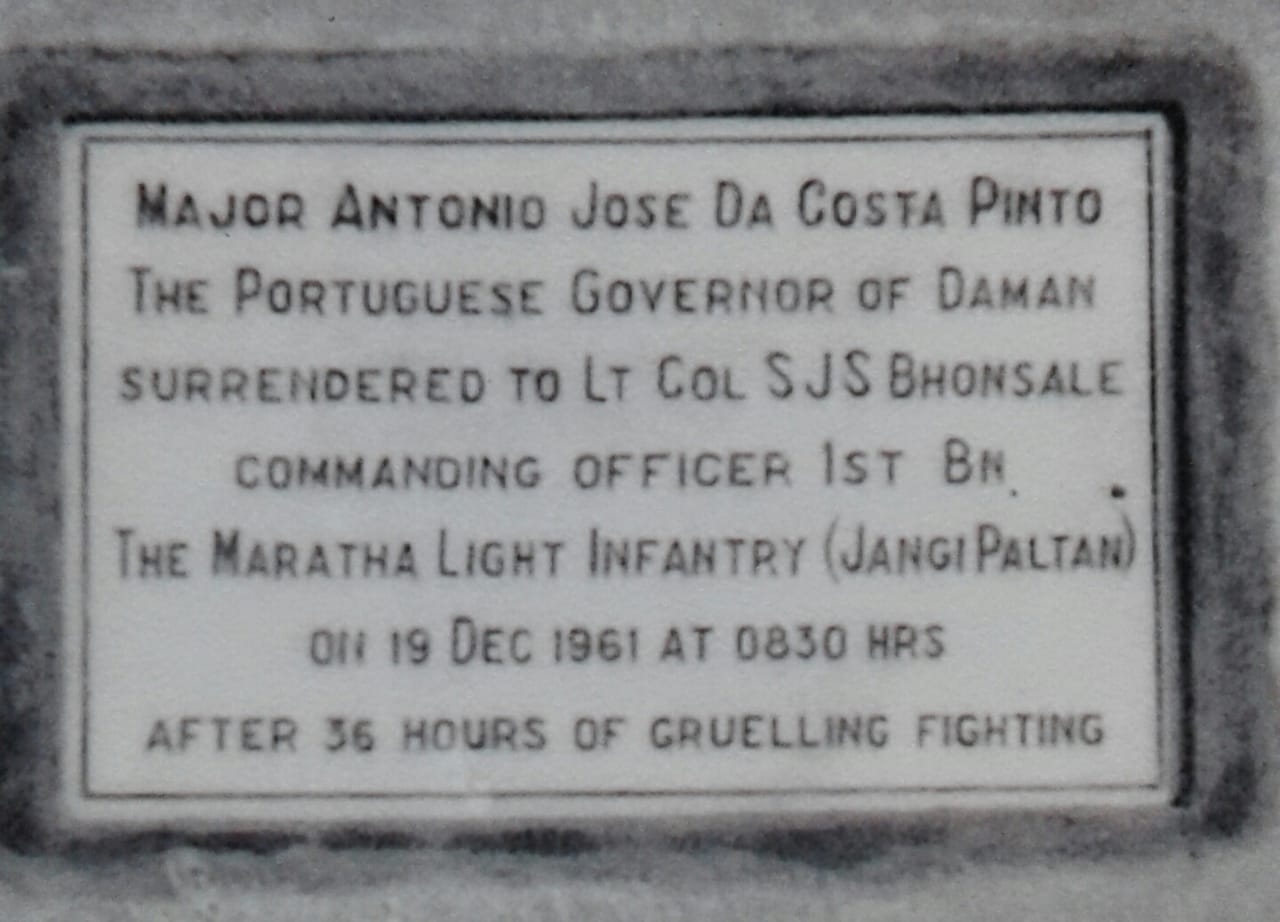 Between 2008 and 2010 when I was in New Delhi I visited him in Pune as often as once a month. In October 2008, I had the privilege of joining him on his last visit to Daman where he was felicitated and honoured. He spoke extempore for an hour describing and bringing to life the Battle of Daman. He received a standing ovation for 10 minutes from the young and old of his Regiment and their families. In the Press coverage that followed, they referred to him as 'Muktidata' which translates into 'Liberator of Daman'.
In July 2010 when he was bidding me goodbye, I said to him, "The only reason I come to Pune is to see you!" Framed by the doorway, my father was now closing in on ninety. His eyes lit up above his rosy cheeks and a characteristic wonderful smile spread on his face as he asked me, 'Really?!'
It was our final exchange.
(Shilpa Ghogale is a daughter of late Brig SJS Bhonsale,VSM. An accomplished fine artist,  she has also excelled in Ceramic Pottery having held quite a few solo and group exhibitions. Amongst her many varied  interests, which include gardening,  is her propensity to pen a few interesting articles from time to time.)