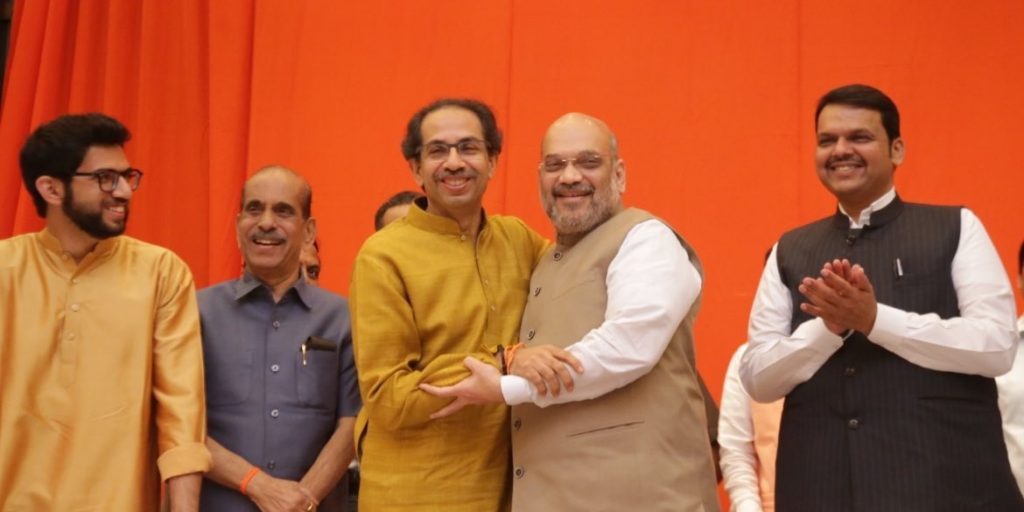 Mumbai: Maharashtra Chief Minister Devendra Fadnavis today announced the BJP-Shiv Sena's electoral alliance in presence of BJP president Amit Shah and Shiv Sena chief Uddhav Thackeray. He said that both the parties will jointly contest the 2019 Lok Sabha elections and the subsequent assembly elections.
Fadnavis said that it is important for both parties to come together in national interest. He said that both parties have a common view on issues like farm loan debt waiver scheme, Ram temple.
Fadnavis said, "It is important to be one of the parties of nationalist ideology. That's why we will contest the assembly and Lok Sabha elections together."
Explaining the long association with the Shiv Sena, Fadnavis said that some people want to create rift between the BJP and the Shiv Sena.
Fadnavis further added, "Both parties respect each other. We have taken this decision in the best interest of the nation and we believe that the NDA will come back to power in 2019."
Of the total 48 parliamentary seats in the state, BJP will contest 25 and Shiv Sena 23 seats in the Lok Sabha elections. Speaking of assembly seats, both the parties will contest equal number (144 each) of seats on the 288 assembly seats.
Addressing the press briefing, the Sena chief Thackeray said, "We have talked with Amit Bhai about the differences between us. We will try that such a situation does not come back again. There are some differences between us but our minds are very clear."
At the same time, BJP president Amit Shah said, "If there is any oldest partner of BJP, then they are Shiv Sena and Akali Dal who have supported us all the time. BJP and Shiv Sena will fight the Lok Sabha and Vidhan Sabha elections together and will win."
After the alliance was announced, Prime Minister Narendra Modi tweeted, "Inspired by the vision of Atal Ji and Balasaheb Thackeray Ji, BJP-Shiv Sena alliance will continue working for the well-being of Maharashtra and ensuring the state once again elects representatives who are development oriented, non corrupt and proud of India's cultural ethos. Our association with the ShivSena goes beyond politics. We are bound by a desire to see a strong and developed India. The decision to contest together strengthens the NDA significantly. I am sure our alliance is going to be Maharashtra's first and only choice!"