BOOK REVIEW: "A HAND-BOOK FOR DISTRESSED MEN With Legal references"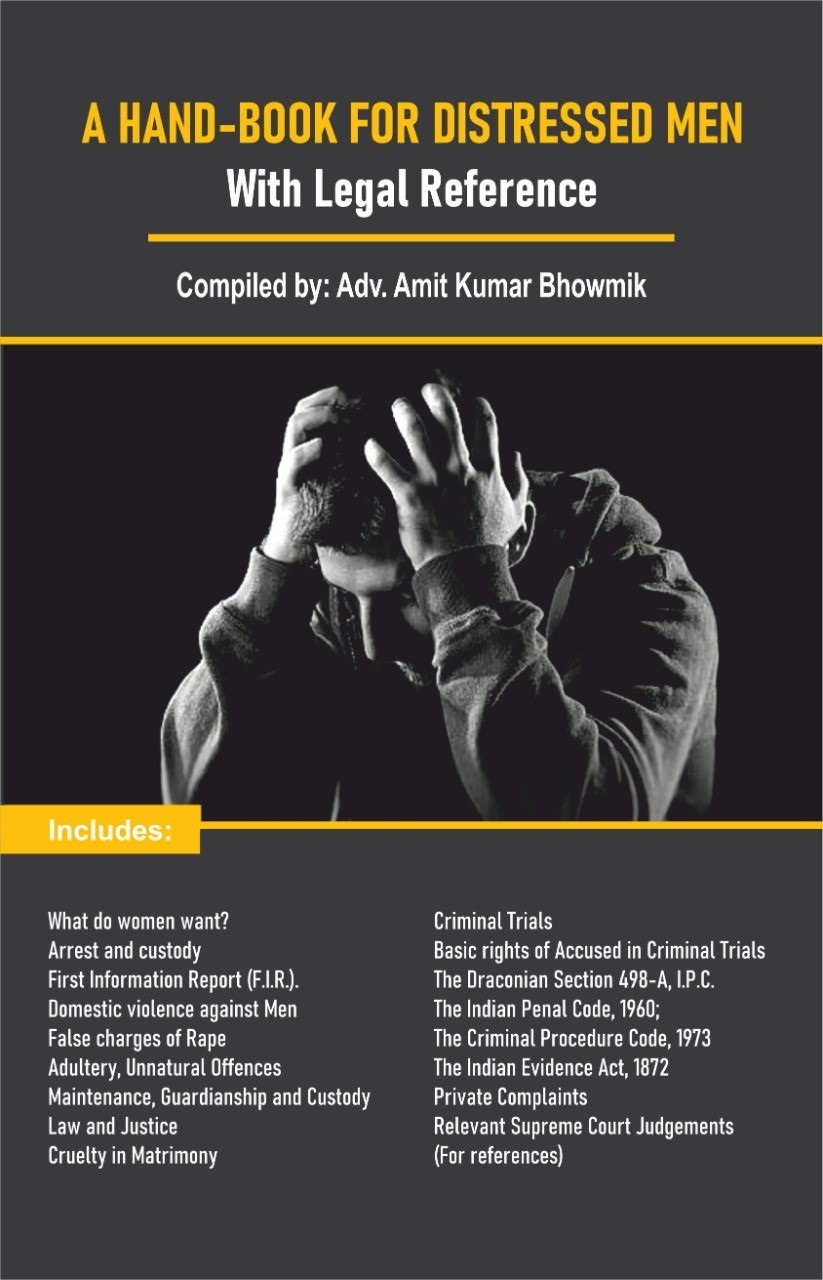 Pune, 7th October 2021: "A Hand-Book for Distressed Men, with Legal references, has just been launched by publishers 'Infinity Solutions ', Pune (India).
This book contains not only issues of vital concerns to men who have been falsely accused of rape, cruelty; various miscellaneous concocted 'matrimonial offences', dowry demands et al, but it touches upon other significant subject matters which include, the Three Major Criminal Acts, arrest and custody, maintenance, guardianship & custody of minor children et al. Significant citations from judgments are reproduced, sometimes in toto. There is also an enlightening chapter on What Do Women Want?
'A Hand Book For Distressed Men' is, at last, a comprehensible compilation, which is easily readable, without confusing legal nuances and jargon; written succinctly but simply, so as not only to be easily readable but also to offer important defence strategies in such sticky state of affairs, which men – and their families, including aged parents and even distant relations, who are in no way connected with the matrimonial discord, find themselves haplessly bogged down in.
The sinister objects for deploying such under-hand tactics are often fabricated to extort the victim into giving up his legitimate claims for the custody of minor children, or even access to them; irrational maintenance demands and for him to succumb to trumped-up rape or molestation charges, to extort him into paying leviathan sums as blackmail or face social ignominy; stigma, and even be incarcerated behind bars. This book is, in fact, a MUST READ also for the police cadre, legal fraternity, general public and also women.
It is not a mere purchase but an investment! The compilation is informative, educational and very useful. It is truly the need of the hour, especially for men and their families, at the receiving end of the (legal) stick.. which is often misused for ominous purposes !)
ABOUT THE AUTHOR: Amit Kumar Bhowmik, is a lawyer. He is a battle-scarred veteran of innumerable battles fought, largely on difficult terrain and under severely adverse circumstances in Courts not only in India but also abroad. Nine books, on diverse subjects authored by him, have been published. He is based in Pune (India).
Book exclusively available on Amazon!
https://www.amazon.in/dp/8195205526/ref=cm_sw_r_wa_api_glt_fabc_XF7A9WHAQKVXMFZGMBJ8