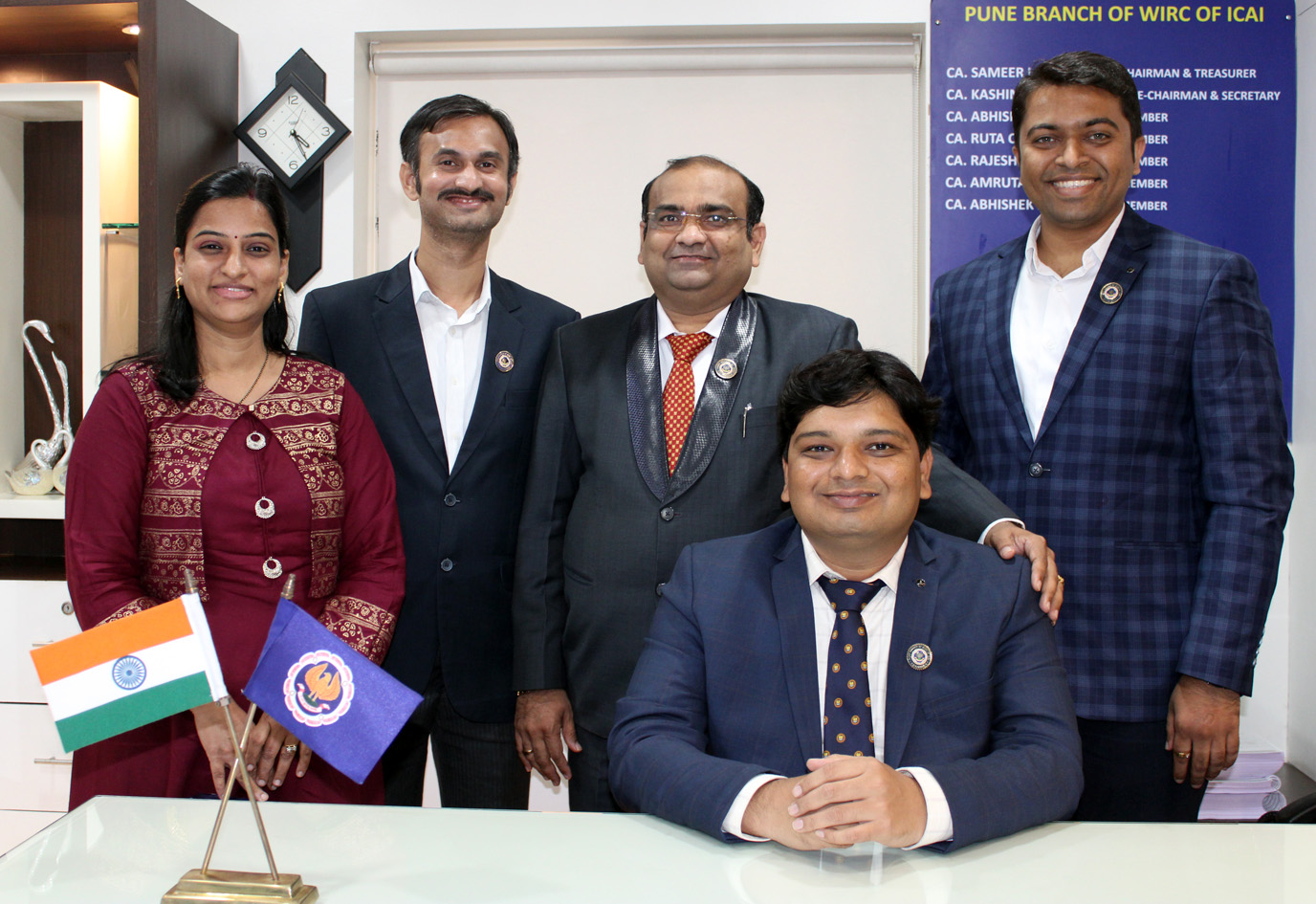 Pune, 28th February 2022: CA Kashinath Pathare has been elected as the Chairman of Pune Branch of Western Regional Council of India (WIRC) of The Institute of Chartered Accountants of India (ICAI). CA Rajesh Agarwal has been elected as Vice President, CA Pritesh Munot as Secretary, CA Pranav Apte as Treasurer & CA Mausami Shaha as WICASA Chairperson. New Office Bearers of Managing Committee of Pune Branch of WIRC of ICAI for the year 2022-2023 elected on Monday, 28 February. Newly elected chairman CA Kashinath Pathare took over from the deposed Chairman CA Sameer Ladda. CA Hrishekesh Badve, CA Amruta Kulkarni, CA Sachin Miniyar, CA Ajinkya Ranadive are other members of the managing committee.
CA Chandrashekhar Chitale, Central Council Member of ICAI, CA Yashwant Kasar, Regional Council Member & Vice Chairman of WIRC of ICAI, CA Ruta Chitale, Regional Council Member and other dignitaries were present at the occasion. On behalf of the branch as well as senior office bearers congratulated the newly elected committee. CA Sameer Ladda informed about the work done during the last year as well as the plans implemented. Expressed his gratitude to all colleagues and staff.
Pune Branch was established in April 1962 with the number of members then just in few hundreds and students in about couple of thousands. The Branch now has about more than 10000 Members, including 3500 Members from Industry and about more than 22,000 students. At ICAI Bhavan, Bibwewadi, a state-of-the-art facility organizes a number of activities for chartered accountants throughout the year. It includes workshops, seminars, etc.
CA Kashinath Pathare expressed happiness and mentioned that, Pune Branch of WIRC of ICAI has a legacy of 60 years of success. We are celebrating the Diamond Jubilee this year and I am very fortunate to have the opportunity to work as a chairman. I say thank you to all the CA members for entrusting me with the responsibility of chairing the largest branch in India. In the coming year, we will implement many good initiatives for the CA members and students, and will carry out awareness activities to reach out to the general public."