CELEBRATION OF RAISING DAY AT SQAE (A), KIRKEE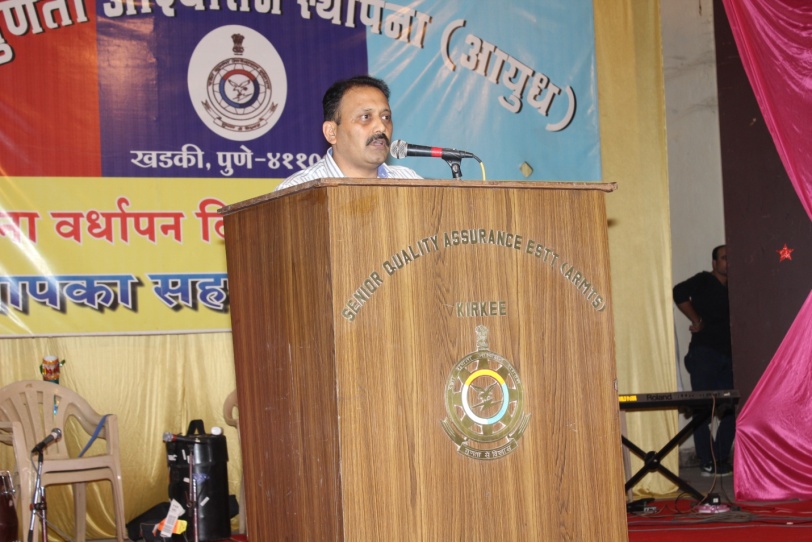 Senior Quality Assurance Establishment SQAE (A), Kirkee part of DGQA Organisation, co-located within Ammunition Factory Kirkee (AFK) is the oldest DGQA Establishment providing effective Quality Assurance for all the Ammunition Stores manufactured at AFK before the same are released to the Defence forces.
SQAE (A), Kirkee celebrated its 147th Unit Raising Day on 07 Nov 2015.  Maj Gen Sanjay Chauhan, Controller, CQA (Amn) and Shri Chandra Shekhar Vishwakarma, General Manager of AFK were the Guest of honour on the occasion which was attended by all employees with their families along with ex-employees.
Col YC Pandey, SQAO, Head of SQAE brought out the achievements of the Establishment over the years. He impressed upon the employees that with the "MAKE IN INDIA" taking off on larger scale there is a need for every individual to upgrade their knowledge, skills and competence.  He further requested his employees to get ready to face and accept the forthcoming challenges.  Adapting to latest quality tools and techniques is the need of the hour.
The highlight of the event was the superlative dance performance by the students of Sai Seva Sansthan a charitable organization for physically challenged and mentally retarded children.  SQAE (A) Kirkee is associated with two such Establishments and has been providing regular financial assistance in addition to physical help in kind.  The other attractions of the day were Lazim dance, Qawwali and Lavani dance by the staff and the employees of the Establishment.