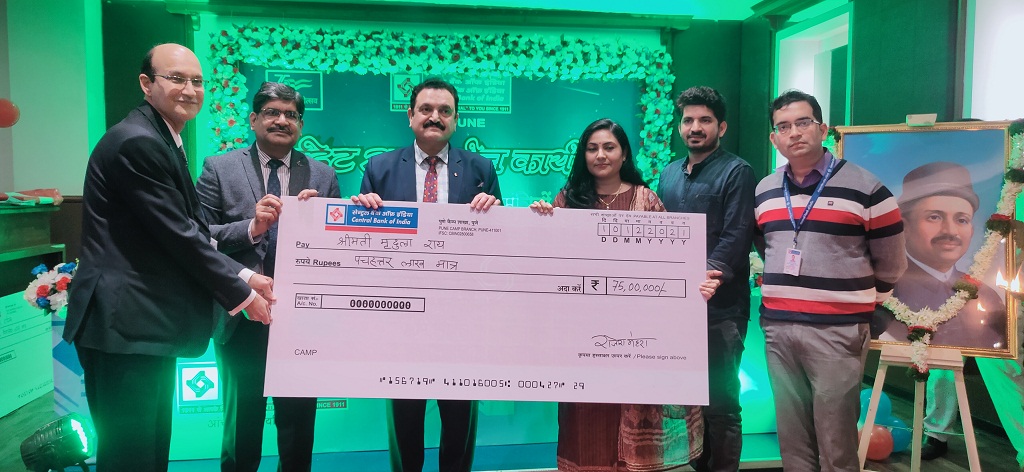 Camp, 11th December 2021: A mega consumer outreach program for financial services from Central Bank of India was organised in Pune recently.
The program was inaugurated by Rajiv Puri, Executive Director, Central Office, Mumbai by lighting the lamp and laying flowers on the portrait of the founder of the bank.
Addressing the program, Executive Director Rajiv Puri said that on the 75th anniversary of independence, the Amrit Mahotsav of Azadi is being celebrated across the country and we are proud to be a participant in the Amrit Mahotsav of Independence. The Bank is committed to walk step by step in celebrating the indomitable spirit of the country and realising the vision of a strong and self-reliant India.
All the services of traditional and modern banking are being provided by the Central Bank. To increase the current industry and business from one crore to 25 crores, the bank has started an attractive scheme named Cent Pragati, which is available on easy terms and minimum interest rate.
Puri also informed that, at present, Central Bank of India has a network of about 4600 branches and more than 5 crore account holders are connected. Educational loan facilities are available from school to higher education to establish youth power in India. Apart from this, the Central Bank of India has done commendable work in the implementation of various development and social security related schemes of the Government of India like Atal Pension Yojana, Jeevan Jyoti Bima Yojana, Jan Dhan Yojana, Sukanya Yojana etc.
In the same program, a cheque for loan sanction was given to a woman entrepreneur under the Cent Pragati scheme.