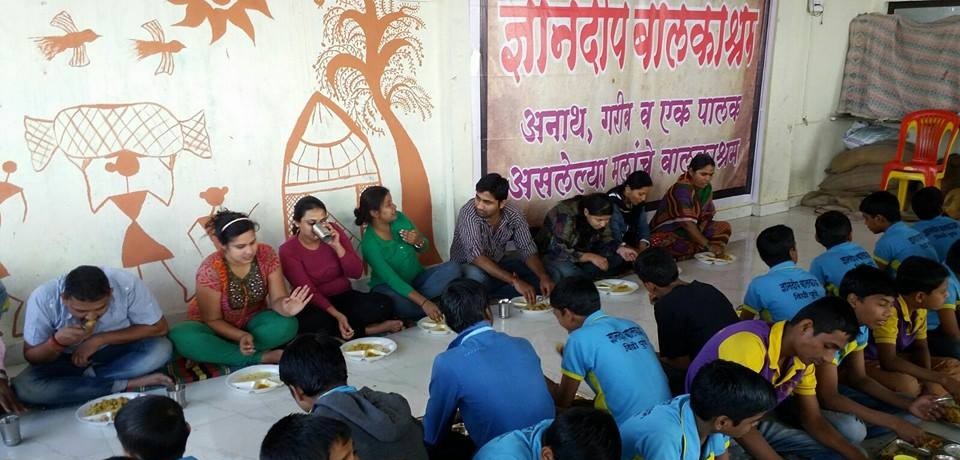 By Irfana Kadri
On the occasion of 'Christmas day' , we friends were struggling to spend it wisely of course bearing in mind the fun factor, one among us always ready with innovative ways of social cause came up with an idea of visiting an orphanage and preparing meal for kids ourselves, seriously cooking for almost 100 people was he kidding. At first we were all taken aback and plunged the topic, however hats off to his convincing power that soon a wave of excitement arose and we were all ready to cook and started planning the menu. Eight of us managed to divide and own an item each and grocery list was ready.
With all the loads of required stuffs we reached the venue, Dnyandeep Balakashram at Dighi, Pune. Place seemed to be decent and the authorities were really welcoming, I can say we were almost drown in their hospitality. As we started unpacking things, to our surprise 15-20 volunteers were ready to help us, within no time kilos of vegetables were cut and ready. The thing that we feared most which would have consumed maximum time, cutting and peeling of vegetables was ready in minutes. Chhole Puris, Veg Biryani, Raita and Suji halwa was our menu. Cooking in huge vessels was real fun for sure something different. I owned veg biryani and it turned up delicious along with all other items.
This was not the end there was still more to our delight the kids of different age groups have prepared performances for us and it made all of our day, clapping, whistling, cheering for each solo and group performances would be cherishing forever.
Saw altogether a different world, heard stories about kids some orphans, some with single parent behind bars or some having circle of relatives however none ready to accept the fellow. Each kid was older than his age may be the circumstances made him a stronger person then we are! It has really shaken me from within and really guys the joy I got with each smile on face was really a pleasure, there couldn't be a better celebration then this and what we gave a cup of water from bucket same amount we would have spent hanging around and dining in good restaurants, common yaar instead same amount filled 100 stomachs with delicacies and smiles!
Just think how much we spend in month on our leisure activities, if just a quarter of it are dedicated to such unfortunate people am sure it will give us double joy with a feeling of pride as bonus!
Also, the other aspect, did we ever realize how fortunate we are and our kids who are getting all facilities, we have never seen any destitution. Instead of silver spoons in mouth we can atleast raise our kids to be self dependent at some point of time. Also, we are lucky getting the love and affection of family the question is how much do we care about it, do we have enough time for our parents, our family?
(Irfana Kadri is a Project Manager with an IT company, vivacious person having deep interest in literature, arts, writing, poetry and music.)
Follow Punekar News: