Class X ICSE exams 2023: DSK School achieves 100 percent result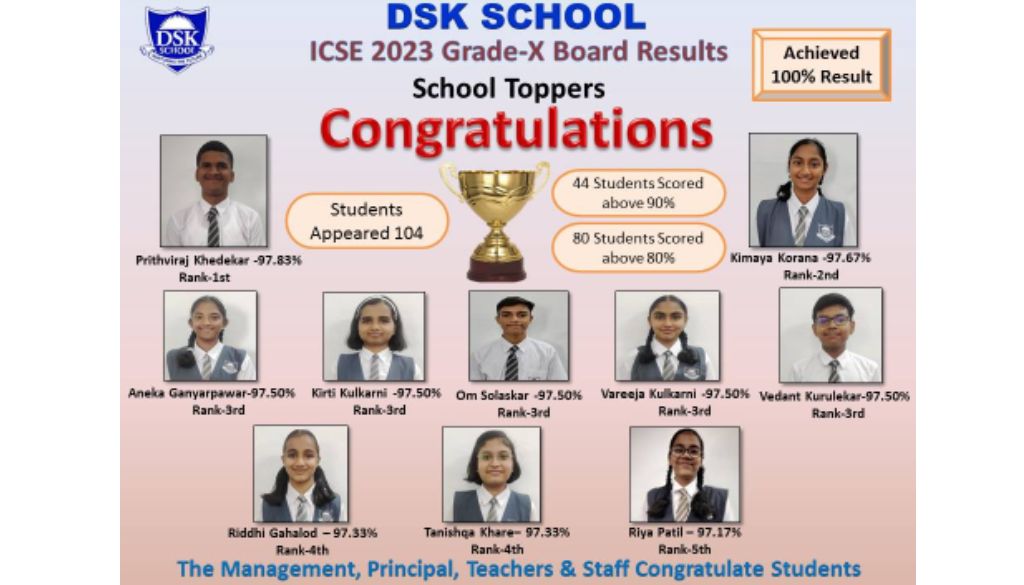 Pune, May 19, 2023: The Dhayari-based DSK School, known for its academic excellence, has continued its proud legacy by securing 100 per cent results in the ICSE Class X Board examination. The students have showcased a remarkable perseverance of their hard work and have proved their merit this year too.
Prithviraj Khedekar has secured the highest percentage of 97.8 per cent, while Kimaya Korana secured the second position with 97.6 per cent. The third position was shared by five students, Kirti Kulkarni,Vareeja Kulkarni, Aneka Ganyarpawar, Vedant Kurulekar and Om Solaskar with 97.5 per cent.
Out of 104 students who appeared, 44 students secured over 90 per cent and 36 students secured over 80 per cent. The Management of the School, Principal Moushumi Chowdhury, the Vice- Principal and the teachers congratulated the students for their praiseworthy accomplishment.