Coronavirus: Pune boy pens poem appealing people to become 'Antivirus'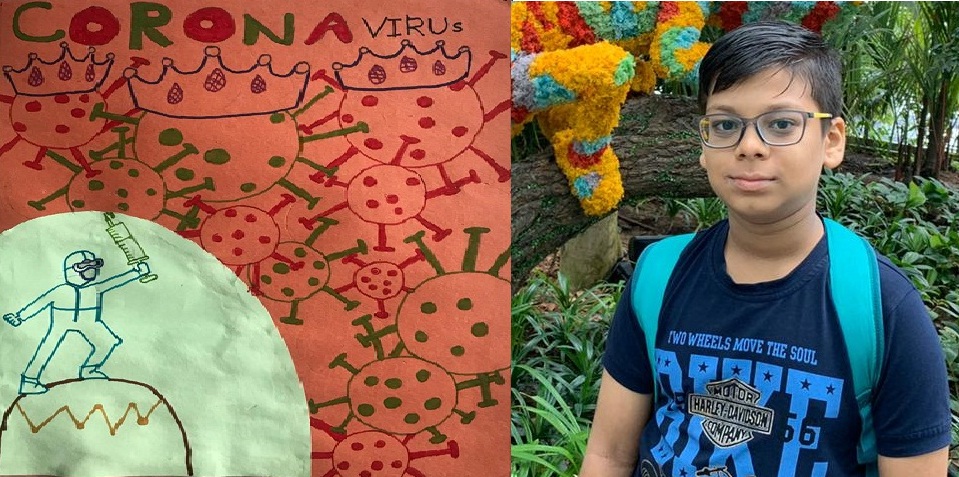 Pune, May 23, 2020: Anvay Deshpande, a 6th Grade student of Vibgyor High School, Balewadi, has written a heart touching poem about Coronavirus. He has been writing poems since he was 7 years old. He has written poems and stories in English and Hindi. His story 'Golden Compass' was published in Singapore book (Tales of S). He has interviewed people for his SMART CITY project in Pune. He loves to explore new things and like to do more for society through his poems.
Now he has written a heart touching poem and appealed people to stay at home. They can create 'Anti-Virus' against Coronavirus. Here is the poem :
"The world is getting Wounded. And, every life is Counted.
With the time on the Clock Ticking. How are we going to Save The Living ?
They say it is a Respiratory Disease. The symptoms are general like fever or even a Sneeze.
It seems that the Virus is New in Town. It is so Novel, that the other Viruses have to Bow Down.
It wears a Crown of spikes and thus this intruder is called CORONAVIRUS. It is nicknames as COVID-Nineteen. Till date nobody has made its Vaccine.
There is no Treatment, Surgery or Cure. The lesser precautions we take, the higher it will Soar.
Doctors, Nurses, Policemen, essential services, and Paramedic are all willing to give their lives for this brutal Pandemic.
Let us KILL the VIRUS by STARTING AT HOME. Around our house let us build an ANTI-VIRUS Dome.
Use MASK as a Shield and SANITIZER as a Sword. Then wiping off the VIRUS will be easy like playing any Musical Cord.
Let us Meditate to attain the BRAHMASTRA from the ALMIGHTY. Before the VIRUS is Uncontrollable and turns Nasty.
Please, Please, Please BE AT HOME AND BE SAFE and have a SMILEY FACE."