Former COAS Gen KV Krishna Rao Cremated with Full Military Honours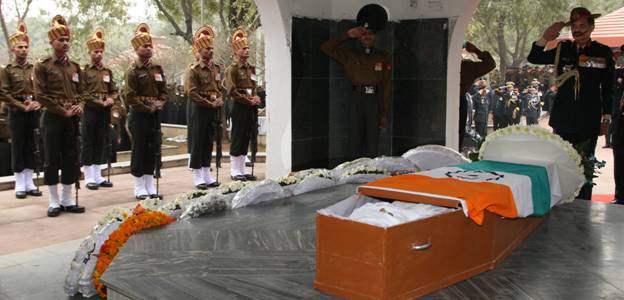 The mortal remains of Gen KV Krishna Rao (Retired), Ex Chief of Army Staff (COAS) were cremated with full military honours  at Brar Square, Delhi Cantt, today. He passed away in Military Hospital in New Delhi on 30 Jan 2016.
The honorable President of India Shri Pranab Mukherjee in his message stated, "Heartfelt condolences on the passing away of General KV Krishna Rao, former COAS. His exemplary services to the nation and the Army will always be remembered". The honorable Raksha Mantri Shri Manohar Parrikar condoled the passing away of the General Rao, stating "The country has lost one of our best known military leaders. He was a visionary who led ably, inspired a generation of soldiers and initiated modernization of Indian Army in the early 1980's. His contribution in the 1971 War and maintaining the unity and integrity of the country shall always be remembered". General Dalbir Singh, the COAS laid a floral wreath to pay tribute to General KV Krishna Rao and expressed his deepest condolences to the family of the former Chief. He stated that "Gen KV Krishna Rao was a soldier statesman who inspired a generation of soldiers and will continue to do so even after his demise".
         General KV Krishna Rao had an illustrious career spanning over four decades in the Indian Army. He served in Burma, North West Frontier and Baluchistan during the Second World War, participated in the 1947-48 war against Pakistan in Jammu and Kashmir and was a founder Instructor of the National Defence Academy during 1949-51. He commanded an Infantry Division in the Jammu Region during 1969-70 and a Mountain Division engaged in Counter Insurgency Operations in Nagaland and Manipur during 1970-72. During this period his Division also participated in the 1971 India Pakistan War in Eastern Theatre and was instrumental in capture of the Sylhet Area and liberation of North East Bangladesh. General Krishna Rao commanded a Corps in the Jammu Region from 1974-78 and the Western Army Command during 1979-81. Post his tenure as 14th COAS of Indian Army, he also served as the  Governor of the North Eastern States of Nagaland, Manipur and Tripura from 1984-1989, as also of Mizoram. Later, General Krishna Rao was appointed as the Governor of Jammu and Kashmir during 1989-90 and  reappointed from 1993-1998.
        Wreaths were laid on mortal remains on behalf of the honorable President of India and the Raksha Mantri. Marshal of the Air Force Arjan Singh, Minister of State External Affairs and former COAS Gen VK Singh, former Army Chiefs (General VN Sharma, General NC Vij, General Deepak Kapoor and General Bikram Singh), representatives of Chief of Naval Staff and Air Staff, representative of Government of Manipur and a host of serving and retired fraternity of Army were present on the occasion as a mark of respect to the former army Chief.