Free long-term guidance program to transform 100 underprivileged youth to entrepreneurs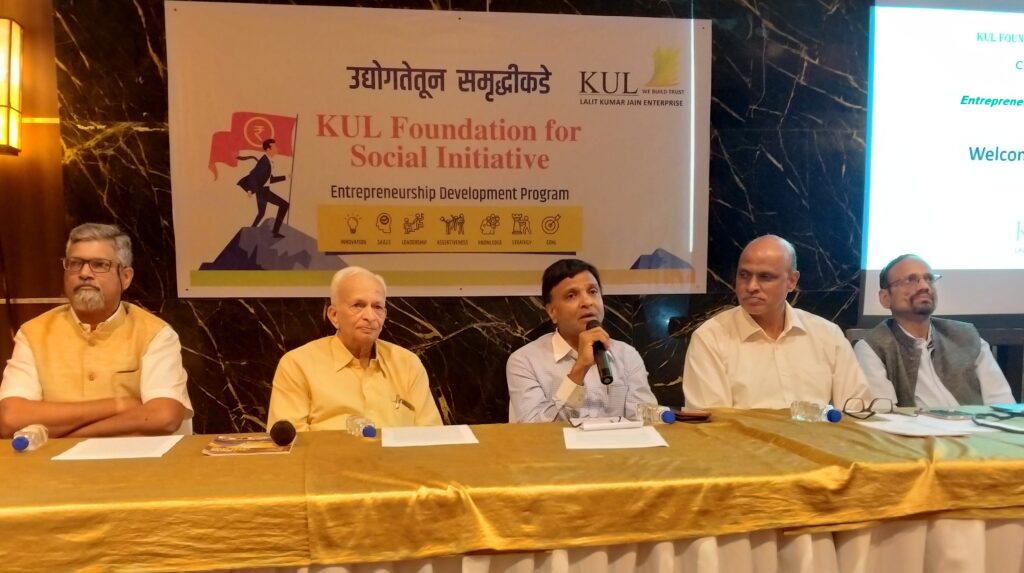 Pune, July 20, 2019 : With an aim to encourage more and more underprivileged youth to come up with creative and workable business ideas and to nurture their entrepreneurial spirit by providing expert guidance and resources, KUL Foundation for Social Initiative has announced the launch of their pilot Entrepreneurship Development Program.
The program is going to start from 17th  August 2019. The foundation, under this pilot program named- 'Entrepreneurship for the country', aims to transform 100 underprivileged youth into successful entrepreneurs in next 2 years, informed Lalitkumar Jain, Founder of KUL Foundation and renowned Developer in a press conference organized in Pune today. He further added that it is aimed to make it scalable to whole country on completion of successful pilot program with required modifications.
Abhay Math, Convener of the foundation, Vivek Atre, Dr. Vasudev Barve, Nitin Ghole were present among the dignitaries at the press conference.
The foundation will roll out the Entrepreneurship Development Program in Pune, Nigdi, Kolhapur and Aurangabad from coming August. The idea is to select 20 to 25 youth on each of these 4 centres and to give them full time initial training for 3 months. The program will not end with just the entrepreneurship training, but these boys and girls will receive continued guidance for next 8 to 9 months from the foundation to set up their own businesses. Not just that, but the foundation will help and support them for next 2 years on every important step in their business journey.
Lalitkumar Jain said, ''The country has a huge demographic issue, which needs to be converted to demographic advantage. Which can only happen when there are more job givers i.e. entrepreneurs taking up ventures. We have a large number of youngsters with sincere urge to explore innovative business ideas. But many of them are unable to do so due to limited resources. The new entrepreneurs who want to work for the country are important for the country just like our soldiers protecting the nation. These new entrepreneurs will contribute in building the nation by creating wealth and employment. The foundation, after assessing the output of this program, wants to roll it out step by step in the entire country.''
The 3 months entrepreneurship development training includes training of the essentials like preparing business strategy, procurement of funding, how to keep the accounts of business transactions, how to handle marketing and customer service, business communication and use of new technology and social media for the business.
Abhay Math said, ''The selection process for the candidate to participate in this program will be meticulously followed. It includes an orientation workshop, aptitude test, group discussion and personal interview. This is to ensure that the candidate is genuine and seriously wants to work towards becoming an entrepreneur. Total 100 selected candidate from all centres will not only receive a 3- month's training, but they will get a golden chance to interact with successful businessmen and entrepreneurs from different sectors. This will help them to overcome difficulties faced by budding entrepreneurs.''
This Entrepreneurship Development Program is completely free of cost for all the selected underprivileged candidates. Still, to create a sense of accountability, each candidate will pay a refundable deposit of Rs. 8 thousand to the foundation at the start of the program. The amount will be refunded to the candidate after 6 months after deposition. This clause is just to make the candidates more serious about their goal, so that they will be ready to do all the hard work that follows in the path of a budding entrepreneur, Said Math.