Goa's Son Abe Faria Wins Acclaim As The Father Of Scientific Hypnotism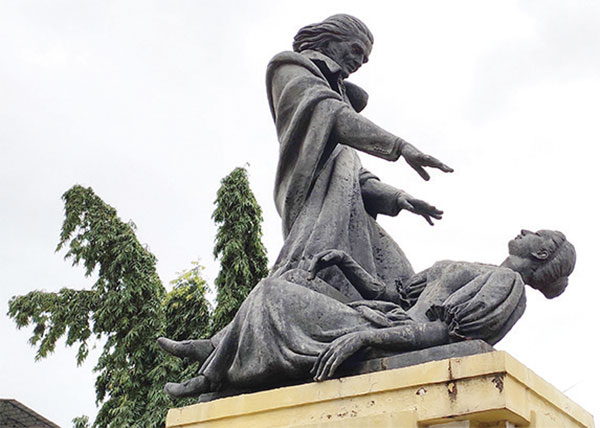 Camil Parkhe
Pune, 31st May 2021: If you have ever visited Panjim in Goa, then you must have seen the historic Adilshah Palace or the Old Secretariat on the banks of the Mandovi River. In the past, the carnival festival parade used to commence from Panjim interstate bus stand or the Prasa. The area around the then secretariat used to be the place where thousands would gather to watch the Carnival parade and to enthusiastically welcome the short-lived kingdom of King Momo.
The Carnival parade, a legacy of the 450-year-old Portuguese rule in Goa, is incidentally held only in Goa in Asia.
At this major junction in Goa's capital, two statues have been installed on two sides of the medieval Adilshah Palace. One statue is of Goa, Daman and Diu Union Territory's first Chief Minister Dayanand Bandodkar. The posture of the statue on the other side is bound to evoke curiosity among people. When observed closely, it is the statue of a cloak-wearing man trying to hypnotise a woman, who is about to fall into a trance.
If you are in Panjim, you cannot miss this statue of a man with raised arms attempting to cast a spell on a woman. The 10-ft bronze statue raises curiosity in the minds of passers-by, mostly because of its unique posture. This statue is of Abe de Faria, a Goan who won acclaim in Europe in the late 18th century. He is known as the father of modern scientific hypnotism.
You will see many historical edifices and artworks on the banks of the Mandovi River as you walk down from the Panjim Bus Stand to the Adilshah Palace on the Dayanand Bandodkar Road towards Miramar Beach. The Kala Academy complex, a modern edifice created by renowned Indian architect Charles Correa, has been the latest addition on this route.
If one happens to visit Panjim, one must visit the Abe de Faria statue, located at the prime location to salute this great man's contribution to the world!
I worked as a staff reporter of Goa's then only English daily, The Navhind Times, in the 1980s. The single-storey Adilshah Palace with a tiled roof was then the Secretariat of the Goa, Daman and Diu Union Territory. There was a Press Room for journalists, located in a far corner of the Secretariat. A small table and a typewriter were available to journalists from the English dailies.
This press room was very convenient for impromptu press meets called by the then Chief Minister Pratapsingh Rane, his ministerial colleagues like Dr Wilfred D'Souza, Harish Zantye or Shaikh Hassan or the chief secretary and other senior officials, all based at the one-storeyed historical structure.
I was pleasantly surprised when I recently visited this Press Room during my Goa tour. Though Goa Secretariat was shifted to a very spacious complex in Porvorim some years ago, the signage 'Press Room' is still displayed in that small room of the Adilshah Palace.
I was nostalgic and immediately asked my wife to quickly click a couple of photos of mine, along with the signage.
Abe de Faria's statue is located not far from this old Press Room. Though I left Goa three decades ago, the Abe de Faria statue still fascinates me. The reason for this is the personality of Abe de Faria.
This small region became a part of the Union of India as Goa, Daman and Diu were freed from the Portuguese regime, following a military action ordered by the then Prime Minister Pandit Jawaharlal Nehru in December 1961. Statues of prominent historical Portuguese personalities including Vasco da Gama, Portuguese Governor General Alfonso de Albuquerque and others installed at prime locations were removed and sent to the places they deserved after Goa's liberation — the museums.
However, the statue of Abe de Faria installed just 16 years before Goa Liberation still stands tall at this place. The reason? Although Abe de Faria won acclaim as a Catholic priest and later as a hypnotist in Rome, Portugal and France, he hailed from Goa.
It is very interesting to know how a boy born at Candolim in Bardez taluka of Goa became a famous Catholic priest in Europe and was called Abe de Faria or Abade Faria, or Fr. Faria. 'Abe' incidentally is the French word for the abbot, the lowest ranking Catholic clergy or priest.
Abe de Faria was born as Jose Custodio Faria on May 31, 1756. His father, Caetano Vitorino de Faria, was studying to become a priest but left the seminary before being ordained. He got married to Rosa Maria de Souza. But their marriage lasted only six years as both of them separated and secured the church's dispensation to pursue religious vocations.
Thus, Caetano became a priest and Rosa became a nun. Caetano, along with his son, left for Portugal in 1771. Jose Custodio later joined the seminary and was ordained a priest in 1780.
Here is an interesting incident that is said to have shaped Abe de Faria's whole life. The Queen of Portugal invited the young priest to preach in her chapel. After climbing the pulpit, Abe de Faria was too scared to speak.
His father, who was near the pulpit, whispered to him in their mother tongue Konkani: 'Puta, hi sogli bhaji; cator re bhaji (Son, they are all vegetables, cut these vegetables).'
Immediately, the son lost his fears and he preached well.
Young Abe de Faria later wondered how a single sentence could transform his fears into confidence. This sowed in his mind the seeds of his deep research on the subject of hypnosis.
In France, he won fame as he demonstrated the modern art of hypnosis. As a Catholic priest, he faced tremendous opposition from the church authorities about his views and practice of hypnotism which was considered as the power of the devil or Satan, the black magic. He, however, maintained that hypnosis was not contradictory to the doctrines of the Catholic Church.
Abe de Faria argued that no person can be hypnotised without his or her consent. And so the free will of an individual in which the Catholic Church believed – was in no way compromised when a person was hypnotised.
Both senior Faria and junior Faria actively participated in the Pinto revolt in 1787 in Goa against the Portuguese rulers. Discontent against the Portuguese rule was brewing among Goan priests and local military officials during those days. They felt that Goan priests and military officials got step-motherly treatment and they were always sidelined. This resulted in the Pinto revolt in 1787. It was the second such revolt by the people of Goa against the Portuguese rule on the Indian sub-continent.
Abe de Faria died on September 20, 1819, after his book explaining the principles of hypnosis was published. It was, however, only a century later that he got recognition as the father of hypnotism.
Veteran Goan sculptor Ramchandra Pandurang Kamat sculpted the Abe de Faria statue and it was unveiled on September 20, 1945. The bronze statue of Shivaji Maharaj on the Pratapgad fort in Maharashtra has also been sculpted by Kamat.
An arterial road in Margao town in South Goa has been named after Abe de Faria and it is called Rua Abe de Faria, Rua meaning road in Portuguese.
The Portuguese Government released a special postcard based on the image of this statue in Panjim to commemorate the 250th birth anniversary of Abe de Faria in 2006.
Abe de Faria's grave is said to be somewhere in Montmartre, a neighbourhood of Paris. Montmartre is a favourite place for artists and those interested in classical and modern art.
During my recent tour to Europe, I stayed at Montmartre in Paris. While walking there, I often wondered where was the final resting place of the veteran Goan, Abe de Faria.
The tomb of this great Goan may never be found but his contribution and legacy in the field of hypnosis will always be remembered.
31st May is the birth anniversary of this great Goan.
(Camil Parkhe is a senior journalist based in Pune. He started his journalism career in Goa and has worked in various newspapers in different capacities.)