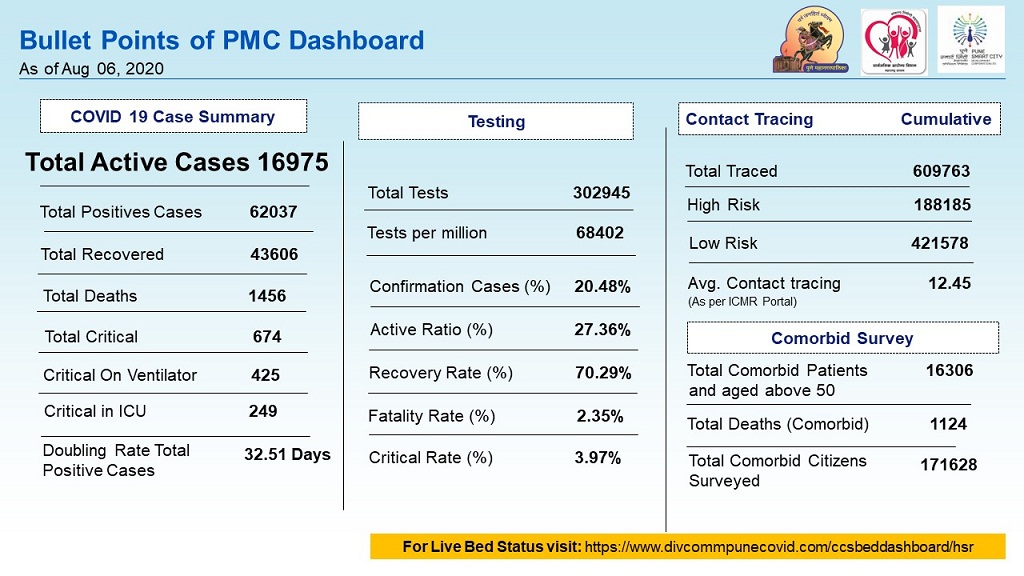 Mrunal Jadhav
Pune, 7th August 2020: While the number of Coronavirus Disease (COVID-19) cases are increasing in Pune city and district, the mortality rate is declining at the same time. The death rate in the city has now come down to 2.35 percent from 5 percent in April, according to Pune Municipal Corporation (PMC) data.
PMC Additional Commissioner Rubal Agarwal said that till August 6th, PMC has done 302945 testing for COVID. "Pune district testing is highest in the state. The recovery rate in Pune city has increased to 70.29% and mortality rate has decreased to 2.35%. The positivity rate is 20.48%", Agarwal said.
According to PMC, the total number of COVID cases in Pune city has reached 62037 out which 43606 people have recovered while 1456 have died. The doubling rate of positive cases has increased to 32.51 days. COVID tests per million are 68402.
It has been said that the mortality rate should be drawn with a comparison between numbers of active infected cases and deaths. According to this, the district's mortality rate has come down to 6.89 percent from 11.84 in May.
On March 30 this year, a 52-year-old man who was treated at a private hospital was the first victim of COVID-19 in the city. After that, the number of victims, as well as the number of deaths, began to increase. This included the elderly and people with comorbidities like diabetes, high blood pressure, heart disease and other ailments. The district (Pune and Pimpri-Chinchwad, rural, cantonment and municipal councils) recorded 86 deaths till the end of April, which is in the first month itself.
In May, as the number of infected people began to rise, the number of deaths quadrupled. By the end of May, the death toll in the district had risen to 331. The mortality rate in the district had thus reached 11.84 percent of the number of active infected cases and deaths.
The number of infected people in the district has reached 100264 so far. The highest number of 71,298 cases were found in July. Till yesterday, 2290 people have died in the district due to Coronavirus. Although the death toll in the district was on the rise, it seems to be declining in the last two months. The rate was 9.62 percent in June and 6.89 percent in July.
In comparison with the active cases, the district's mortality rate is 2.3 percent. In this, the death rate in Pune is 2.35 percent, in Pimpri Chinchwad, it's 1.72 percent, 3.3 percent in the area under Municipal Councils, 2.5 percent in Zilla Parishad (Rural) and 3.5 percent in the Cantonment Boards area. The mortality rate is higher in the cantonment and municipal council limits.