Inactivated Polio Vaccine (IPV) launched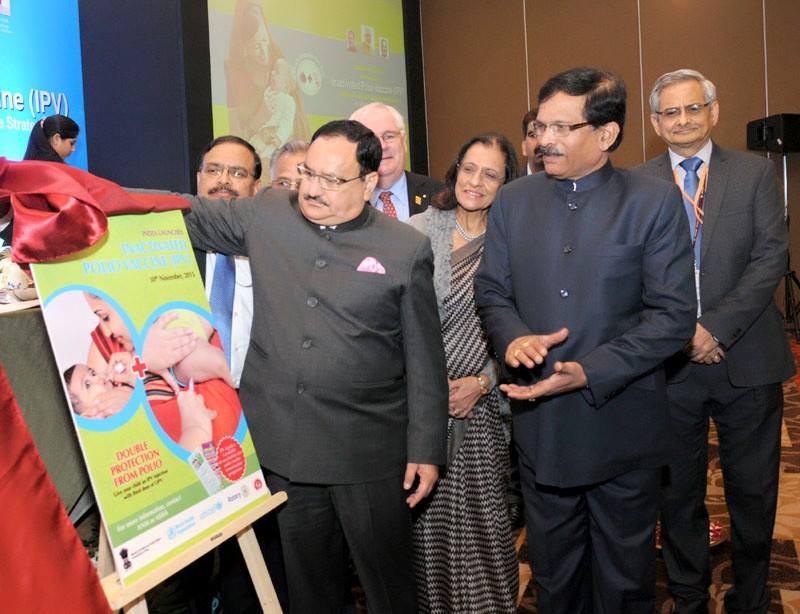 "At this momentous milestone, India remains committed to Global Polio Eradication": J P Nadda
Shri J P Nadda, Union Minister for Health and Family Welfare launched the injectable Inactivated Polio Vaccine (IPV) in India as part of its commitment to the "Global Polio Endgame Strategy" at a function, here today in the presence of Shri Shripad Yasso Naik, Minister of State (MoS), Ministry of Health and Family Welfare.
Speaking on the occasion, the Health Minister stated that in a landmark step to provide double protection to our children and securing our gains of polio eradication, the Government of India is introducing IPV into its routine immunization program along with oral polio vaccine. He informed that in the first phase this vaccine will be introduced in six states, viz Assam, Gujarat, Punjab, Bihar, Madhya Pradesh, and Uttar Pradesh. IPV injection will be given to children below one year of age along with the third dose of the Oral Polio Vaccine (OPV) at the routine immunization sessions free of cost, he stated. New evidences now clearly show that IPV and OPV together will further strengthen the children's immune system and will provide double protection against polio, the Health Minister added.
Shri Nadda said, that today's introduction of IPV in routine immunization is as per recommendation made in World Health Assembly in May, 2015 and endorsed by Global Polio Endgame Strategy. IPV will roll-out to 126 countries which are only using OPV in the National program and it will be the largest and fastest globally-coordinated vaccine introduction project in history. Further he said, while keeping intact our polio agenda, "We are utilizing the opportunities to intensify our efforts to ensure full immunization of all children in the country. Every new vaccine introduction gives us the added opportunity of health system strengthening. As part of this introduction we have trained our health officials and frontline health workers", the Health Minister said.
The Health Minister said that apart from introduction of new vaccines such as Pentavalent and IPV, the Government of India is ensuring that every last child in the country is benefited by the immunization programme. To achieve this, "Mission Indradhanush" was launched in unidentified high and medium focus districts across the country in two phases. Phase-1 of "Mission Indradhanush" has been completed where more than 75 lakh children were vaccinated, of which about 20 lakh children were fully vaccinated. Phase-2 has also started from 7th October'2015,in 352 districts, he added.
Shri Nadda said that Infant Mortality Rate (IMR) is considered one of the key socioeconomic developmental indicators. "We have reduced IMR from 58 per 1000 live births in 2005 to 40 per 1000 live births as per recent estimates of SRS 2013. Annual rate of decline of IMR is 4.5 % during 2005-13 which is higher as compared to 3.1% during 2000-2005.", he said. Further, the Health Minister said interventions like Special New Born Care Units, New Born Stabilization Units, New Born Care Corners, and Home based Neonatal Care by ASHA have geared up reduction in IMR. Recent initiatives like RMNCHA+ and India Newborn Action Plan reflect the country's will to further advance in this direction., the Health Minister said.
The Health Minister thanked and congratulated all state governments and the supporting organizations like WHO, UNICEF and Rotary International etc. for partnering in this endeavor. He expressed his gratitude toward the frontline health workers for achieving unique success of polio eradication in the sphere of public health.
Speaking on the occasion, Shri Shripad Yasso Naik, MoS (Ministry of Health and Family Welfare) stated that introduction of this new vaccine is a step closer to global polio eradication. He hoped that ensuring healthy children will lead to a healthy country.
Terming the introduction of IPV in the routine immunization programme a landmark moment, Shri B P Sharma, Secretary (Health) said that IPV will be an important step in the Polio Endgame Strategy and will strengthen full immunization efforts in the country. He enumerated India's achievements under the Mission Indradhanush programme.
Smt. Poonam Khetrapal, Regional Director, SEARO (WHO) stated that launching IPV in India is a historic moment and will further cement India's achievements on polio, so far. She said it is necessary step to eradicate polio virus from the world. She also applauded the Government of India for its commitment to eradicate polio.
Mr. Michael McGovern, International PolioPlus Committee of Rotary International commended India for its success in keeping the country polio free, and said that Rotary shall always support its polio eradication efforts.
Mr. Louis-Georges Arsenault, UNICEF Representative for India commended the strengthening of India's immunization programme by introduction of IPV and termed this as a "monumental step". He reiterated commitment and support of UNICEF in India's immunization endeavors.
Also present on this occasion were, Dr. (Prof) Jagdish Prasad, DGHS, Shri C K Mishra, AS&MD (NHM), Dr. Rakesh Kumar, JS (RCH, IEC), Shri Rajendra K Saboo, Past President, Rotary International, senior officers of the Health Ministry, representatives of WHO, UNICEF and Rotary.