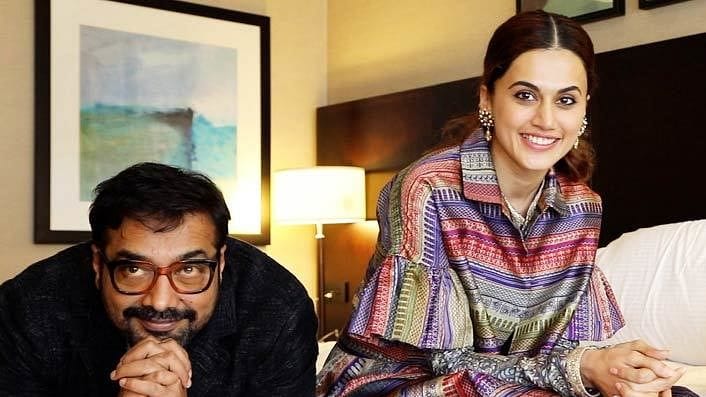 Harleen Kaur Grewal
Mumbai, March 03, 2021: The Income Tax Department has raided the house of film director Anurag Kashyap and actress Taapsee Pannu. Apart from these two stars, the income tax department's raid will strike on other people associated with Phantom Films. This raid has been conducted by the department in the case of tax evasion. The Income Tax Department has raided 20 locations in Mumbai and Pune, including the properties of Anurag Kashyap and Tapsee Pannu.
Apart from this, the properties of Vikas Bahl and Phantom Films co-founder Madhu Mantena Verma have also been raided. Madhu Mantena Verma also runs a talent management company. Phantom Films was operated by Anurag Kashyap, Vikas Bahl, Vikramaditya Motwane, and Madhu Mantena Verma, but the company was dissolved in 2018.
Madhu Varma Mantena is best known for the film 'Ghajini'. She directed the film starring Aamir Khan. Apart from this, she has also directed several other Hindi, Telugu, and Bangla films. Anurag Kashyap and Taapsee Pannu are trending on Twitter since the Income Tax Department's raid. Anurag Kashyap is known for popular films like Gangs of Wasseypur, Black Friday, etc. He has often spoken on political and social issues as well.
The CEO of Reliance Entertainment was also raided: Shibhashish Sarkar, CEO of Reliance Entertainment, Officer Zaidi, CEO of Exide Company have also been raided. Apart from this, raids have also been conducted by Vijay Subramanian, CEO of Kwan Celebrity Management Agency. These companies are counted among the famous celebrity management agencies of Mumbai.
In 2018, Phantom Films was demolished: Phantom Films was formed by Anurag Kashyap, Vikramaditya Motwane, producer Madhu Verma Mantena, and Vikas Bahl. Subsequently, in March 2015, Reliance Entertainment bought a 50 percent stake in the company. Many hit films were made under the banner of Phantom Movies, but the company was finally dissolved in 2018 when Vikas Bahl was accused of sexual harassment.
Follow Punekar News: