Indian Navy celebrates 'Beating Retreat' ceremony at Gateway of India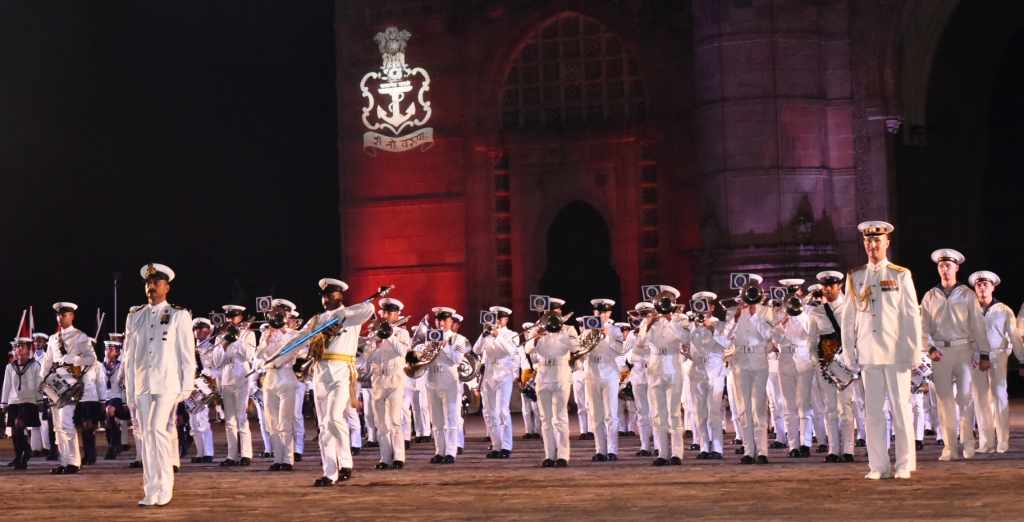 Mumbai, 4.Dec.19: Gateway of India witnessed the eye catching ceremony 'Beating Retreat' of Indian Navy, today. Breathtaking excursions of Chetak and C-King helicopter of navy, demonstrations by 'Marcos' Marine Commandos, bands from Indian as well as Russian navy, beautiful dance performances, and superb conduction of Naval fighters, dance of the Sea Cadet Corps became the highlight of today's amazing program.
Governor Bhagat Singh Koshari attended the 'Biting Retreat' and tattoo Ceremony on the Naval Day organized by The Western Command of the Indian Navy at the Gateway of India. Chief of Western Command Vice Admiral, Ajit Kumar and senior officers of Indian navy were prominently present.
During the Indo-Pak war of 1971, 'Operation Trident' was implemented by the Indian Navy on December 4 at the Karachi port. Naval day is celebrated on December 4 every year to commemorate the valor of the attack and to pay tribute to the devotees of the Navy. Russian naval support was received during 'Operation Trident'. Today's event is even more exciting as the Russian Navy's band team participates in this year's Biting Retreat Ceremony.
Naval 'Chetak' and 'Sea-King' helicopters conducted aerial exercises in various designs. Sea king helicopter take off from the back side Gateway of India and the soldiers hoisted the flag from the rope. At this time, shower of pink and red color flowers were eye-catching.
The feature of the Beating Retreat program was the practical of how to tackle with terrorist attack presented by the Marcos Commandos, as well as the demonstration of rope hanging exercise from helicopters presented by soldiers. The rhythmic and discipline bands performed by Indian navy was main attraction of the program. As the naval band was presenting, the attention of everyone was drawn to the Tubular Bell playing on the terrace of the Taj Mahal Palace Hotel.
The movement of the colored lamps lighting the instruments in the background of darkness was enchanting the audience while the Magic Light Tattoo Drummers team was playing. At this time the soldiers conducted drills with guns. Beautiful dance performance by C-Cadet Corps won the heart of the present audience.