India's progressive parties need fresh ideas to engage with the diaspora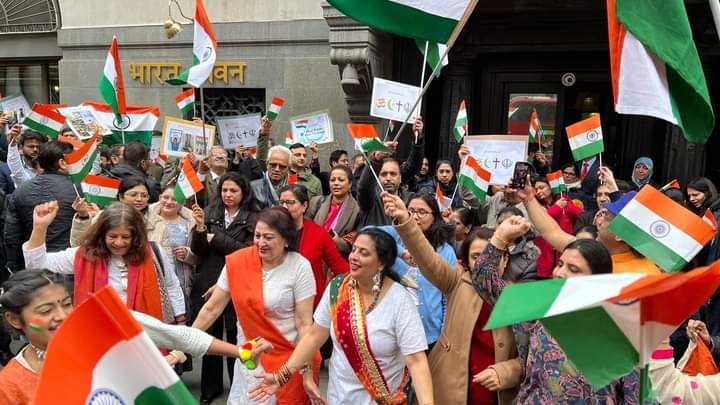 Pratik Dattani
London, 14th April 2023: Indians choose to migrate to countries like the United States and the UK for the prospects of a better life—which is far better than what they have in urban India. The latter is an implicit embrace of a more open, progressive and diverse society in the UK, where your basic needs of schooling, healthcare and housing are taken care of, institutions work well and you can be who you want to be.
Prima facie means the diaspora is exposed to more progressive values once they leave India. The first and second generations in particular still retain a deep connection to India.
But two incidents recently have made me think about how poor India's progressive parties are at reaching out to the Indian diaspora. The first happened at the inaugural Ideas for India conference in London last May, celebrating India's 75th anniversary and looking ahead to the next 25 years. An Indian-origin academic from a London university was aghast at a BJP Minister being invited to speak at the event and started an aggressive line of questioning of the speaker during a Q&A. She subsequently took to Twitter in a coordinated effort to call the organising team fascists.
The second incident was during Rahul Gandhi's recent visit to Cambridge and London. While much of the opprobrium back in India against his comments was manufactured outrage, I was struck at how softball the questions asked of him were at the public talks at Chatham House and with Indian journalists. He made many claims that could have been easily interrogated but weren't.
The target audience for his answers seemed to be his party's workers in India, rather than the audience he was in front of – the Indian diaspora. It was a basic communications failure.
Contrast this with how the Prime Minister made the audience feel during a bitterly cold winter's evening when he took over Wembley stadium. Part of his charm is he appears like a statesman, and he can command a room. The basic ask from the diaspora is that they will more positively interact with politicians from India if they make the diaspora feel proud of their Indianness.
Therein lies the fundamental problem with how progressives like academics and Rahul Gandhi interact with the diaspora. Pride is a great sales strategy, shame is not.
Part of this is not knowing what they stand for. Only knowing what you are against, is a poor recipe for motivating others to see the world through your eyes. The 'angry young man' image from Zanjeer made Amitabh Bachchan relatable to the masses then, but today's audience wants a thinking man like Ayushman Khurrana.
In a deeply-polarised world, progressives occasionally force themselves to be entrenched by dogma. When you forget why you've erected walls, it's diminishingly clear whether you've done so to keep 'the other' out, or simply, yourself caged in. Large parts of the diaspora, in its interactions with India, have become more socially conservative. That's true in part because the media landscape in India has deteriorated, and misinformation spreads via closed networks like WhatsApp. But still, to pretend otherwise is being on the wrong side of public opinion and history.
A different Indian-origin academic at a top-ranked London university told a colleague of mine that he views anyone identifying as Hindu as being Hindutva, using the term pejoratively for fascist. That is illiberal to the extreme. 
As former US President Barack Obama said in 2019, progressives sometimes create "a 'circular firing squad', where you start shooting at your allies because one of them has strayed from purity on the issues."
Being progressive is not simply standing against and denouncing illiberal ideas and speaking out against the 'injustice'. The progressives of India need to understand the information that the Indian diaspora is exposed to. Rather than coming across as a rambler, they need to bring something to the table—ideas and they can only do so if they engage better with the diaspora.
Hence, this year, the Ideas for India conference is taking place on 11-12 May in London, now in its second year. We have speakers, truly, from across India and ideological persuasions. The core idea of India is one based on plurality and diversity, and we hope to interrogate what that means to policymakers, business leaders (of which we have more than eighty from India attending) and the diaspora.
(Pratik Dattani is Managing Director of advisory firm EPG, and is part of the team organising the inaugural India Week on 7-12 May across Leicestershire, Oxford and London.)