Jivika Healthcare appointed by Pune Municipal Corporation as its on-ground Routine Immunization and Measles Administration Partner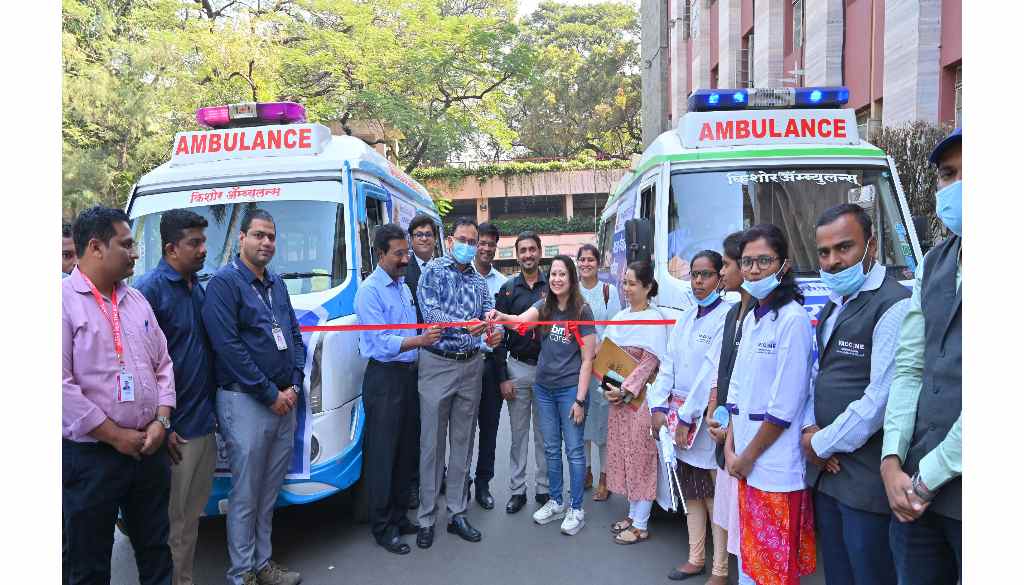 Pune, 25th January 2023: Jivika Healthcare's VaccineOnWheels, a mobile van-based vaccination clinic dedicated to serving underprivileged communities in India, announced its partnership with Pune Municipal Corporation for on-ground Measles and routine immunization administration on 17th January 2023. The partnership was forged under the PPP (Public Private Partnership) model enabling multi-stakeholder participation for effective immunization coverage. Jivika Healthcare and PMC together will provide vaccination services to children by setting up vaccination booths near communities with the ultimate aim of increasing immunization penetration.
Jivika Healthcare will deploy vaccination units, wherein each unit will administer around 7000-8000 doses of vaccines which include Measles and other Routine immunizations for children under the age of 5 years. As part of its protocol, every mobile vaccination unit comes equipped with a qualified doctor, nurses, and healthcare support staff and an ambulance on standby for any emergency in case of AEFI (Adverse Event Following Immunization). In this drive, Government will provide vaccines and Jivika Healthcare's Mobile Vaccination Unit will administer vaccination by organizing immunization drives under the guidance of PMC.
Jivika Healthcare's unique PPP model will undertake a complex orchestration of multiple activities; from procurement to deployment, awareness to mobilization followed by inoculation with the support from multiple stakeholders. The partnership between stakeholders will enable transparency, ease of access, and equity that will collectively accelerate a return to normalcy. Jivika Healthcare in partnership with the Rotary Club of Pune Central will also bring together NGOs and CSR partners to fund various resources required to deploy mobile vaccination units to immunize children within the Pune Municipal Corporation area. The organization aims to immunize approximately 10,000 children in a span of 3 to 6 months in partnership with state governments.
Shri Ravindra Binawde, Additional Commissioner (General) Pune Municipal Corporation said, "In the wake of the outbreak in Mumbai, steps were taken by the Pune Municipal Corporation to start an immediate task force and conduct a survey. In this, Jivika Healthcare immediately extended a helping hand."
the launch, Rtn. Uday Dharmadhikari, President Rotary Club of Pune Central said, "We would like to ensure that every child who is partially vaccinated or unvaccinated completes its vaccination. Through this drive, we aim to deliver safe & effective vaccines for the target children and at the same time accessible, and approachable to them. With trained health workers to deliver vaccines, along with Measles vaccination, this drive will also empower the current routine immunization in Pune. This drive is being implemented on the ground through Jivika Healthcare Pvt Ltd."
Mr Jignesh Patel, Founder & Chief Executive Officer, of Jivika Healthcare, said, "We are happy to serve Pune with our doctor-based Mobile Vaccination Clinic service. This project has been undertaken by us with a mission to immunize children in Pune with Measles vaccines to prevent any potential outbreak from spreading. Our PPP model enables stakeholder collaboration across industries, government, and NGOs in making available routine immunization service at grassroots levels with an ultimate aim to help Government in increasing vaccination penetration."
BMC Software India Pvt. Ltd. in partnership with the Rotary Club of Pune Central has come forward to support Jivika Healthcare and Pune Municipal Corporation in the vaccination drive through its CSR initiative, BMC Cares Sakaar Anand, Vice President HR and India Head, BMC Software, said, "The unfortunate COVID-19 pandemic also affected the routine immunisation in children. Prioritizing people is a company value that we take to heart, and we are privileged to play our part in supporting the health and wellbeing of India's young people."
Jivika Healthcare's VaccineOnWheels is equipped with the capability and readiness to introduce mobile units anywhere within India to support the nation in vaccinating children outside hospital setups. With the support of various funding partners, VaccineOnWheels plans to introduce more than 100 mobile units which can be deployed in different cities and states of India.