Know tech trends & their implications, seize opportunities & build collaborative models, says Nandan Nilekani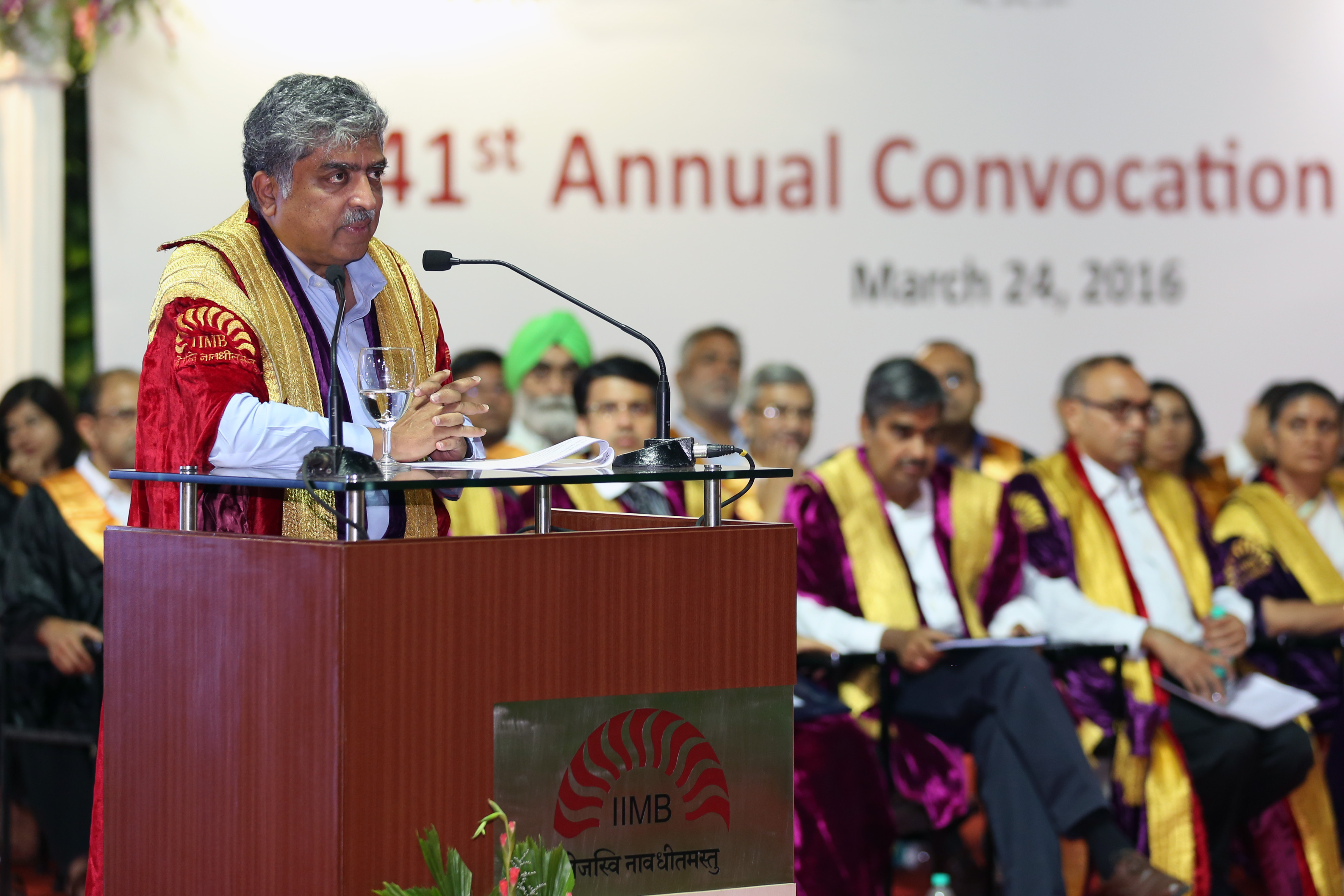 597 students graduate from the prestigious IIMB this year with 9 bagging gold medals
BENGALURU, 24 March, 2016: "WhatsApp was such a success because they saw the importance of messaging in a world moving from voice to data, from desktop to mobile, from feature phone to smartphone and from Value Added Services to Over the Top applications. The opportunity was seized not by a telecom or an internet giant but by a start-up," said acclaimed entrepreneur, philanthropist and author Nandan Nilekani, to the graduating students of IIM Bangalore here today.
Encouraging the management graduates to seize opportunities that arise from a rapidly shifting environment in today's business world, Nilekani, the chief architect of Aadhaar and the co-founder of Infosys, who was the chief guest at IIMB's 41st annual convocation, shared with them a few of his life experiences and career choices.
While emphasizing the need for today's leaders to have a deep understanding of technological trends and their implications, he said: "This is irrespective of whether you are entering finance, retail, manufacturing or any other sector." Urging students to "think platforms, not pipes", Nilekani quoted Sangeet Paul Choudary, an IIMB alumnus, who describes how platform business models are disrupting traditional 'pipe' business models which have a linear flow of value in his book 'Platform Scale'.
"The nature of large businesses are changing from large employee-based conglomerates to a model where large businesses are aggregating smaller businesses on their platforms. This means millions of even smaller businesses will flourish due to entrepreneurship but will become part of many large business platforms (like small hotels becoming part of Airbnb). This collaborative model of building large companies by partnering with thousands of smaller companies is not how traditionally large businesses were built," Nilekani explained.
Listing essential attributes for leaders in the age of great disruption, he urged the students to develop the ability to embrace change, get the first-mover advantage and imagine business at scale.
A total of 597 students graduated from the prestigious institution this year in the presence of Kiran Mazumdar-Shaw, Chairperson, Board of Governors, IIMB, Sushil Vachani – Director, IIMB, and members of the faculty. The graduates were cheered by their families too, many of whom had made the trip to Bangalore to capture the proud moment forever.
Of the total students who graduated this year, 400 are from the two-year Post Graduate Programme in Management (PGP); 72 are from the one-year full time residential Executive Post Graduate Programme in Management (EPGP); 49 are from the Post Graduate Programme in Software Enterprise Management (PGSEM); 34 are from the Post Graduate Programme in Enterprise Management (PGPEM); 22 are from the Post Graduate Programme in Public Policy and Management (PGPPM) and 20 are from the doctoral programme called the Fellow Programme in Management (FPM).
In his address IIMB Director Sushil Vachani emphasized the importance of students needing to develop a global perspective in today's interconnected world. Listing the Institute's major accomplishments this past year, he highlighted the global recognition that IIMB has received, the Institute's deep commitment to contributing to education, research initiatives and skill-building for the nation, individual feats of the faculty, students and alumni. Lauding IIMB's contribution towards social causes, he said "IIM Bangalore also has a deep commitment to supporting important nation-building programs. One example is the Unnat Bharat Abhiyan, which encourages premier academic institutions to develop solutions for challenges faced by rural India. IIM Bangalore has volunteered to coordinate the national rural initiatives for education and has adopted 10 villages in Northern Karnataka to test new models for addressing the needs of rural India".
Wishing the graduating students success, he urged them not to be swept away by their professional success alone but to find their passion, dream big and take chances. "Combine your dreams for personal success with a commitment to public good. You can, and must, confront norms that have become entrenched and hold us back as a society, such as corruption or discrimination. You have an obligation to help those who are less advantaged, and help level the playing field for those who are powerless. Whether you work in corporate India, or start your own venture, or focus on advocacy in an NGO, or opt for public service with the government, you have the power to change the culture and norms that provide or deny opportunities, that promote or deter equality, that enhance or suppress freedom, and that make us a stronger or weaker nation", he said.
Dr. Kiran Mazumdar Shaw, Chairperson, Board of Governors, IIMB in her address, highlighted the achievements of IIM Bangalore during the academic year 2015-16, the global rankings the institute achieved, the important partnerships it entered into, the social initiatives taken up by IIMB, etc.
She also had a special word of appreciation for IIMB's incubation centre, the N.S. Raghavan Centre for Entrepreneurial Learning (NSRCEL), which has consistently played a key role in seeding, nurturing and promoting entrepreneurship with an emphasis on early-stage start-ups. "Today, NSRCEL incubates 18 start-ups – perhaps the largest for an incubation centre in an academic institution. NSRCEL, which also provides free mentoring for budding entrepreneurs, organized 400 mentoring sessions and 34 entrepreneurship-related events during 2015. During the year, NSRCEL also signed a couple of important partnerships aimed at facilitating innovation and entrepreneurship by educating entrepreneurs on global best practices," she said.
She made a special mention of the Women in Management Club at IIMB, which hosted the 2nd Annual Women Leadership Summit in January this year. Thanking IIMB's outgoing Director Sushil Vachani for his contributions over the last two years, she dwelt upon the Massive Open Online Course (MOOC) initiative that IIMB, under Dr Vachani's leadership, launched a year ago. "Although the MOOC programme is less than a year old, it has catapulted IIMB as a front runner in using technology to deliver education and create social impact with 15 course modules up and running and close to 200000 learners across the world."
To the graduating students, she said: "Always try to change things for the better. Do not lose your enthusiasm. Accept the past, manage the present, and work hard towards a better future for all. Focus on creating solutions and not drowning in problems. Above all, never fear failure."
List of Gold Medallists:
Post Graduate Programme in Management (PGP)
I Rank – Anurag Garg (Batch 2014-16)
II Rank – R Bharadwaj (Batch 2014-16)
Best All Round Performance – Kshitij Chaudhary (Batch 2014-16)
Post Graduate Programme in Public Policy and Management (PGPPM)
Best Academic Performance – Keshav Kumar (Batch 2015-16)
Post Graduate Programme in Software Enterprise Management (PGSEM)
I Rank – Kaushik Kumar Bar (Batch 2013-16)
Post Graduate Programme in Enterprise Management (PGPEM)
I Rank – Nirav Shah (Batch 2014-16)
Best All Round Performance – Kiran Shirgaonkar (Batch 2014-16)
Executive Post Graduate Programme in Management (EPGP)
I Rank – Mohamed Jaffer Ali Allapitchai (Batch 2015-16)
Best All Round Performance – Santosh Mishra (Batch 2015-16)