Kothrud: Elderly Couple Looted At Knifepoint By Their Former Caretaker, Agency Owner Planned The Robbery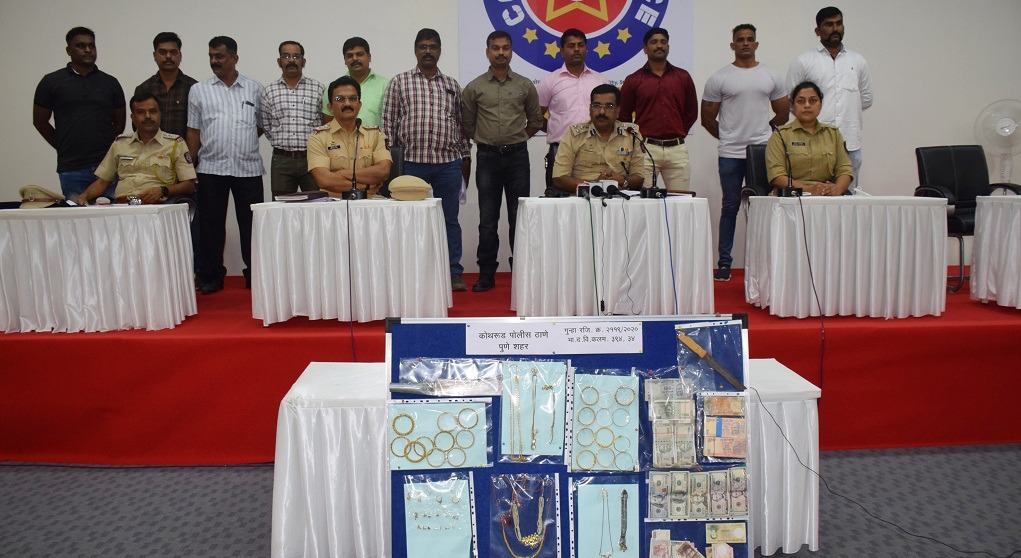 Mubarak Ansari & Mehab Qureshi
Pune, December 11, 2020: A former caretaker and his accomplices broke into the bungalow of an elderly couple and looted jewellery and cash worth Rs 11.52 lakh from them at knifepoint in the early hours of Thursday.
The 74-year-old senior citizen has lodged a complaint at the Kothrud police station against their caretaker Sandeep Hande and his two accomplices. Within 24 hours of the incident, Pune police nabbed the accused persons and recovered all the stolen valuables.
According to police, the elderly couple lives in Jai Bhavani Nagar locality of Kothrud. Their son lives in the US, while their daughter lives in Bavdhan. They hired Sandeep who took care of them. However, he quit the job in 2019.
Between 1:00 am to 2:30 am on Thursday, accused Hande and his two accomplices broke through a window from the terrace roof and entered the bungalow. The accused threatened the elderly couple with a sharp weapon. When the complainant's wife tried to raise an alarm, he stabbed her in the arm. They looted 380 grams of gold ornaments, 3000 US Dollars and Rs 80,000, totally worth Rs 11.52 lakh, kept in the cupboard of their bedroom.
The incident came to light when the couple informed their relatives and police about the incident after the accused left. Police formed two teams and nabbed the accused persons identified as Hande (25) of Walhekarwadi, Akash Kamble (22) of Nigdi, Deepak Sugave (21) of Chinchwad and Chhagan Jadhav (48) of Walhekarwadi, Chinchwadgaon.
According to Additional Commissioner of Police (West region) Sanjay Shinde, Jadhav is the mastermind behind the robbery. "Jadhav runs an agency – Ajinkya Nursing, Chinchwad – which provides staff for various works. He had sent Hande to the couple's bungalow where he worked for about one and a half month. During this period he recced the bungalow and learnt whereabouts of the valuables. Based on the instructions of Jadhav, the couple was looted", informed Shinde during a press conference at the Police Commissioner's office today.
DCP (Zone 3) Pournima Gaikwad said, "We have recovered all the valuables which were looted in the incident."
Senior Police Inspector Sunil Tambe, in-charge of Kothrud police station, said, "Jadhav had sent Hande and others for work at the homes of many senior citizens and then committed robberies there. Further investigation is going on about these cases in Pune and Pimpri Chinchwad."
Investigation team included Police Inspector (Crime) Balasaheb Bade, Assistant Police Inspector Asaram Shet and Police Sub Inspector Santosh Patil and their staff.