Lighthouses to become beacons of tourism – Nitin Gadkari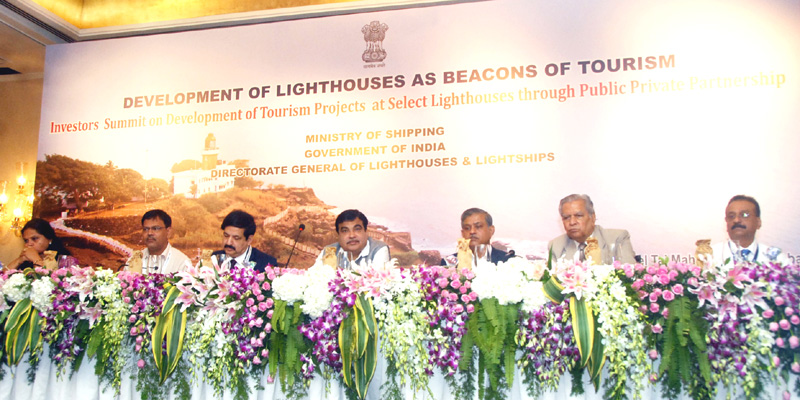 The Ministry of Shipping has taken up an ambitious plan to develop Lighthouses dotting India's vast coastline as new beacons of tourism. "All over the world lighthouses enthrall tourists with their scenic and serene surroundings and rich maritime heritage. In India there is a vast tourism potential, which has largely remained untapped", said the Minister for Shipping Mr. Nitin Gadkari while addressing the Investors Summit on Development of Lighthouses as Beacons of Tourism in Mumbai today.
Mr Gadkari said India has as many as 189 lighthouses and the Directorate General of Lighthouses and Lightships (DGLL), Noida, has drawn up a plan to develop 78 of them as tourist attractions under Public-Private Partnership.Such identified Lighthouses are in Gujarat, Maharashtra, Goa, Karnataka, Kerala, Lakshadweep, Tamil Nadu, Puducherry, Andhra Pradesh, Odisha, West Bengal and Andaman and Nicobar Islands. 9 Lighthouses from Maharashtra and Goa – located at Sunk Rock, Kanhoji Island, Uttan Point, Korlai Fort, Jaigadh, Ratnagiri, Devgadh, Vengurla Rocks, Tolkeshwar Point, Fort Aguada and Sao George are part of the lighthouse development project.
Mr. Gadkari said the Shipping Ministry has already held road shows in Chennai, Kochi and Visakhapatnam and the outcome has been very encouraging, with 236 potential investors participating in them.
The Minister said there have been some concerns expressed by investors, especially with respect to Coastal Regulation Zone clearance, security clearance, support from Ministry of Shipping in the form of subsidy etc. Mr. Gadkari admitted that there would be some road blocks while implementing this ambitious projects, but asserted that the Government's attitude will remain positive.
He said an Inter-Ministerial Group comprising representatives of Ministry of Shipping, Tourism and Environment and also that of participating states will be set up to iron out problems if any. Mr. Gadkari said, his Ministry has already consulted the Ministry of Home Affairs regarding security clearance, as well as the Ministry of Environment with respect to forest and environment clearances. He informed the investors that environment clearance would be obtained on case to case basis.
Mr. Gadkari said the government is also expecting that development of these lighthouses as vibrant tourist spots may give a boost to local economy by generating additional employment as most of these lighthouses are located in the remote areas of the country.
The Director General Lighthouses and Lightships, Captain A M Surez saidfour Lighthouses located at Chennai and Mahabalipuram in Tamilnadu and Alapuzha (Alleppy) and Kannur (Cannanore) in Kerala have already been developed as tourist attractions, which are seeing substantial footfalls.
The DGLL has invited Request for Qualifications (RFQ) from prospective and potential developers for 8 lighthouses at Kanhoji Angre and Sunk Rock off the Mumbai coast, Aguada in Goa, Kadalur Point at Thikkodi in Kerala, Minicoy in Lakshadweep islands, Mahabalipuram and Kanyakumari -Muttom in Tamilnadu and Chandrabhaga in Odisha. An Expression of Interest (EOI) for developing Tourism infrastructure has also been issued by the DGLL for another set of 70 lighthouses. The Shipping Ministry has favoured Swiss Challenge method for awarding lighthouse projects in a bid to encourage innovative ideas.
Development of tourism infrastructure would involve addition of hotels or resorts, thematic restaurants, construction of viewing galleries, walk in museums and allied tourism facilities.
South Korea, Scotland and South Africa are the pioneers in development of lighthouse tourism. India, though a late starter, hopes to catch up with the rest soon.
Follow Punekar News: