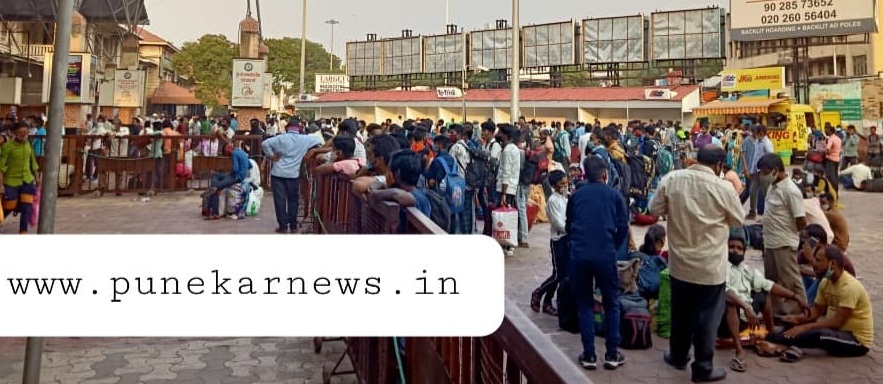 Sumit Singh & Sushant Ranjan 
Pune, 7th April 2021: Only passengers with confirmed reserved tickets are allowed to travel in special trains due to Coronavirus Disease (COVID19) pandemic. Passengers with waiting list tickets are restricted to travel, Indian Railways appealed. People have been gathering in large numbers at Pune railway station to leave the city fearing complete lockdown.
"Pune Railway Division is constantly trying to implement the protocol and measures related to Covid in railway stations, trains and to ensure their implementation. All confirmed ticket passengers are requested to arrive at the station within 90 minutes of the departure of their scheduled train so that there is no unnecessary congestion at the station and social distance is ensured on the station premises and platforms. Your cooperation can only help in preventing the spread of Covid", the railway has appealed.
The officials said that patients suffering from cold, cough, fever etc. should avoid travelling. Wearing masks at the station and during travel, wash hands frequently. Ensure compulsory adherence to the guidelines issued by the respective states of Covid.
Simultaneously, the Pune Railway Administration has clarified that passengers with waiting tickets are not allowed to travel and general tickets are also not being issued. Passengers are also advised that they can see the option for confirmed ticket on other special trains.
Know How To Travel During Weekend Lockdown, Night Curfew
Join our Whatsapp Group and Telegram for each update about Pune and PCMC.
Punekarnews.in is the first and only English language news portal of Pune – the educational and cultural capital of Maharashtra – Pune.
https://t.me/punekarnews
Follow Punekar News: