Lockdown ? Thousands of Migrant workers gather at Delhi's Anand Vihar bus stand, to board buses to their villages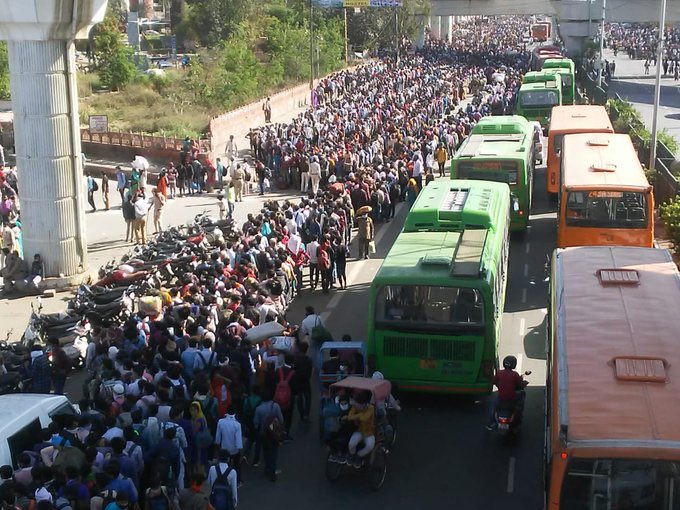 New Delhi, March 28, 2020: Today, the Anand Vihar bus stand broke the nationwide lockdown due to CoronaVirus. Wherever you saw, only people can be seen. All the lockdown arrangements were completely broken. The silence surrounding the lockdown has been turned into an uproar by the crowd of people. Everyone is running away. People were running to the area about which they get to know that the bus is available.
The lockdown was broken not only in Anand Vihar alone but all roads leading to Anand Vihar were full of long queues of people. People hang bags, carry sacks on their heads, accompanied by children and women.
This migration has been going on for the last three days
The migration of labourers has been going on for the last three days. However, on Saturday the number increased manifold. In fear, hunger and uncertainty of the future, people are leaving Delhi and surrounding areas and returning to their villages. Earlier some people started returning to their villages on foot, but due to the bus walking for two days, the situation is becoming uncontrollable.
People reached Anand Vihar after walking for 40 km
People kept coming throughout the night on Friday. Since Saturday morning, the process of coming to Anand Vihar continued to grow and by the afternoon, it became difficult to count the people. Many of them had walked 40 kilometres to reach Anand Vihar. People said that they had come to know that buses will run from Anand Vihar to many districts of UP.
Therefore, they have left for the bus base in a hurry to reach home. On reaching, they learnt that the buses were being run not from the Anand Vihar bus stand but from the Kaushambi bus stand on the other side of the road. Then all these people started going towards Kaushambi bus stand.
But after some time, Delhi Police put them in line as the thermal screening was arranged. Due to which, a line was established more than one kilometre from Kaushambi bus stand to Anand Vihar bus stand.
During this time, two lines of passengers were connected from the foot over bridge connecting Anand Vihar and Kaushambi bus stand to Anand Vihar underpass and petrol pump on the other side. The crowd was in the thousands which were taking time for the screening, for which the passengers had to wait in line for two to three hours before they got into buses.
Police personnel engaged in making arrangements
A large number of Delhi Police personnel were busy in making arrangements outside the Anand Vihar Bus Stand. During this time women police personnel were also present. At the same time, the policemen continued to take all the passengers in turn for thermal screening.
Follow Punekar News: