Split From Goa, Now Part of Dadra, Nagar Haveli, Daman And Diu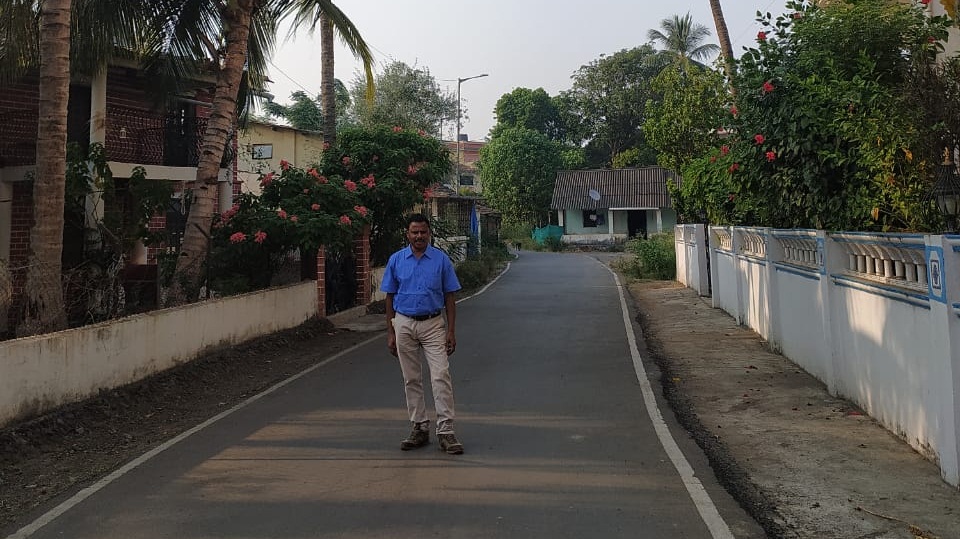 Camil Parkhe
Pune, November 20, 2020: Daman and Diu have been a part of my life since my adolescence for several years. This is despite the fact that I had never visited nor was sure of the exact geographical locations of these tiny territories. Names of these two territories along with Goa have been included in my higher secondary certificate as this public examination was conducted from 1975 to mid-1980s by the Goa, Daman and Diu Board for Secondary and Higher Secondary Education.
The only far remote connection I had to Daman and Diu was that these territories were part of Portuguese India, comprising Goa, Daman and Diu for over four and half centuries. This legacy of Portuguese colonialism had kept the three territories united even after Prime Minister Pandit Jawaharlal Nehru through a military action liberated these three areas from the Portuguese rule on December 11, 1961. After their merger into India, Goa, Daman and Diu turned a Union Territory although Goa was on Maharashtra's coastal border and Daman and Diu were located several hundred kilometres far away near Gujarat. No wonder, people from Goa had absolutely no social, cultural or linguistic similarities with either Daman or Diu.
And so when after my degree education I joined the English daily `The Navhind Times' as a reporter in 1981, Daman and Diu became an integral part of my daily news writing. In all our newspaper reports, we reporters had to invariably mention the Union Territory's full name, Goa, Daman and Diu. Thus, we wrote, " Goa, Daman and Diu Chief Minister Pratapsingh Rane today announced….", "Goa, Daman and Diu Education Directorate has announced… " or Goa, Daman and Diu Lt. Governor Dr Gopal Singh has said …''
Although a Union Territory, Goa, Daman and Diu had a 30-member legislative assembly, a small five-member ministry in which the chief minister Shashikala Kakodkar or later Praratpsingh Rane held the major portfolios of home, finance, mining or even lucrative and therefore the most sought-after tourism department. Of the total 30 MLAs, Daman and Diu had one MLA each. The two MLAs from Daman and Diu played a key role whenever there was keen power tussle in the tiny Union Territory in the 1970s and as a result, twice the post of the deputy speaker of the Union Territory was held by MLAs from the two assembly seats. Diu's MLA Narayan Fugro had held the Goa, Daman and Diu Assembly Speaker's post in the early 1980s. 
The Portuguese presence during the medieval period in Vasai in Palghar district too has left a lasting impact on this tiny region. The Catholic population in Vasai and their religious, social and cultural legacy speaks a lot about the Portuguese influence on their lives. The same thing is also true about the Christian populace at Daman. I am not so sure about the similar religious, social or cultural influence in Diu which is again located far from Daman.  
We 25 young prospective candidates for priestly life studied higher secondary and degree education for nearly five years at the Loyola Hall, the Jesuits-run pre-novitiate at Miramar in Panjim. The pre-novitiate located right near Miramar beach had a Daman-resident Mesta or cook Francis who spoke only Portuguese, Konkani and little Bambai Hindi. His Portuguese conversation with some others, his singing Portuguese songs in his shrill voice when he was in high spirits gave an inkling of the Portuguese influence and lifestyle in Daman. It was from Mesta Francis I learnt that Daman is pronounced in Portuguese as Damão. From Francis, I also leant a few Portuguese sentences which I have not forgotten to this dare. Nonetheless, Daman remained to me an unfamiliar territory. 
As the campus reporter of `The Navhind Times' in the 1980s, I interviewed the SSC and HSC toppers of the Goa, Daman and Diu Education Board, travelling with a hired motorcycle pilot ( a unique transport facility found only in Goa in the country, perhaps also a Portuguese legacy) to visit the merit holder students in far-flung areas of Tiswadi (Panjim), Bardez, Salcette and Canacona talukas of Goa. I remember that during the short-lived existence of the Goa, Daman and Diu Education Board, not a single time any student from Daman or Diu ever figured in the top 10 rankers of the SSC or HSC examination. We newspaper reporters would have carried only the names of the candidate, sans photo or interview if any candidates from Daman or Diu had appeared among the toppers in these public examinations.
Daman and Diu later also followed me in my specialised beat as a crime and court reporter. I never, never visited the Panjim district and sessions court for reporting any crime and court case because there were hardly any important court cases heard there. But I was a daily visitor to the Panjim Bench of the Bombay High Court, located just a few steps away from the historic Adilshah Palace or the Goa, Daman and Diu Secretariat. At this high court, there were frequent cases related to the famous CAFEPOSA or the Conservation of Foreign Exchange and Prevention of Smuggling Act and also the Habeas Corpus writ petitions. Invariably most of these CAFEPOSA and Habeas Corpus writ petitions were related to the arrests and other criminal cases relating to the underworld or alleged smugglers from Daman and Diu. Habeas corpus petition is filed for producing any person whose whereabouts are not known. (Habeas Corpus petition was filed recently when Republic channel owner Arnab Goswami was arrested in a suicide abetment case.) During those days when the import of gold was banned, Daman and Diu were the safe havens for gold smugglers as isolated beaches in these territories received huge smuggled gold through the sea route. Sukur Narayan Bakhia from Daman was one of the main underworld dons those days along with Varadarajan Mudaliar and Haji Mastan of Mumbai. Of these, smuggler Sukur Narayan Bakhia had made national newspaper headlines in early 1983 when he escaped from Goa's high-security Fort Aquada central prison, much to the chagrin of the Gujarat police who were waiting at the prison gates to arrest him.
There was a clamour for statehood for Goa, Daman and Diu Union Territory in the 1980s. I remember covering the popular protests and agitations in pursuit of this demand made by some political leaders, Konkani litterateurs and actively supported by daily 'Herald', the main competitor of our daily The Navhind Times. As in most cases, our English daily The Navhind Times was neutral in this agitation as against Marathi daily Gomantak, then edited by pro-Marathi Narayan Athawale and the English daily 'Herald', edited by pro-Konkani Rajan Narayan. I now wonder what role or inclination Daman and Diu had in this demand. Perhaps nil. Nonetheless, Goa was granted separate statehood in 1987, cutting its umbilical cords with its far-distance siblings Daman and Diu which then became a separate Union Territory. At last, we in Goa no longer needed to carry the baggage of Daman and Diu when we referred to Goa as a new entity in the country. After attaining full statehood, Goa severed its four centuries-old ties with Daman and Diu and I remember there were no tears shed on either side. I have now feeling that the residents of Daman and Diu may have been too glad to severe is ties with their far-distance sibling Goa as these two territories hardly figured in matters related to the united Union Territory. I now wonder whether Daman and Diu played any major role when a public opinion in Goa, Daman and Diu was held in 1967 to ask the local residents whether they wanted to merge their area in Maharashtra or remain as an independent entity. 
In January this year in 2020, Daman and Diu also lost their special identities when these territories became part of the new Dadra Nagar Haveli, Daman and Diu Union Territory with Daman as its new headquarters and an administrator, Praful Patel as its head. This was in indirect consequence of the abolition of Article 370 and bifurcation of the Jammu and Kashmir State.
All these past incidents, historical legacies and anecdotes related to a now-defunct entity of Goa, Daman and Diu speedily flashed before my mind as I roamed the streets of Daman last week. Yes, interior parts of Daman with its narrow streets, coconut trees and houses of the minority Portuguese-speaking local Christians reminded me of Goa. The Christian community in Daman whose presence is evaporating very fast with the exodus to western countries has preserved its Portuguese legacy of the Catholic faith, Portuguese language, Portuguese delicacies and other cultural trends. 
Yes, I was nostalgic as I roamed the narrow, almost deserted lanes in Nani Daman and stood before the Arabian Sea at the crowded Daman beach in the evening. There were only a few around me who remembered that Daman once shared a common political, historical legacy along with of Goa. This territory, Daman, had once been a part of my being when I was a teenager although I had never visited it until now. How does one describe one's feelings in this situation? How the people of the present generation from Jammu, Kashmir and Ladakh will feel when they visit these now separated areas 20 or 30 years later? I return with a heavy heart as I look back at my own footprints left on the clean, white sands of Daman beach. 
(Camil Parkhe is a senior journalist based in Pune. He started his journalism career in Goa and worked various newspapers in different capacities.)