A Tiff With SP Kiran Bedi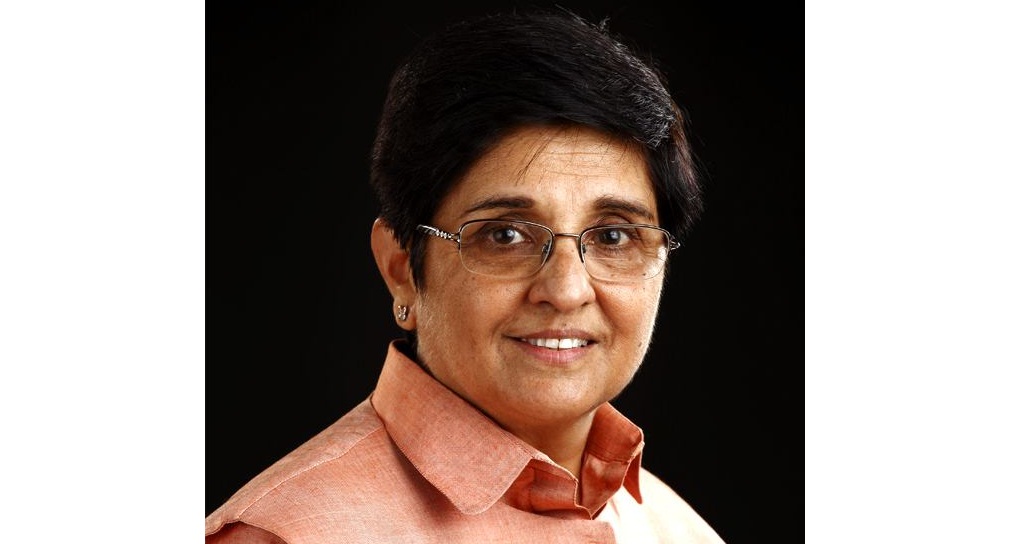 Camil Parkhe
Pune, October 22, 2020: I was well settled into the shoes of a crime reporter in The Navhind Times when Kiran Bedi was transferred from Delhi to Goa as superintendent of police (traffic). The year was early 1983. In those days, Goa had very little vehicular movement. Portuguese-built Pato Bridge was the only spot in Panjim where a traffic constable allowed alternate one-way traffic on either direction of the bridge while waving a green 'Go' and red 'stop' signal. The traffic constable surfaced at the centre of the bridge only in the morning and evening during the so-called traffic peak hours.
And yet – although traffic movement was insignificant in Goa-, the new traffic Dy SP Kiran Bedi was on an important assignment to this tiny territory. She was sent to Goa on a high profile mission: To coordinate traffic arrangements during the ensuing retreat of the Commonwealth Heads of Government Meet (CHOGM) in Goa. Altogether 39 heads of various nations in the Commonwealth including Commonwealth head Queen Elizabeth II, British Prime Minister Margaret Thatcher, Australian Prime Minister Robert (Bob) Hawke, Zimbabwe president Robert Mugabe were to attend a Commonwealth conference in New Delhi and a subsequent retreat in Goa. Of course, Prime Minister Indira Gandhi as the hostess of this Commonwealth summit would be the most important dignitary, next only to the British monarch. Queen Elizabeth was however slated to return to London soon after attending the New Delhi leg of the meet.
All heads of the Commonwealth states were later scheduled to arrive in Goa for an informal retreat, to hold consultations among each other and possibly arrive at a consensus and also announce a joint declaration. Bedi's mission was to supervise traffic movements in Goa during the four-day CHOGM retreat.
Our newspaper, The Navhind Times, then had only three reporters — chief reporter, a senior reporter and I, the junior reporter. The crime was one of the many beats I handled. As a crime reporter, there was never an occasion for me in the past to meet the traffic head in Goa police headquarters in Panjim. After Bedi's arrival and in view of her assignment, frequencies of my visits to her cabin on the first floor of the Goa Police headquarters increased. She had only a few months for preparing for the prestigious CHOGM retreat.
The first woman to join the Indian Police Service (IPS), Bedi had efficiently handled her responsibility in the traffic department during the Ninth Asian Games in Delhi. During the preparations for this prestigious event, Bedi had earned the nickname Crane Bedi as she had towed away vehicles of the mighty, including an official attached to the office of Prime Minister Indira Gandhi, from no-parking zones.
But I who was then still studying for my postgraduate degree and was only 23 did not know who Bedi was or her career background. Nor did I care. To be frank, I did not realise that I was in company with an extraordinary, albeit a very junior then, a government official. Therefore I was not at all awed by her personality or career background. For me, a reporter of a leading and the only English daily in Goa, she was just another government official. Bedi who was then in her early 40s called me by my first name and treated me with respect due to a journalist.
I was used to interacting with young, probationer officers of the Union Public Service Commission (UPSC) who were appointed as directors of various government departments in Goa, Daman and Diu Union Territory. I found these young officers were sharp, talented and innovative. A young officer J.P. Singh with whom I interacted often as he was Goa Education Director had recently taken over as Goa District Collector. (A few years back, he retired as Goa State Chief Secretary.) I looked at Bedi just one of such bright UPSC officers, not great or very extraordinary… Soon I found that she was a no-nonsense officer and totally committed to her work. And she would not tolerate anyone's dereliction of duty.
As the dates for the retreat started approaching, Bedi started conducting drills for the VVIP event. The heads of the states were to arrive from Delhi at Dabolim airport and from there, a few of them were to be flown by helicopters to the newly established Fort Aquada Taj Village, the venue of the CHOHM retreat. Many other heads of the states were to travel by roads to the venue. And this was most crucial. Bedi had started making meticulous arrangement for smooth traffic movement from Dabolim airport to Fort Aquada Taj Village. The route of the VVIP motorcades was to include Dabolim, Cortalim, Agassaim, Pilar, Merces, Santa Cruz, Rua de Ourem along the Pato creek, Pato Bridge and then towards Fort Aquada Taj Village.
By the way, this small 400 year-old-Pato bridge of not more 300 meters length and constructed by the Portuguese was then the only link connecting north Goa to Panjim. All vehicles crossing the lone Nehru bridge (which collapsed a couple of years after) over Mandovi river and those arriving from Ribandar-Old Goa had to cross this small Pato bridge to enter Panjim.
Soon I started accompanying Kiran Bedi in her new white Gypsy as she conducted a recce of the traffic movement from Dabolim airport to Fort Aquada Taj Village. Bedi used to sit on the front seat near the jeep driver while I, along with a traffic police constable with a heavy walkie talkie machine set, used to sit behind. While on the move, with the walkie talkie instrument in her hands, Bedi used to be constantly issuing instructions: "This is Charlie One to Charlie Two.. …. Charlie Three Move ahead…Turn right…Charlie One Over…''
The CHOGM summit being a very high-security event, government offices, schools and colleges all over Goa were ordered to be closed for three days to minimise people's presence on any streets. The crime and special branches of Goa Police increased vigilance on the VVIP route. As a crime reporter, I was regularly handed over press notes issued by the Goa Police regarding instructions and restrictions to be followed during those four-day VVIP retreats.
The construction of a bridge over Zuari river connecting Agassaim from Panjim side and Cortalim from Margao-Vasco sides was completed by this time. One morning, people in Goa realized that the bridge over Zuari was thrown open to vehicular movement, sans any formal inauguration by a VIP. One had to thank Goa Deputy Superintendent (Traffic), Kiran Bedi, for this! That is the reason why this bridge, the only link connecting north and south Goa, is rightly named after Zuari river, and not after a political leader.
Until the opening of the Zuari Bridge, all people travelling from Panjim to Margao and Vasco or vice versa in buses or private vehicles had to alight from their vehicles at either Agassaim or Cortalim and get into waiting ferryboats along with their vehicles to cross over to the other bank of Zuari river. The opening of the Zuari bridge had eliminated a major traffic problem for Kiran Bedi at the Cortalim junction. Now she could arrange uninterrupted movement of the VVIP motorcades straight from Dabolim airport to Fort Aquada Taj Village.
And one day, Kiran Bedi gave me a press note regarding traffic restrictions and changes in Goa during the Commonwealth retreat. As a routine affair, I published the press note.
The next day when I met Bedi at her cabin, she asked me to repeat the same press note on the next two consecutive days. I just laughed at her suggestion and told her that newspapers never publish the same press note twice. I told her the same press note can appear umpteen number of times but only as an advertisement.
Bedi pondered for a minute and said.. ' Camil, in that case, I'd like to have a word with Bikram.."
Again I laughed. The `Bikram' she was referring to was Bikram Vohra, my boss and editor of The Navhind Times. Having spent nearly three years in the profession, I knew no newspaper in the world would ever publish the same press note or news item three consecutive days. Unless there were some changes or corrections.
But Bedi was adamant. 'Camil, let's go to your newspaper office right now. Come.."
Despite my protests, she grabbed my arm and led me to climb down the red carpet-laden wooden stairs of the police headquarters. I had no option but to get into her Gypsy which straightaway headed towards our newspaper office – located near the Panjim Market and hardly 400 meters away from the police headquarters.
Everyone in the newspaper office stared at the smart woman police officer in uniform with a baton in her hand walked confidently on the wooden floor of the one-storeyed tiled-roof newspaper office. I walked hesitantly along with her. There was no need to introduce her, people in Goa by now knew Police Officer Kiran Bedi. A former national tennis player, Bedi, mother of a daughter, had maintained herself well.
'Ki Khabar ?,' was our editor Bikram Vohra's elated greeting to her as he immediately rose from his seat to welcome Kiran Bedi. I was left astonished when both of them started speaking in Punjabi mixed with English. Although in a very prominent position, editor Vohra was just a few years older to me and had not yet crossed his 30s and was thus was 10 years younger to Bedi. I should have foreseen this, they knew each other so well, I cursed myself. But now it was too late. I realised I was going to lose this battle. I was sure that the editor will now let me down and let Kiran Bedi have her way.
I was left sulking when as expected, editor Vohra without any hesitation agreed to Bedi's request. "Okay, done! Camil, repeat that copy next two days and ensure with the desk to carry it on top of page three…"
After this, Vohra and Bedi continued talking on other subjects as I quietly sneaked into the reporters' room.
Sometime later, the editor came to see off Bedi till the staircase and from there, as a courtesy I accompanied her climbing down the steps and upto her jeep on the road. My face had fallen but Bedi did not exhibit any signs of victory.
Crestfallen, I then approached the editor to register my protests. But he was very kind and jovial when he replied to me. "Come on, Cami. Be a sport, have a heart!," that was typical Bikram Vohra when he tried to persuade someone with his viewpoint.
"Camil, take note of what I am saying. It's not very often that Prime Minister Indira Gandhi, British Premier Margaret Thatcher, Bob Hawke and several other presidents, premiers and statesmen come for a retreat in Goa. It is an international event and as an exception, we need to repeat the same news for security and other reasons. It is a very high profile and VVIPs event in Goa and mind you, you are very lucky, privileged to cover it and you'll remember it in your career. Besides, in your journalist career, you would very, very rarely come across an officer as charismatic as Kiran Bedi. She's doing a great job, Camil. Let's give her some concessions! Have a heart, young man! Camil, be a sport !"
The CHOGM summit was over successfully. Soon Kiran Bedi left Goa to join a new posting in other parts of the country. The nation has since then watched her career graph to this date with keen interest. A couple of years later, Bikram Vohra left for a journalism career in the Gulf where he continues to be even today. Later I too left Goa and pursued a career in English national newspapers.
Nearly four decades after the CHOGM incident, I have to admit that my first editor was very right in his statement as also his judgment.
(Camil Parkhe is a senior journalist based in Pune. He started his journalism career in Goa and worked various newspapers in different capacities.)