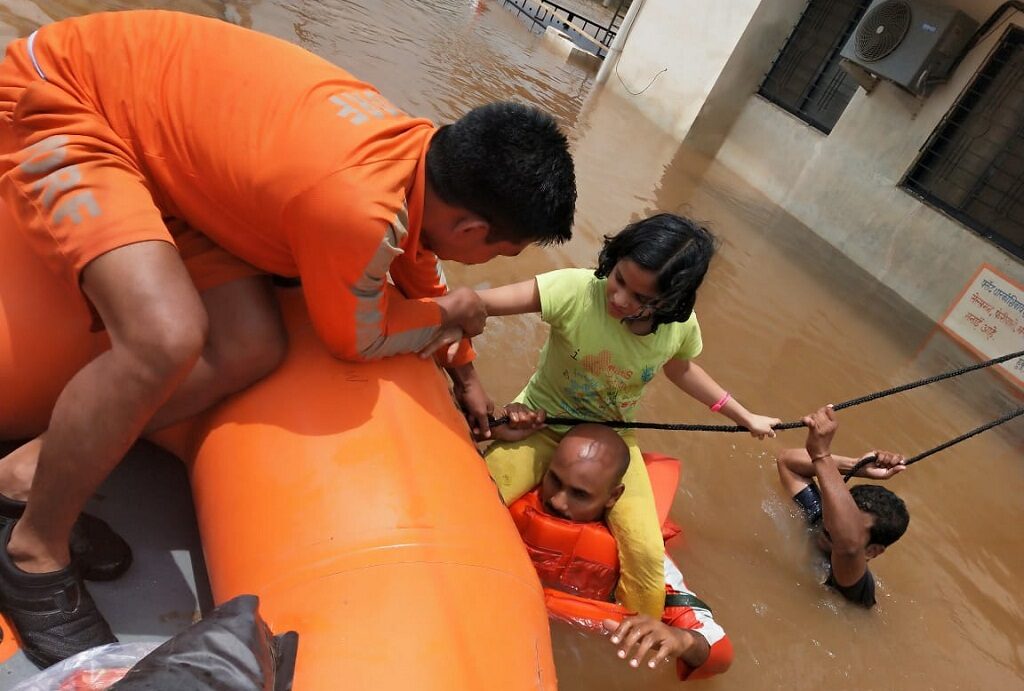 Mumbai, Aug 11, 2019 : Chief Minister Devendra Fadanvis today directed for giving Rs 5000/- cash relief to each of the flood affected family and deposit the balance amount in bank accounts.
Fadanvis visited the State Disaster Control Room in Mantralaya and took the review of the flood situation.Chief Secretary Ajoy Mehta, Disaster Management, Relief and Rehabilitation Secretary Kishorraje Nimbalkar, Information and Public Relation Secretary Brijesh Singh, Jt Secretary of Mantralaya Room Arun Unhale, and Director of Disaster Management Department Abhay Yawalkar were present on this occasion.
The Chief Minister also issued directions to repair water supply schemes besides providing Rs 5000/- cash relief to affected people. The cleanliness drive should be undertaken in affected villages on priority basis, in addition to taking measures to restore repair of roads, bridges etc. to bring the life back to normalcy, the Chief Minister directed.
Fadanvis called for engaging all the government, quasi-government, private and other systems in cleanliness drive. Spraying of insecticides in affected villages, daily financial help to those flood affected families and regularizing petrol diesel and gas supply. He also directed to restore the disrupted power supply with immediate effect. He directed to supply fodder at Shirol immediately.
The Chief Minister directed to send proposals for construction of flyovers at points where transport is affected due to frequent water logging. He suggested constructing up-to-date airport at Kavlapur to help in disaster management in Sangli.
761 villages in 70 talukas of 10 districts in the state are affected by severe flood and so far, 4.47,695 people are evacuated to safer places. 32 teams of NDRF, 3 SDRF 21 Army, Navy 41, and 16 teams of Coast Guard are deployed in the flood ravaged areas for rescue and relief operations. 226 boats are engaged in rescue work. 32 people have lost their lives due to flood while 4 are injured. 48 cattle also lost their lives.
The water level in Kolhapur is reduced by 1 foot 11 inches and that of Sangli by 3 feet. The water level at Shirol is 62.9 ft. The inflow in Almatti dam is 6 lakh 8 thousand 33 cusec while 5.70 lakh cusec water is released. 585 villages of 27 talukas in Pune district are affected including two municipal corporations and 15 municipal councils.
413,985 people from Satara, Sangli, Solapur and Kolhapur districts have been evacuated to safer places and sheltered in 535 relief camps. The rescue and relief work in Sangli district is being conducted by 51 teams, 95 boats and 569 jawans. In Kolhapur distirct 54 teams, 74 boats and 456 jawans are deployed in rescue operations. 80 medical teams are active in Sangli district, 150 in Kolhapur and 72 teams are active in Satara district.
66 roads in Sangli district are closed for traffic and 33 bridges are still submerged by the flood waters. In Kolhapur district 91 roads are closed and 39 bridges are submerged while in Satara district 5 roads are closed for traffic and 3 bridges are submerged. In Solapur district 33 roads are closed and 14 bridges are under the flood waters.
The state recorded 802.70 mm rainfall today and this is 109.43 % of the average. Last year it was 79.22%. So far, 58% water storage has been created by rainfall uptill now. Jaikwadi dam is filled 80% while Ujani dam is 100% filled, informed Secretary of Disaster Management, Relief and Rehabilitation Secretary Kishorraje Nimbalkar during the meeting with Chief Minister.