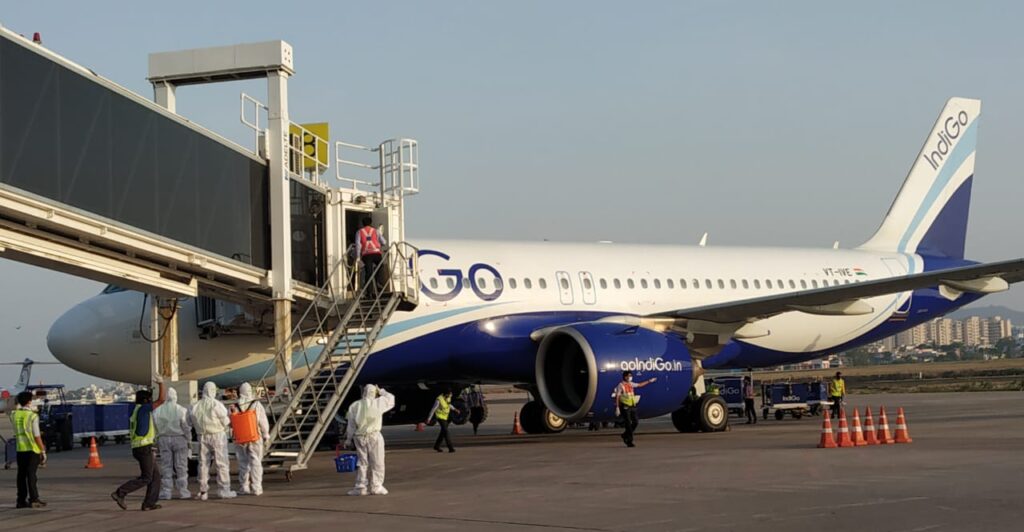 Mumbai, May 25, 2020: The Maharashtra government by order dated 8th May 2020 has laid down the Standard Operating Procedure (SOP) for international travellers landing in Maharashtra.  Certain activities have since been allowed including trains for migrant workers and evacuation of Indians stranded in foreign countries. Government of India is also planning to resume regular train services in a phased manner and also limited services of domestic airlines are scheduled to commence from 25th May 2020. 
Accordingly, the Government of India has issued guidelines for air travellers. To harmonize health-related instruction for domestic travellers arriving in Maharashtra the guidelines have been issued for its strict implementation by concerned authorities. 
The Additional Municipal Commissioner / Deputy Municipal Commissioner of the concerned Municipal Corporations are hereby appointed as the Nodal Officers for purpose of these guidelines in respect of all domestic travellers arriving in Maharashtra. These nodal officers shall also coordinate with the protocol officers of the concerned Collectorate Office. 
Guidelines for Domestic Air Travellers: The guidelines for Airports and Travel issued by Ministry of Health and Family Welfare, Government of India, dated 24.05.2020 shall be applicable for all inbound and outbound air travel. Do's and Don'ts shall be provided along with tickets to the travellers by the agencies concerned. All passengers shall be advised to download Arogya Sets app on their mobile devices and furnish declaration as under: I/we am/are not residing in any containment zone. I/we am/are not suffering from any fever/cough/any respiratory distress. I/we are not under quarantine.
If I/we develop any of the above-mentioned symptoms I shall contact concerned health authorities, immediately. I/we have not tested COVID-19 positive in the last two months. I/we am eligible to travel as per extant norms. I/we make my mobile number/contact details available to the airlines whenever required by them. I/we understand that if I/we undertake the air journey without meeting the eligibility criteria, I/we would be liable to penal action. I/we undertake to adhere to the health protocol prescribed by Maharashtra State. Suitable announcements about COVID-19 including precautionary measures to be followed shall be made at airports and flights.
A nodal person shall co-ordinate with the Airport Authorities for getting the Schedule of flights and List of Passengers arriving in respective districts & Corporation areas, as the case may be. The detailed list of passengers with their arrival date and time and FINAL DESTINATION would be shared with the Nodal Officers of the State by the nodal officer appointed by the Airports Authority/Airport Authority at least SIX hours in advance of ETD, so that necessary arrangements can be made by respective agencies. 
Airport operator/Airlines shall ensure that while de-boarding/boarding of the passengers, social distancing norms are followed scrupulously and passengers are de-boarded/boarded in a staggered manner so that they don't crowd the screening area. Further, it should also be ensured by the Airport Operator that the de-boarding/boarding, screening and exit/entry of passengers are done in an orderly manner. The passengers will submit self-declaration form after they arrive at the airport. 
NODAL OFFICERS shall ensure that an adequate number of medical teams are placed at Airport for screening to avoid delay and the chaotic situation at Airport. At the Airport, maintenance of order and social distancing norms shall be the responsibility of Airport operator. Airports should be regularly sanitized/disinfected, and availability of soaps and sanitizers shall be ensured. Airport operator shall also have a waiting area for the passengers who are waiting for the screening with adequate seating arrangements.
The Airports authority shall ensure that all passengers shall undergo thermal screening at the point of departure and only asymptomatic passengers will be allowed to board the flight During boarding and travel, all passengers, airline staff and crew shall use face covers/mask and also follow hand hygiene, respiratory hygiene and maintain environmental hygiene On arrival, thermal screening would be carried out in respect of all the passengers by the Health officials present at the airport. Those found symptomatic will be taken to the nearest health facility and prescribed protocol in Para 10-12 of the Ministry of Health and Family Welfare Guidelines for such cases will be followed.

Additional measures mandated by Government of Maharashtra for domestic air travellers are: The detailed list of arriving passengers with their arrival flight date and time, residential address and mobile numbers should be shared by the Airlines and AAI with the Nodal Officers of the respective municipal corporations. The Nodal Officers shall set up a 24.7 reception-cum-helpline desk, in coordination with concerned Commissionerate of Police, Transport Commissioner office at Airports which will have all the information on flights, movement plan and details of arriving passengers. The names and telephone numbers of helpline desk shall be shared with the passengers while boarding the flight. Domestic Airports/Airlines will provide necessary assistance to local administration at the Airport.
Airport Authorities shall set up a separate screening area with screening counters maintaining the social distancing norms. Adequate no. of screening counters depending upon the no. of passengers arriving/departing should be made. All required furniture should be put in the screening area and counters for the medical teams and the passengers. On arrival/departure, thermal screening would be carried out in respect of all the passengers by the Health officials present at the airport.
NODAL OFFICERS should provide PPE kits, thermal guns etc., to the medical teams. Concerned Municipal Corporation shall appoint sufficient staff to assist the nodal officer and make all arrangements in co-ordination with Airport Authorities for triaging the passengers. Airport Authorities shall deploy enough manpower for data entries so that proper records of all arrivals in excel sheet may be maintained and shared with nodal officer. On arrival, thermal screening as per health protocol, will be carried out in respect of all the passengers by the Health officials from concerned Municipal Corporation. The concerned Municipal Corporation shall deploy sufficient medical staff to screen all the passengers arriving at the airport. All the passengers arriving in Maharashtra will be stamped on their left hand for identification and will have to compulsorily undergo home isolation for 14 days as per the protocol. They shall self-monitor their health.
Local district/municipal administration will be authorized to give exemption in home isolation for contributing to an office or for other important work after checking the passengers. Passengers who are coming to the state for a short duration (less than one week) and have planned for onward / return journey will have to share the details of the same and will be exempted from isolation. However, such passengers will not be allowed into the containment zones of the hotspot areas. 
If the incoming passenger's stay is proposed at a place other than the residential premises, then the information of all such persons will be made available to the concerned district/municipal administration by the in-charge of the said place. The in-charge of the place will ensure regular sanitization of the premises. For the persons who are found Symptomatic Standard protocol for sampling / Testing and Quarantine SOP shall be followed by MCGM / NODAL OFFICERS. The domestic air travellers may be permitted to travel in their private passenger vehicles by following all social distancing norms from Airport to Residence or from their Residence to the Airport on the production of air tickets. However such travel shall not be allowed from Containment Zones to Airport or from Airport to the Containment Zones.
All the staff associated with Airport operations shall be allowed unhindered movement by any means including bikes, car, taxi to facilitate the smooth operation of Airport operations. The police shall permit the movement of Airport staff on Production of ID card issued by the BCAS/ AAI. There shall not be any restriction on the movement of Airport staff including ground and support staff by any authority including the police. Passengers moving outside the RED ZONE shall be only on specific reason and requisite permission taken in advance.