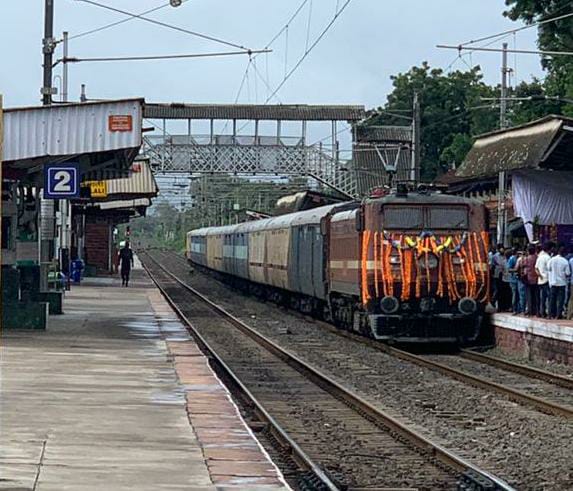 Pune, December 27, 2020: Prime Minister Narendra Modi will flag off the 100th Kisan Rail from Sangola (Maharashtra) to Shalimar (West Bengal) on 28.12.2020 through video link. 
Narendra Singh Tomar, Minister for Agriculture & Farmers Welfare, Rural Development, Panchayati Raj and Food Processing Industries, Government of India and Piyush Goyal, Minister for Railways, Commerce & Industry, Consumer Affairs, Food & Public Distribution, Government of India will be present on the occasion through video link. Dattatray Bharane, Minister of State, and Guardian Minister, Government of Maharashtra, Ranjitsinh Naik-Nimbalkar, MP will also join the video link. 
VK Yadav, Chairman and Chief Executive Officer, Railway Board along with Members and Sanjeev Mittal, General Manager, Central Railway from Chhatrapati Shivaji Maharaj Terminus and Shailesh Gupta, Divisional Railway Manager, Solapur Division will also be present on the occasion.
The first Kisan Rail which started in August 2020 as a weekly train, gained popularity and is now running as three days in a week.
Railways are the growth engine of the Nation. Railways and Agriculture both worked even during the lockdown and ensured the food grains reached every nook and corner of the country. Kisan Rail announced in the budget 2020-21, under the visionary plan envisaged by Hon'ble Prime Minister helps farmers to transport agriculture produce to far-reaching areas so that the perishables are not destroyed.
Kisan Rail has become a game-changer in ensuring fast transportation of agriculture products across the nation. It provides a seamless supply chain of perishable produce.
Indian Railways introduced the first "Kisan Rail" from Devlali to Danapur on 07/08/2020. This train further extended up to Muzaffarpur and also increased frequency from weekly to 3 days in a week as a result of good response from the farmers taking advantage to send their produce to the distant places of Northern India.
A Link Kisan Rail from Sangola in Maharashtra followed soon. There was huge traffic of capsicum, pomegranate, grapes grown in Sangola, Pandharpur, Modlimb, Kavathe-Mahankal, Salgare in Solapur and Sangli districts; lemons from Ahmednagar area, tomato and raw-plantain in the areas of Jeur and Karmala which were being transported by road are now being transported by Kisan Rail.  
Orange (Santra) Kisan Rail for transporting oranges from Nagpur and surrounding areas was started from 14.10.2020. This area is famous for other agro products for which there is a huge demand. The introduction of Santra Kisan Rail on Railways has proved to be another masterstroke which will not only increase orange production but also pave the way for distribution of the famous oranges of Maharashtra all over the country. This is no less than a boon to the Orange Producers.
Sangola-Shalimar Kisan Rail was started on 21.11.2020. The multi-commodity train service carries vegetables such as cauliflower, capsicum, cabbage, drumsticks, chillies, onion, etc., as well as fruits like grapes, oranges, pomegranate, banana, custard apple. etc.
The loading and unloading of perishable commodities will be permitted at all enroute stoppages and no minimum or maximum size of the consignment.
A farmer can book a few kilograms to several tonnes as per his requirement. Government of India has extended a subsidy of 50% on transportation of fruits and vegetables.
Kisan Rail will continue to cater to the requirements of small farmers and small traders for carrying their perishables to distant places.