Maple refunds registration fee to 13,500 "Aapla Ghar" applicants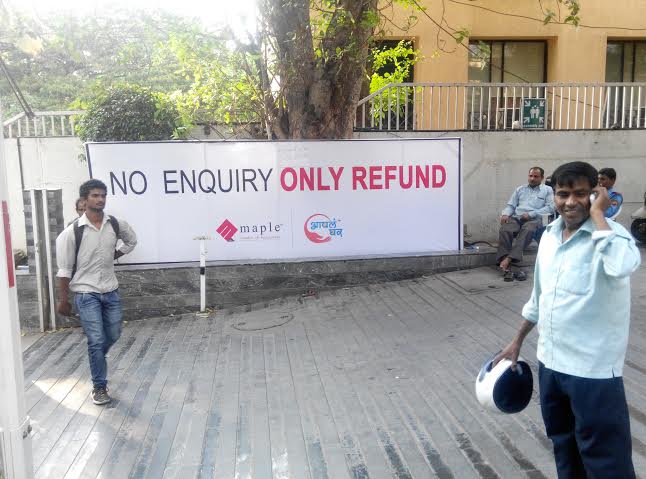 500 plus applicants reinforces their faith in brand Maple by refusing to take the money back
Pune, 21st April, 2016: Maple Shelters has initiated the refund of the Registration Fees collected for its "Maharashtra Housing Day" scheme to majority of applicants as per the order of Government authorities. The company had announced the refund through a public notice in the leading newspapers on Thursday along with detailed clarifications and relevant facts.
The application money is being refunded to all those applicants who paid in cash simply on producing the receipt of payment of application fee along with their ID proofs at the Head Office of the Developer. The company had requested the applicants to collect refunds from its Shivaji Nagar office. Out of the 4,000 applicants who visited the office on Thursday, 3500 have received physical refunds.
Despite the confusion in the industry and consumer market, 500 plus applicants have expressed their trust in the 17 year old brand Maple Shelters by refusing to take their registration fees back. We are thankful to these customers for their faith entrusted in us and we are committed to deliver these houses.
The company has also initiated online refunds for around 10,000 applicants who had paid the registration fees through the payment gateway services of PayU and EBS. The refunds for these applicants will be credited to their account within 12 working days as per the payment gateway process.
Maple is working in area of housing since 1997. So far, Maple successfully completed 30 lakh sq. ft. of construction and has handed over homes to 5000 happy families, and shops/offices to 550 happy businessmen. The Group entered into the affordable housing segment in 2012 with the launch of "Apla Ghar" brand. Maple's vision statement is clearly to become one of the leaders in the affordable housing segment as 95% of the demand in the housing sector in India is expected to be in the categories of Economically Weaker Section (EWS) and Low Income Group (LIG).
While admitting to its error of interpretation of the provisions of the government's Prime Minister Awaas Yojana (PMAY), the Maple Group remains passionate about providing affordable housing for the EWS and LIG customers, which is need of the hour and aligned to vision of the Central and State Governments to provide Housing for All. Maple Group remains committed to developing affordable housing projects. The group has assured its customers that it will complete and deliver the projects that it has mentioned in the advertisement as it has done in the past.
Meanwhile, Maple Group has expressed its sincere apologies for the inconvenience caused to all its stakeholders.