Marathi Monthly Launched By German Priest Henry Doering Enters 119th Year This Month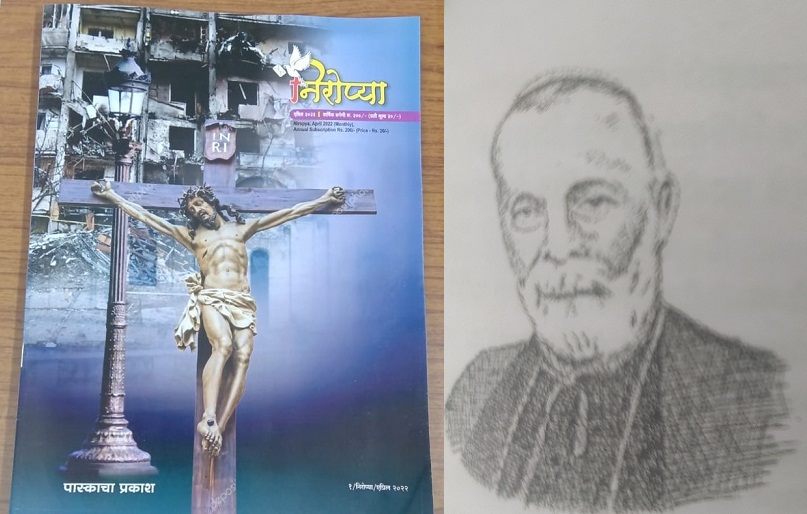 Camil Parkhe 
Soon after The Times of India launched its Pune edition in March 2000, I quit the Indian Express to join this new English newspaper in the city. Here, I was entrusted with looking after the Maharashtra page of the Times of India's western Maharashtra edition. 
Abhay Vaidya who had returned from his short stints in journalism in the USA and New Delhi had now rejoined the Times of India in Pune. Vaidya and Pune TOI Resident Editor Sherna Gandhy had specially chosen me for generating and compiling news inputs from various sources for the State page which appeared on Page two. 
This page mainly covered Ahmednagar city, Shirdi, Shrirampur and Sangamner town in Ahmednagar district Solapur, Satara, Kolhapur and Sangli districts where the newspaper copies of the Pune TOI edition were distributed. My responsibility was to provide all the text and photos on page two of this special Mofussil edition with the Maharashtra page.
I used to translate the Marathi news sent by the Times of India's Marathi sibling, the Maharashtra Times' local correspondents in western Maharashtra, on fax and fill the whole newspaper page with news from news agencies. 
Ravindra Daftardar of Sangli, Prabhakar Kulkarni of Kolhapur, Rajneesh Joshi of Solapur and Tarachand Mhaske of Shirdi were the correspondents who used to fax news almost daily. Occasionally I would write my byline news independently on this Maharashtra page. 
After handing over one of my news copies to the news desk that day, Sub-editor Sanjay Pendse raised his hands and said, "There are no more stories to edit for page two." 
When I looked at him questioningly, he said that the news copy which I had sent to him was not for the inside page. 
"After reading the very first paragraph of the news, I realized that it is a matter of page one, it is a page one material! But let's see what happens in the edit meeting, " he said, and so I began to look for generating more news matter for page two.
I had spent over a decade in journalism till then, and so I admired Sanjay Pendse's news sense. 
Sanjay was right. The evening edit meeting chaired by Resident Editor Sherna Gandhy and attended by News Editor Conny Mascranehas and Chief Reporter Abhay Vaidya and others decided to publish my news on page one of the newspaper. 
Incidentally, this was my first news item published on page one after I had joined the Times of India.
Placement of any news given by a reporter or news agencies on page one of a newspaper has special significance. Only important and special news figures are on page one, the other news of lesser importance or significance is published on the inside pages. 
News stories are always filed by reporters and not by sub-editors and others on the news desk whose job is to edit copies filed by reporters. During those days, sub-editors working in the Pune edition of the Times of India would get as an incentive Rs 150 if they filed any news story and additional Rs 50 for a photo published along with the story. 
And what was the news on page one? 
This was the news… 
Heading: Marathi monthly Niropya enters 100th year
Camil Parkhe,TNN | Dec 26, 2002, 10.37 PM IST
This news was published in the Pune edition of the Times of India on December 26, 2002, a day after Christmas. The news can still be read today from the archives of the TOI.
The news was accompanied by a half-column colour photo of the bishop. The Times of India had just started printing page one and the last page in colour at that time.
Like many of my other bylined news stories during my four-decades long journalism career, I have preserved the TOI copy of the edition in which this news was published. 
The reason for my first byline in the Times of India, which appeared on page one that day, was the important contribution of Bishop Doering, a German national, to Marathi journalism and the Marathi language.
'Niropya' has this month, April 2022, entered its 119th year, albeit with the break during the First World War period. 
Retired Archbishop Doering died in 1951 at the age of 94. His tomb is near the altar of St. Patrick's Cathedral in Pune. The honour of burial in a church or cathedral is given only to the senior clergy in the Church hierarchy such as bishops, cardinals etc. Mortal remains of most of the popes are buried at St Peter's Basilica in the Vatican City. 
The inscription on his tomb speaks of the archbishop's achievements in various fields. However, there is no mention in this inscription of the founder-editor of 'Niropya' or his contribution to Marathi journalism.
There is a chapter on Archbishop Henry Doering in my book 'Contribution of a Christian Missionary' (Published by Gujarat Sahitya Prakash, Anand, Gujarat – 2003).
One of the reasons I have a special affinity for Niropya is that my first article and my first ever byline were published in this magazine in the 1970s while I was a school student in Shrirampur. 
At that time, I had no inkling that writing would be my profession as a journalist.
(Camil Parkhe is a senior journalist based in Pune. He started his journalism career in Goa and has worked in various newspapers in different capacities.)