MeraTractor secures ₹5Cr. in Pre-Series A Funding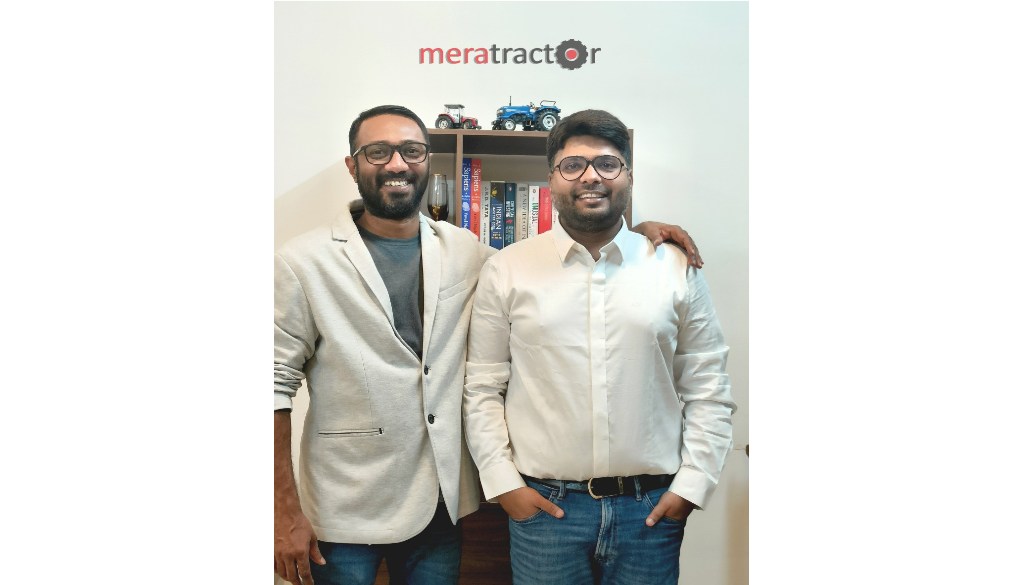 Pune, 17 January 2023: Meratractor, a Pune-based start-up and a 'Phygital' marketplace catering to farm mechanization products, has raised INR 5Cr. in Pre-Series A funding, bringing total capital raised to₹7.25 Cr. post this round
The funding round was led by Mr. Vibhor Sahare, CEO & Co-founder of ANS Commerce and Ex-CEO & Co-founder of Gaadi.com, Real Time Angel Fund and Digital Futuristic Angels Network. The newly raised funds will be utilized in increasing dealership network presence and enhancing technology to organize supply channels.
"We liked the holistic ecosystem approach that the MeraTractor team is using to solve structural issues in the used tractor space. It's a unique niche within the broader agri-tech space that can have a substantial impact in democratising tractor ownership" said the lead investors.
Agritech start-up, MeraTractor is trying to create an entire ecosystem to become a one-stop solution for all stakeholders engaged in the farm mechanization sector. Despite being asset-light, the company, which is a dealer-owned and company-operated model, controls the entire transaction and creates a sustainable business proposition for farmers, dealers, financiers and new tractor OEMs. Its dealership network is based out of rural locations which are slated to eventually become its gateway for tapping into the entire rural business opportunities related to the farm sector.
Commenting on the problem that the start-up is trying to solve, Sajith Abraham, Co-founder, MeraTractor, said, "There has been significant work in crop cultivation, in ensuring better yield, farm-gate solutions and a push from the government to improve farmer income. However, farm mechanization for Indian farmers, of which over 85% are smallholders, has been vastly missed out because of purchase capabilities. This creates challenges starting from discovery, financing facilities, and other key milestones in the process, making it difficult for an unassuming farmer. As a solution, MeraTractor is looking at bridging the gap between a smallholder farmer and access to farm mechanization / financial products."
Highlighting the opportunities that lay ahead, Monak Gohel, Co-founder, MeraTractor, said, "The farm mechanization sector is on the verge of massive disruption and has created an environment for innovation that will help start-ups like MeraTractor address the inefficiencies in the sector. We believe farm power is an essential input in agriculture; hence, we are excited about the fundraise as it will help us to accelerate our journey in growing the network further by tapping into massive rural business opportunities that lie ahead."
Some of the marquee investors that participated in the funding round were:
o Gaurav Gupta – CEO, Adani Capital
o Shashank Kumar – Co-founder, Dehaat
o Amrendra Singh – Co-founder, Dehaat
o Avinash Kumar – Founder, Credenc
o Arvind Kumar – Business Head of Agri division at Force Motors and Ex-CEO of Trringo (M&M group company) and Lemkin India.
The start-up intends to become a new-age manufacturer that will help dealers (Rural entrepreneurs in Tier 3 to Tier 6 Locations) sell farm mechanization products to small and marginal farmers. Its business model is built around creating a complete eco-system, which is a mix of physical and digital, and hence, called, 'Phygital network'. The network is created to help partner dealers from supply of tractors, demand generation to sale of tractors, name transfer documentation, bringing in banking partners for tractor loans, and much more. The company's revenue comes from creating value at each point of transaction.
MeraTractor was started by two ex-bankers to create an eco-system (Phygital network) that works to organize how farm mechanization products/rural financial products are sold in India. The key objective is to combine technology (Front end/back-end platforms) and physical network, which is MeraTractor branded exclusive dealership owned by local rural entrepreneurs, to create a one-stop solution for all stakeholders, i.e., small and marginal farmers, financial institutions, tractor OEMs, etc., engaged in Farm mechanization. In its first round of fundraising, the company raised 2.25Cr. from friends and family in 2018.
Sajith Abraham (Co-founder) – B.Tech Agriculture Engineer by qualification, Sajith has more than 20 years of experience in tractor sales and rural lending. He has worked at TAFE Ltd, ICICI Bank, and Kotak Mahindra Bank. In his last assignment, he was the Vice President of Kotak Bank tractor lending team, managing more than INR 1000 Cr. of tractor portfolio in MH & AP/TL and has led a team of 200 Personnel.
Monak Gohel (Co-founder) – MBA Finance and CFA by qualification, Monak has more than 10 years of experience in Business Strategy, Investment Banking and Lending. He has worked at Kotak Mahindra Bank, CBRE, C&W, and Capital India Finance Limited (CIFL) In his last assignment, he was Associate Vice President at CIFL managing more than INR 500 Crs. of Urban Infrastructure portfolio.