Mhara Gaon Jagmag Gaon Scheme Update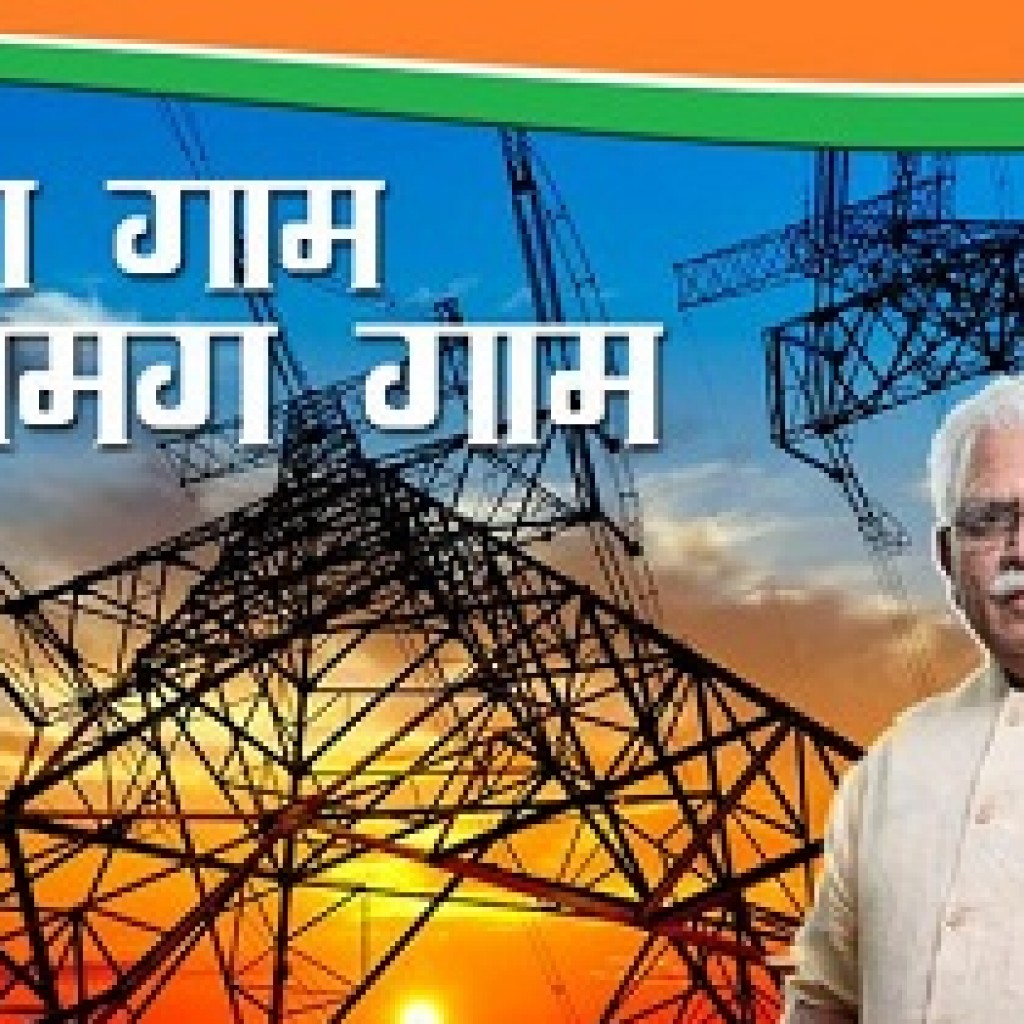 The recently launched Mhara Gaon Jagmag Gaon Scheme which was initiated to provide sustainable 24X7 power supply to rural consumers at par with the urban consumers is getting overwhelming response in all the rural constituencies throughout Haryana
Chandigarh – The recently launched Mhara Gaon Jagmag Gaon Scheme which was initiated to provide sustainable 24X7 power supply to rural consumers at par with the urban consumers is getting overwhelming response in all the rural constituencies throughout Haryana. Giving details Mr Nitin Yadav, Managing Director, Uttar Haryana Bijli Vitran Nigam said here today that the scheme which is rolled out in phases in all the selected feeders all over the State has shown a remarkable increase in the billing efficiency and collection efficiency in these areas .
Villages of Kambassi, Kambomajri, Akalgarh, Tolawali of Kambassi feeder in Mullana Constituency, Shahpur, Machonda of Shahpur feeder in Ambala Cantt Constituency, Delumajra, Nanyola, Khurchanpur, Batrohan, Panjola of Delumajra feeder in Ambala City Constituency, Chichrana, M.P. Kheri of Chichrana feeder in Baroda Constituency under district Sonepat, Dayalpur, Alampur, Samsipur, Salarpur, K. Brahamna, K. Ram Nagar of Dayalpur feeder in Thanesar Constituency, Golepura, Sulkhani, Boker Majra and Nahar Majra of Nalvi – II feeder in Shahabad Constituency, Bodhni, Boda, Jurasi Kalan of Jurasi Kalan feeder in Pehowa Constituency under district Kurukshetra, Jalmana village of Jalmana feeder in Assandh constituency, Staoundi village of Staoundi feeder in Gharaunda constituency under district Karnal, Milk Sukhi and Mandhar of Milk Sukhi feeder in Sadhaura Constituency in district Yamuna Nagar, Teek village of Teek feeder in Pundri Constituency in district Kaithal and village Daryapur of Daryapur feeder in Badali Constituency of district Jhajjar have achieved more than 100 percent collection efficiency during the month of October, 2015.
Similarly Chander khera and Dayalpura villages of Galibkheri feeder in Nilokheri constituency in district Karnal, Chhajjumajra, Bharog, Nasroli, Behloli and Dehri villages of Nagla feeder in Naraingarh Constituency, Khajuri, Sabhapur and Haripur Kamboj of Panjupur feeder of Yamuna Nagar Constituency and Mehrampur of Mandebari in Radaur constituency of Yamuna Nagar, Dayalpur and Salarpur of RDS Dayalpur feeder in Thaneser Constituency of Kurukshetra, Tepla of Raiwali feeder in Panchkula Constituency and Dharti Panchayat and Tipra Panchayat of Tikkri feeder of Kalka Constituency have achieved more than 70 percent Billing efficiency in the month of October, 2015.
This billing efficiency is at an average almost doubled in these areas as compared to the previous figures before the inception of the scheme. Mr Yadav said that the remarkable achievement of these parameters has paved the way for providing round the clock power supply to the consumers of these areas. He further appealed all the consumers of the State to come forward and participate in support of the scheme including relocation of meters outside the premises, replacement of worn out cables with Aerial Bunched Cable etc. so that they would also be benefited by the scheme.
‪#‎Electricity‬ ‪#‎Village‬ ‪#‎panchyat‬ ‪#‎rural‬ ‪#‎MharaGaonJagmagGaon‬