MIMER Medical College Develop a Nanorobot for Accurate Cancer Prognosis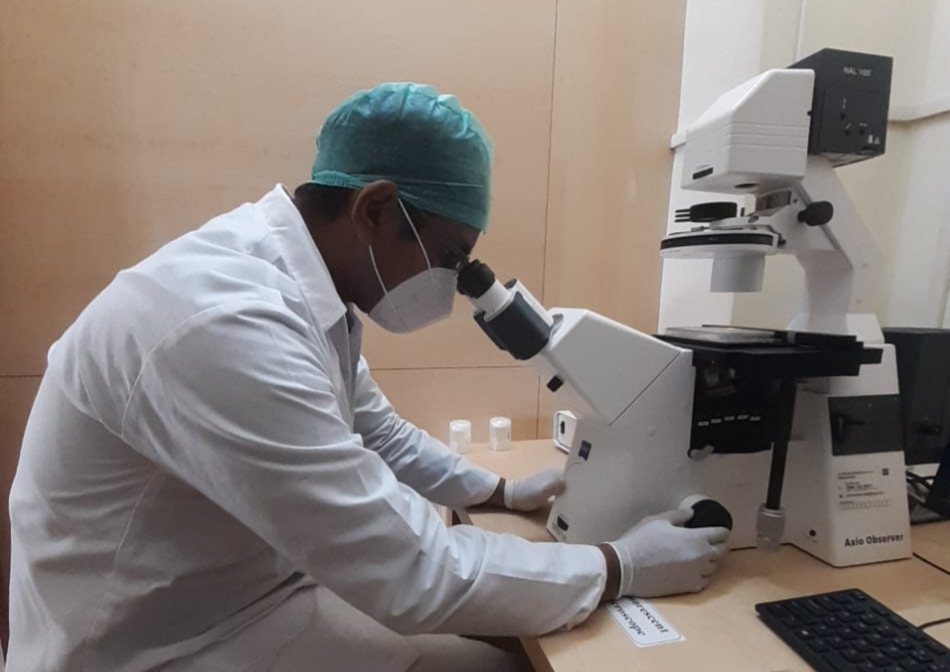 Talegaon Dabhade,  03 December 2021: Maharashtra Institute of Medical Education and Research (MIMER), Pune, developed a Nano robot that is programmed to capture and isolate circulating tumor cells (CTC). This new Nano robot is expected to lead to a new rapid and accurate diagnostic method for cancer prognosis. Said Dr. Prof. Shashwat Banerjee, Scientist, MIMER Medical College, Talegaon Dabhade, Pune.
He said, "Currently invasive biopsy and its subsequent genetic and proteomic analysis are performed to determine the cancer disease status. However, difficult invasive procedures are required in biopsies of overt metastases that are not easily acceptable in clinics, and interpretation of analyses is also difficult. On the other hand, liquid biopsy has several benefits such as it is non-invasive, rapid, precise, and especially real-time. It may replace tissue biopsy in the future. Liquid biopsy currently includes circulating tumor cells (CTC), CTCs isolated by non-invasive procedure (liquid biopsy), represent intact viable tumor cells which provide vital information regarding metastasis initiating cells, drug resistance and tumor recurrence. However, detecting CTCs, a common marker for the development of metastasis, is a challenge due to its extremely low occurrence of CTCs in the blood (as few as 1 CTC per 1 × 109 hematological cells)."
"In search for a better cancer diagnostics, scientists from MIMER, Pune, synthesized multifunctional nanorobot using Magnesium-iron oxide Janus nanoparticles. The reported Nano robot tested on blood containing low number of cancer cells exhibited ~ 100% capture efficiency in less than 5 min. The Nano robot was further clinically validated by testing on cancer patient's blood samples and it exhibited rapid and highly efficient CTC capture ability. This new Nano robot based diagnostic tool may help in improving cancer treatments, allow for better treatment control, enable early interventions, and change decision making from reactive actions toward more predictive early interventions."
According to WHO, estimated 9.6 million deaths happened due to cancer globally in 2018, accounting for one in six deaths, making it the second primary cause of death. According to ICMR report, about 1.1 million new cancer cases are registered every year in India. In fact, India has some of the highest cancer rates across the world. According to the recently released report by the Indian Council of Medical Research (ICMR) and the National Centre for Disease Informatics and Research (NCDIR), the number of cancer cases in the country will rise to 15.6 lakhs by 2025. This will be an increase of 12% from the current estimated cases. With this rising global burden, prevention and cure of cancer is one of the most important public health challenges of the 21st century.
For carrying out this advanced research, Department of Science & Technology and Department of Biotechnology, Government of India has funded Central Research Laboratory of MIMER with almost a crore of rupees.
The findings have been published recently in the journal, Communications Chemistry (Nature Publishing Group) with title "Water-Powered Self-Propelled Magnetic Nanobot for Rapid and Highly Efficient Capture of Circulating Tumor Cells". Communications Chemistry is a highly prestigious peer review journal from the Nature Portfolio publishing high-quality research. Till date, only 12 articles of authors affiliated to Indian institutes have got published in this journal. Further most of the articles are collaborative with foreign universities. This article is the first from any private institute from India to have got published in this journal.
Dr. Suchitra Karad-Nagare, Executive Director of MIMER Medical College Congratulated Prof. Dr. Shashwat Banerjee and his team for this extraordinary achievement.