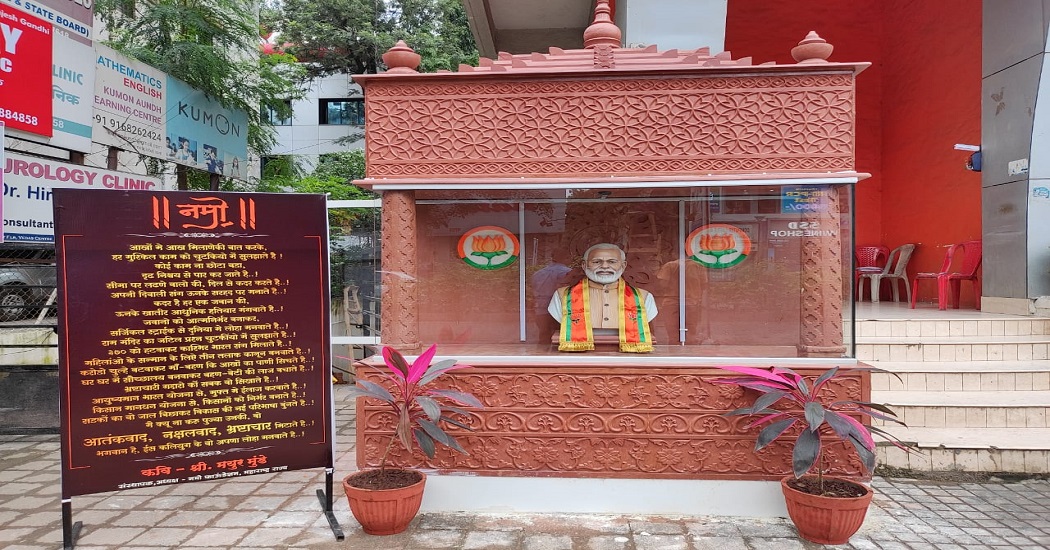 Shivani Somvanshi
Aundh, 17th August 2021: A temple of Prime Minister Narendra Modi has been constructed in Pune. The statue of PM Modi has been set up on DP Road, Aundh. It is claimed to be the first Modi temple.
The name of the BJP worker who built Modi's temple is Mayur Munde, chairman of Namo foundation. He has built Modi's temple in his land. He composed a poem based on Modi's work, which has also been flashed on a large boarding outside the temple. Mayur Munde commented that the temple was built to get inspiration from PM Modi's work.
The statue was made by Marble showroom owner Diwanshu Tiwari from Jaipur for Rs 1.5 lakh.
On the occasion of 15th August 2021, the temple inauguration was done by an Aundh senior citizen K.K. Naidu. In front of the temple, a poem composed by Mayur Munde on the work of Prime Minister Modi has been put up for Modi's devotee. The work done by Modi so far has been mentioned outside the temple in the form of poetry.
Also Read Pune: People Coming From Other States Not Required To Carry COVID Test Report If Vaccine Doses Taken
Also Read Illegal Property Registration On The Rise In Pune, Enquiry Ordered To Check Records Of All Sub Registrar Offices
Also Read 4460 Afghans Arrived In Pune In Last Three Years, Mostly On Student Visas
Join our WhatsApp Group, Telegram, and Twitter for every update about Pune and PCMC