National Social Leadership Summit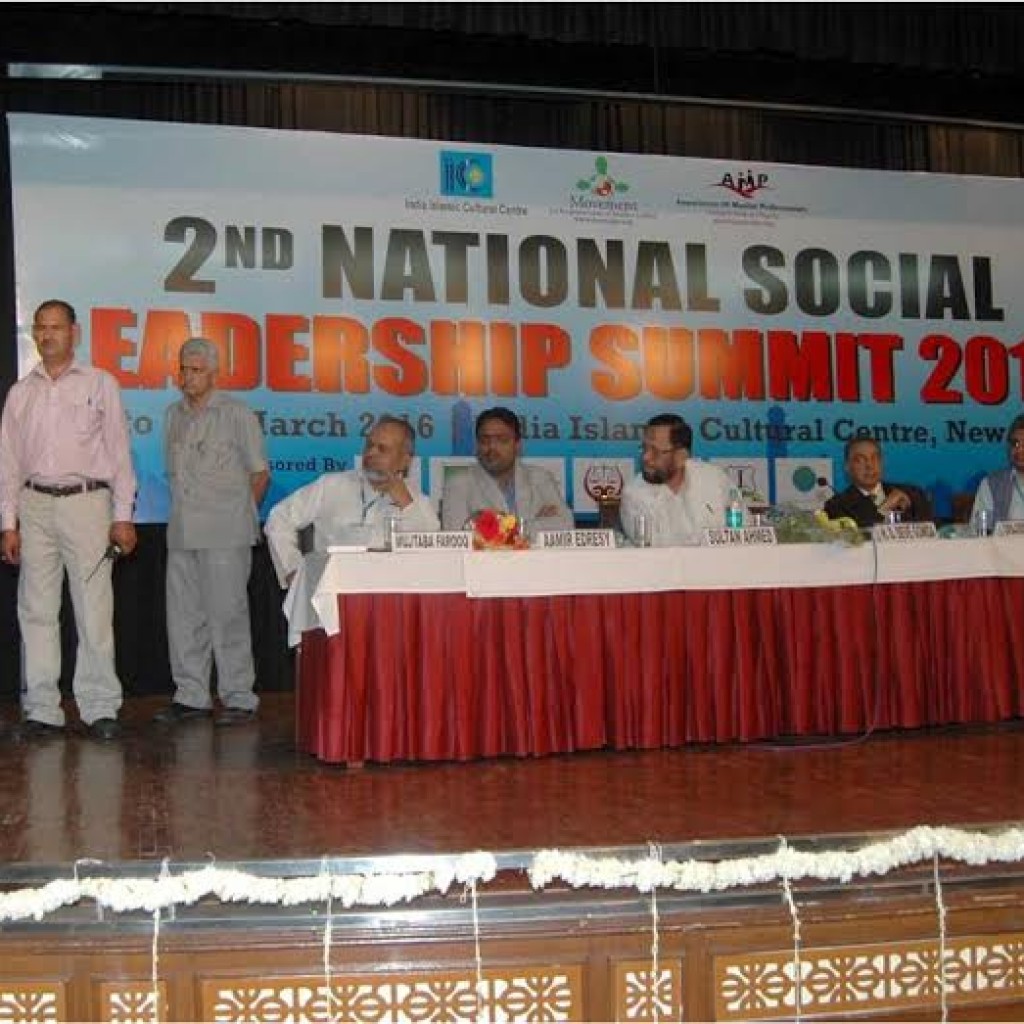 4th to 6th March 2016 | India Islamic Cultural Centre, New Delhi
National Social Leadership Summit was inaugurated by Shri H D Deve Gowda (Former Prime Minister of India)
Inaugural Session
Navaid Hamid, General Secretary, MOEMIN
While welcoming the delegates spoke the need for Social Leadership in the Muslim community. He emphasised the need for developing leadership at grassroots level.
Aamir Edresy, President, Association of Muslim Professionals. 
Spoke about how to maximise the output from such gatherings. He expressed the need to have a long term action plan and the formation of working groups where the progress can be monitored. He explained how he is working with young people and why it is necessary for elders to provide mentorship to young leaders.
Sultan Ahmed, Former Union Minister & Current Member of Parliament from WB
Muslim should come forward with secular and democratic force to get their rights. He mentioned that Muslims have never behaved differently on the basis of religion while selecting their leaders and have always supported Non-Muslims as their leaders for nation building. The political parties, who are making false promises to the Muslim community and are cheating them, should be monitored and held accountable by Muslim social leaders.
He criticised the central government on the front of nationalism saying nationalism is not the ideology of RSS.
Shri. H D Deve Gowda, Former Prime Minister of India 
Former Prime Minister felt that the Parliamentary Democracy is at the cross roads and quality of the debates inside the temple of democracy is not what it used to be and the whole system will collapse if correct measures are not taken.. With reference to the demands of reservation of Muslim community he gave the example of Karnataka, how the correct legislation ensures the bill stands and people are able to reap the benefit of such provisions.
He ended by saying that if one has to achieve anything from the summit, is you to be a leader.
Sirajuddin Qureshi, President of the India Islamic Cultural Centre
Emphasized the need of making the Summit meaningful by taking the resolutions and deciding the action plan for next year so that performance can be tracked when we meet next year.
Syed Zafar Mahmood, President, Zakat Foundation of India
Spoke about the need of legal activism and encouraged participants to take legal actions in most of the issues concerning Muslims. He spoke about the strong Indian Constitution which gives equal right to all citizens and gave numerous examples on how to approach court in different matters.
​Session – I: Idea of India and Indian Muslims
John Dayal, Civil Rights Activist
He said that Kanahiya has not been infected but it's the larger society which has been infected. He spoke about the need for being inclusive in our institutions. He laid the emphasis onstrengthening our composite culture.  The threat from communalism is not only for Muslims buts it's equally threatening for Christians and other sections of society. He was also critical of the hyper-nationalist media, which is playing with the sentiments of people.
Dr. Sugata Bose, Member of Parliament
He started by giving the example of how Gandhi, Nehru and Ali Brothers, all co-existed in the same sphere despite having differences. He said he is not a communist, but he supports the ideology of Kanahiya and people should learn from this young man. He also said that Muslims have played an important role in nation building even before the Indian State got its independence. He asked Muslims to draw inspiration from their leaders who were equal stakeholders in India's freedom struggle.
Apoorvananad Jha, Professor, Delhi University
He talked about the importance of gender equality among Muslims. Muslims should not be afraid or apprehensive of their religious identity.
Responding to a question he said that its time that Muslims while giving examples of Prophet Mohammad should also set examples in terms of character and conduct in their social life.
Session – II: Indian Muslims: Beyond Ballots
Manoj Jha, Professor, Delhi School of Social Work & National Spokesperson RJD 
He objected to compartmentalisation of nationalism and how people disregard National Flag when they limit it to their own definition of patriotism.
He said the Suicide note written by Rohit Vemula is a note of suicide on civilization.  Dr Jha said that the Idea of India is very flexible that every discussion can beheld under its umbrella. Some political parties have mastered the art of creating fear. He also criticised the prevailing political system where political parties have become machines for fighting elections. He explained why it is important to work together and how people are working on the agenda of creating fear.
Shabnam Hashmi, ANHAD, Justice Kolse Patil and Dhruv Sangari, Classical Sufi ​Singer also addressed the gathering.
The second day program started with Mr. Navaid Hamid thanking all the participants and the guest for their enthusiasm and he also introduced the panel of speakers of the first session.
Session – III: Threat from Terrorism: Demystify the myth
Maroof Raza, Strategic Affairs Expert and Consulting Editor, Times Now
Session started with renounced speaker on defence matters, Mr. Maroof Raza. He stressed that contrary to widely held belief terrorism is not just a Muslim problem, but it has been there across all the major religions, ethnicity and races.
Lt Gen Ata Hasnain, Former GOC Srinagar based 15 Corps & Military Secretary
Based on his vast experience into army and conflict resolutions he stated several myths about terrorism, the first being that every terrorist is a Muslim hence all the Muslims are terrorist. There is no truth in this experience and data has showed that. The second is related to the religion that Islam is a violent religion and promotes terrorism and that is a terrible misreading if Islam. He mentioned further myths for example, resolving terrorism by only methods of war, historical aspects of terrorism etc.
Sanjay Hegde, Senior Advocate, Supreme Court of India
He addressed the audience by pointing out several problems with judicial processes that cause undue problems to the terror accuse. The mass application of draconian laws with very weak evidences deny basic rights to people and they languish in jails for long duration before being acquitted. He stressed the need of characterization of all the accused and role determination before filing serious charges against them.
Mr. Shoaib Shaikh, RihaiManch (Luckhnow, UP)
He spoke about his experience of fighting the cases of terror accused people. He presented two youths who were wrongly implicated in terror related charges. These two young men also narrated their story of how they were damned as terrorists and spent long times behind bar without any fault of theirs.
A S Dulat, Former Chief, Research and Analysis Wing (RAW)
Through his talk he tried to explain that the talk of serious conspiracies in secret agencies is highly exaggerated. He said he is very happy that people have started to talk bravely. He also said that the problem of Kashmir is no different than the problem of other Indians; the fight is for the basic rights, jobs, shelter and dignified life. Mr. Dulat also mentioned some cases where well educated youths have gone astray and joined terrorist organizations that should be studied properly.
Session – IV: The Role of Muslim Youth in Nation Building
Sayeed Khan, Social Activist and Entrepreneur (Moderator), Mumbai
He gave the brief introduction about the session and the speakers. He spoke about the need of Muslim Youth to come forward and take the lead role in all the issues faced by not only the Muslim Community but also to the entire country in general. He encouraged Muslim Youth to come forward and work for Dalits, Tribals and all other marginalized sections of the society. He emphasized the participating NGOs to include youth in all their projects so that they can be trained for future.
Irfan Alam, Director Samman Foundation & Founding Chair of CII Yi Patna Chapter
He very elegantly put the point that the Muslim population in overall Indian population and their contribution in the country will take the GDP of India to new levels. He said with the help of data that coming young population will have 47% Muslim, which is gigantic number. The current data shows that only 11% share of higher education students is that of Muslims and only 6% in rural areas.He stressed the need of educated Muslim class to work for the marginalized and bring them in the mainstream. He also gave lots of importance to women education and progress.
Dr. Kauser Usman, Professor, King George Medical University, Lucknow
He said that Muslim youth is a very important part of India and whenever possible Muslim Youth have contributed well in the progress of India. The only lacking factor is the lack of role models for Indian Muslim youths. We all need to put forward role models who Muslim Youth can aspire to become.
Uzma Naheed, Member All India Muslim Personal Law Board, Mumbai
She specially covered the importance of young women among the overall youth population and the need of giving them proper education and access to good health and economic empowerment. She said that the best example of youth coming forward is AMP, they are very young and I don't know how are they managing such a big organization.
Session – V: Whither our Institutions: Challenges within
Arfa Khanam, Senior Anchor, Rajya Sabha TV
The last session of the day was started by renounced journalist Ms. Arfa Khanam, who said that the minorities and their institutions are under increasingly brazen attacks and there is a systematic movement in this regard. The reason being the particular community which has been asking only for 'protection of their lives', have started to ask for their right.
Amitabh Kundu, Renowned Economist and Former Faculty JNU
Mr. Amitabh Kundu who had been part of Sachar committee report and is a famous statistician said that the reasons for various shocking statistics about Muslim Community should be examined. He stressed the need of bringing Muslim women in to the main stream. He gave good news that the Muslim women unemployment has risen which shows that they are out in the job market in numbers now.
R. Haque, Former Secretary, Central Waqf Council, GoI
He gave a detailed presentation on the issues related to Waqf and its management in different states of India. He put forward the point that there is a lack of conviction among Muslims on issues related to Waqf. He also criticized the existing leadership for not taking the actual issues related to Waqf and talking only about less important points.He emphasized on the need of explaining all the organizations in India about the matters of Waqf.
Hilal Ahmed (Faculty, CSDS) also addressed the gathering.
Session – VI: Understanding Fundraising and Leveraging CSR
Mizab Bhoje, Sr. Manager, Employment and Training (Moderator)
He moderated the session and also shared his experience and current trend in Corporate and its CSR. He gave examples of many project specially related to Skill Training by CSR these days.
Raman J K, Programme Director, The India Nutrition Initiative – TATA Trusts
He gave a very detailed presentation regarding techniques of Fund Raising. He explained in detail the basic flaws done by Social Leaders and NGOs while doing Fund Raising. He also gave brief idea on how to make document, project report and how to approach corporate for funding the Projects and Causes.
Abdul Kalam, Former CMD, Bharat Coal
He shared his experiences of handling CSR in PSUs. He asked participants to connect to PSUs and Government run enterprises.
This session was the most interactive session with lots of questions coming in from participating delegates. Organizers promised to conduct specific workshops on CSR and Fund Raising in future to train the NGOs and help them raise fund for their projects.
Session – VII: Skill Development and Entrepreneurship
Aamir Edresy, President, Association of Muslim Professionals
He explained the need of the focusing on Skill Development and Entrepreneurship in today's time under the changed policy of government in last few years. He also explained about different government schemes available for Skill Development and Entrepreneurship.
Razak Shaikh, Head, AMP Employment Assistance Cell, Maharashtra
He spoke about the not so fortunate students who get dropped out from the basic education system. With the statistics he explained about the Youth population and need of Skill Development among them. He also explained in detail about the Government Plans till 2022. Under the lights of these plans he emphasized on making a long term plan about training Young Muslims and getting atleast 15% share of all the government schemes. He gave brief presentation on AMP Plans for next 5 years for conducting Employability Training Programs across India.
Ahmad Zulfikar, Managing Trustee, Bunyaad Foundation
He explained with his experience about the methods to tieup with Government on Skill India Initiative. He told that there are huge number of black sheep who are showing fake numbers and fake employment and there is a need of good organizations to join these initiatives to empower the marginalized section through these schemes. He emphasized on the need of including Masjid and Madarsa clergy in taking up these new initiatives.
Imtiyaz Vilatra, Founder & Managing Partner, Milestone Brandcom Pvt Ltd
He shared his own experience about setting up 250 Crore Advertisement and Branding company from scratch. He shared his experiences form very early days when he started with a small executive in a company and how he became the President in the same company before starting his own venture. He gave a detailed presentation on different myths related to entrepreneurship and encouraged the delegates to start helping young people in setting up their own business after they are trained properly.
Session – VIII: The Media and the Message
Syed Qasim Rasool Ilyas, President, Welfare Party of India
He gave the introductory speech and explained people about the Role of Media and how can we use it to propagate the positive image of Muslims. In the time when setting up a Media House is a very expensive task, he emphasized on the positive use of Social Media in propagating our thoughts to entire India.
Zaheeruddin Ali Khan, Managing Editor, The Siasat Daily (Moderator)
He said that the current situation in India is very treacherous, because Media presenting hate speakers of right wing as Strong Leadership and False agendas in view of Make in India. Speaking to Social Leaders he told how Media Houses can intervene in the core issues of community and provide the basic development schemes to the fellow citizens of our country, which are the basic requirements of Indian people.
Hartosh Singh Bal (Political Editor, Caravan Magazine) and SiddharthVaradarajan (Founding Editor, The Wire) also addressed the gathering. Mr. Navaid Hamid (GS, MOEMIN) moderated the session and spoke his heart out by these days problems and the proposed solutions to overcome the challenges.
Valedictory Session 
Aamir Edresy, President, Association of Muslim Professionals
He hosted the valedictory session and impressed people with his sweet Urdu. He assured the participants that the summit is not ending today but it is starting today and we will work together 365 days. He also announced few points which will be done to make an impact of such a wonderful summit of 3 days. He requested people to come forward and make a united platform for managing the issues faced by Muslims and capacity building of Muslim NGOs and Social Leaders.
Navaid Hamid, General Secretary, MOEMIN
In a very emotional and heart touching speech he stated the reasons behind organizing this kind of Summit on regular basis. He emphasized on bringing youth in forefront of Muslim NGOs. He gave the example of the summit itself that how he has shown his confidence on very young group of Social Leaders like JawahirRahi, Akif Ahmed and AamirEdresy.
He congratulated the participants for patiently attending the 3 day long summit which was power packed with very interesting topics and equally prominent speakers. He specially thanked all Volunteers, Participants, Sponsors and Speakers.
A. Mohammad Khan, Raja Saheb Mehmoodabad
Raja Saheb Mehmoodabad gave a very intellectual speech. By quoting numerous ayats from holy Quran he emphasized on making a good relations among Muslims and with Non Muslims too. He motivated people to show good manners with everyone. He encouraged people to work for Peace, Love, Compassion and Kindness.