NTER COMMAND CME ON 'HEALTH AND WELLNESS' : PRAGMATIC SHIFT FROM CLINICAL CARE TO HOLISTIC HEALTH CARE" WEF 13-14 OCT 2022 AT DEPT OF COMMUNITY MEDICINE, AFMC PUNE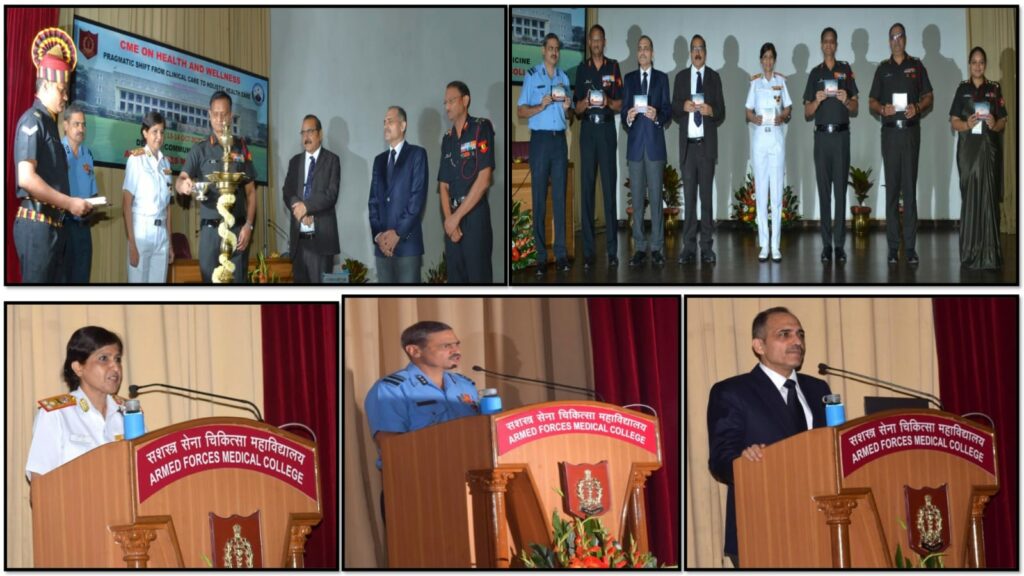 Pune, 14th October 2022: The Department of Community Medicine, Armed Forces Medical College, Pune organised a two day Inter Command CME on the theme, 'Health and Wellness: Pragmatic Shift from Clinical Care to Holistic Health Care', on 13-14 Oct 2022.
The CME focused on taking a holistic approach to determinants of health for individuals and communities and emphasised the need to address societal, environmental, and behavioural factors implicated in the multifactorial causation of diseases. On the occasion of the CME, Surg Vice Admiral Arti Sarin, VSM, Director & Commandant, AFMC, highlighted the importance of transition from 'illnesses to 'wellness'-oriented approach to health. Lt Gen AK Jindal, AVSM, YSM, Commandant Army Hospital (R&R) while addressing the delegates emphasized that health professionals need to look at patients' health needs holistically and not focus on just one or two organ systems. Dr Umesh Kapil, Secretary, National Academy of Medical Sciences (India), was the Guest of Honour for the event. The inaugural address was given by Air Vice Marshal Rajesh Vaidya, VSM, Dean & Deputy Commandant, AFMC, who traced the evolution of health-care from the earlier bio-medical concept to the present broad-based holistic health-care concept.
Eminent faculty from across the country graced the occasion and the keynote address on 'Ayushman Bharat: Strengthening the Frontline' was delivered by Maj Gen (Dr) Atul Kotwal, SM, VSM (Retd), Executive Director, NHSRC, MoHFW, GoI.
The event saw all the senior specialists in Community Medicine & Public Health deliberate on various themes of the CME. It also provided a platform to the under-graduates and post-graduates to showcase their work in the field of Community Medicine and Public Health. The environment was sensitized about the need to take a systematic approach towards the health of communities and advocate the concept of 'Health in All Policies' (HiAP).