Odisha: Two Trains Derail near Bahanaga Bazaar, Helpline Numbers for Stranded Passengers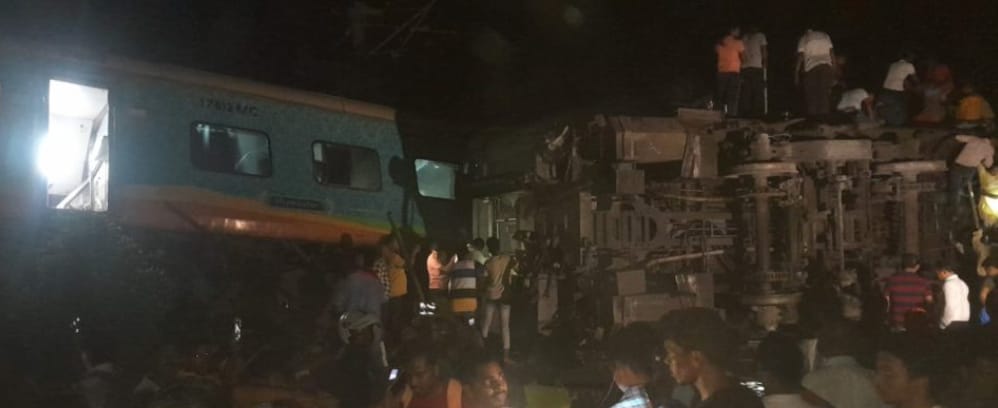 Bahanaga Bazaar, 3rd June 2023: In a distressing incident that occurred this evening, two trains derailed near Bahanaga Bazaar station, leading to a swift response from railway officials who promptly initiated rescue and relief operations. The affected trains are identified as Train no. 12841 Coromondel Express (Howrah to Chennai) and Train no. 12864 SMVB-HWH Superfast Express (Sir M. Visvesvaraya Terminal to Howrah).
Bahanaga Bazaar railway station, located in the Balasore district of Odisha, is part of the Kharagpur-Puri line, which forms a crucial section of the main Howrah-Chennai railway line under the administration of the Kharagpur railway division, South Eastern Railway zone.
In response to the incident, the authorities have swiftly mobilized Accident Relief Trains (ART), Self-Propelled Accident Relief Medical Vans (SPARME), and the necessary medical and rescue personnel from Kharagpur, Balasore, and Santragachi.
The primary focus of the railway authorities is to ensure the safe rescue of passengers and minimize casualties. Rescue operations are currently being conducted with utmost urgency and efficiency, with the presence of National Disaster Response Force (NDRF) teams, medical teams, and ambulances at the accident site.
Tragically, the incident has resulted in the loss of two lives thus far, and several injured individuals have been admitted to nearby hospitals. Passengers with minor injuries are being given priority and transported to health units in Balasore, Khantapara, Soro, and Gopalpur.
To provide essential information to stranded passengers, railway helpline numbers have been established as follows:
Howrah Helpline Number: 033-26382217
Kharagpur Helpline Numbers: 8972073925 & 9332392339
Balasore Helpline Numbers: 8249591559 & 7978418322
Shalimar Helpline Number: 9903370746
Santragachi Jn Helpline Numbers: 81092
89460 & 8340649469