Omicron – Ensure Jabs and Enforce Covid Appropriate Behavior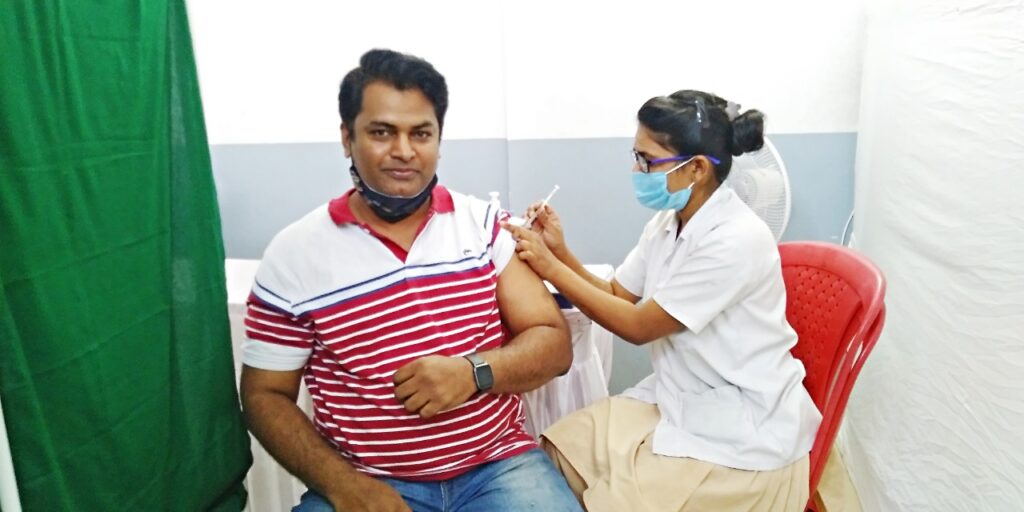 Sudhir Mehta
President, MCCIA
Pune, 13th December 2021: Covid-19 pandemic has upturned our daily lives indefinitely. It appears the latest news of the omicron variant has jeopardized our plans of welcoming the new year – possibly a restriction-free post-Covid world as all of us were hoping. 
After the WHO's warning on 25th November, markets across the world witnessed frantic selling, countries were up in arms to impose screening, testing and possible restrictions on movement. 
Thomas Hobbs the philosopher, once described countries as always, "in the state and posture of Gladiators; having their weapon pointing, and their eyes fixed on one another." 
To me, nothing accurately captures the state of the present world than the description by Thomas Hobbs. However, the weapons deployed during Covid-19 are suspension of flights, quarantine, isolation aimed at restricting the movement of the people. It's been 20 months since the world is reeling under some form of restrictions, and now with the arrival of mutated variant, it appears we must continue with it for quite a long period. With this development, the Pune Platform for Covid-19 Response (PPCR), one of its kind civic initiatives, quickly swung into action to assist the administration. 
What do we know as of now? According to WHO the omicron variant has undergone more than 50 mutations. 32 mutations have been observed at the spike protein which may enable the virus to enter the human body easily. Reports suggested that this newly mutated virus has more transmissibility than its predecessors. 
Early evidence suggests that it may be responsible for the steep rise of cases in Gauteng province of South Africa. 90% of cases reported in Gauteng province last week were caused due to Omicron variant. The WHO has immediately declared it as a variant of concern. However, there are more unknowns about this variant and that has led WHO to ring the alarm bells categorizing global risk as "very high". 
There is no data to indicate the severity of hospitalization or lethality arising due to infection of omicron. There is no clarity on the omicron's response to vaccine acquired immunity or post-infection immunity. Scientists are unsure about its detectability using the standard RT-PCR testing method. Thus, the panic in the money market, business, trades, and government transactions is the result of uncertainty rather than the actual threat from the variant. In such circumstances government's response is often knee-jerk and illogical. 
A case in point is the Maharashtra government's guidelines for air travelers arriving in the state. The arbitrary order of making RTPCR tests mandatory for all domestic travel from outside the state, even for those fully vaccinated was shortsighted, and ill-considered. Not only does this order caused extreme inconvenience for business travelers, but it was also void of science & logic. Instead of encouraging vaccination, the government of Maharashtra with its new order took away the leverage of vaccinated citizens and got them at par with those un-vaccinated. Later the state government changed this rule after pressure from civil society and the central government.
To avoid such instances and create more chaos, civil society and administration must work together to educate people about the potential risk, prevent unnecessary panic and ensure smooth working of economic activities. 
In this regard PPCR has the following suggestions: 
Vaccination:

 Change the immunization strategy to increase the percentage of fully vaccinated people. Serum Institute has over 200 million vaccines in stock and a monthly capacity over 300 million. Considering this the government must reduce the gap between two doses of 

Covishield

 vaccine. 

3 Ts:

 Rigorous implementation of Tracing, Tracking and Testing. 

Following Covid-19 Protocol

: 

Ensuring strict adherence to Covid Appropriate Behavior (CAB) which involves wearing masks, social distancing, and isolation in case of infection. 

Adequate Medical Resources:

 Union, State and local government must coordinate and ensure adequate resources to handle the emergency situation – staff, Covid-19 centers, medicines, oxygen and other paraphernalia. 

Genome Sequencing and Surveillance:

 Currently we are doing genome sequencing of 2-3% of samples. Central and State government must invest in laboratories to strengthen and increase the genome sequencing of larger samples. 
Additionally, discussion over children's vaccines in India needs to be far more than over booster. Vaccines are now freely available with no takers. Children (at least of those families who are pro Vaccine) are low hanging fruit who should get the vaccine before the anti-vaxxers. The eligibility criteria for children can be lowered in a staggered manner to avoid the rush. 
In the first phase children from the 15-18 age group can be allowed whereas children from 12-15 can be permitted in the second phase.  
Maharashtra, particularly Pune and Mumbai have been the epicentre during the previous Covid-19 waves. Both cities have faced severe stress on their health infrastructure. During second waves Pune and Mumbai have individually handled more caseloads than many of the adjacent states. Despite the high caseload, Pune did not record a single fatality due to lack of oxygen or unavailability of resources. It was a commendable feat achieved by frontline workers, administration and civil society by deploying a business strategy of anticipation, collaboration, communication, and coordination. Thus, we can tackle this variant with experience and following caution instead of being capricious.  
(Sudhir Mehta is the Chairman & Managing Director, Pinnacle Industries Limited, and President, Mahratta Chamber of Commerce, Industries and Agriculture (MCCIA), Pune. He is Lead & Coordinator, Pune Platform for COVID-19 Response. The views expressed are strictly his own.
Email: mehta@pinnacleindustries.com
Twitter: @sudhirmehtapune)