"Our challenge is to envision an India that was the vision of the Mahatma," says Pranab Mukherjee to India's future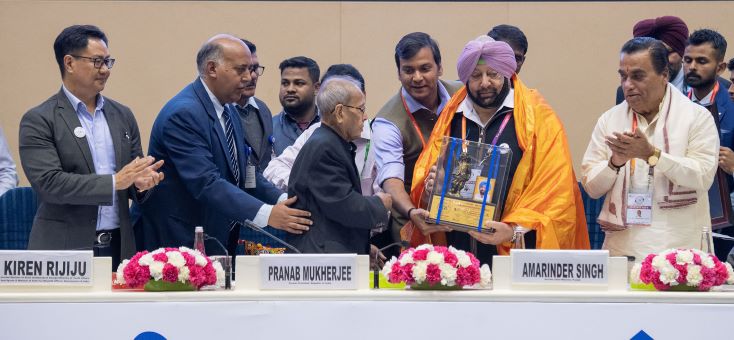 Feb 23, 2020, New Delhi: The 10th edition of the Indian Student Parliament or the Bharatiya Chhatra Sansad (BCS) concluded today at Vigyan Bhawan in New Delhi amidst the presence of Bharat Ratna Honourable Dr. Pranab Mukherjee, the former President of India. A flagship national initiative of the MIT World Peace University, the Indian Student Parliament was attended by over 2,000 students from across 24 states and 400 universities this year.
Addresses from Honourable Dignitaries
The valedictory ceremony proceeded with the felicitation of Dr. Pranab Mukherjee and all the other dignitaries present in the dias, after which the welcome address was delivered by Shri Rahul V. Karad, Founder & Chief Convenor of the Bharatiya Chhatra Sansad, Executive President of MIT World Peace University, Pune & Chief Initiator of the MIT School of Government and the Founder of NTC, NWP and Sarpanch Sansad. Remembering the humble days of the Indian Student Parliament ten years ago, Mr. Rahul V. Karad shared, "Years ago, people laughed at us and wondered how can there be a school that trains people in politics? But today, I feel contentment in knowing that the MIT School Of Government has played a crucial role in ensuring that training and education will be a part of Indian politics. Various Vidhan Sabhas have conducted youth parliaments with our support and in the last few years, I have been proposing leadership schools as well in India which will train our future leaders to excel in leadership roles and governance. We have even requested the Rajya Sabha to start an Ideal Vidhan Sabha Speaker Award. We need to have the guts to evolve and we all can play a role in it."
The next address was delivered by Prof. Dr. Vishwanath D. Karad, UNESCO Chair Holder, Founder President, MIT World Peace University, Founder Executive President, WPC, MAEER's MIT Group of Institution, who noted, "What a great fortune we have that the former President of the nation is here with us at the 10th BCS here in Vigyan Bhawan along with the other dignitaries. I am remembering the great words of Swami Vivekanand today who once said that only science and spirituality together can bring peace in humanity. It is time for Mother India to emerge as a knowledge powerhouse for the whole world and we have a role to play in showing harmony to the whole world. Let us take this legacy forward and get involved in nation-building."
The following speech was given by Shri. Kunwar Natwar Singh, Padma Bhushan, Former Senior Bureaucrat, Former Union Minister for External Affairs, Government of India, who advised to all the students present, "Please understand that when you step into politics, it is a 24-hour job. The people who vote you in – you have to be available for them at all times and it is a big responsibility." He further added, "We all see what's taking place in the Parliament – you need to reform this. Please pledge that you will not quarrel but will intelligently debate as future leaders of our nation."
Moving on, the Ideal Chief Minister Award was presented to Capt. Amarinder Singh, the Hon'ble Chief Minister, Punjab, who in his address spoke extensively about the challenges of the Punjab government and advised the youth, "Start with State politics, get to know your people and the problems of your state and then get into Parliamentary politics." He further spoke of his tenure in the Indian Army and the challenges we face and informed, "We have to watch out for our neighbor who is hostile to us. My Army tenure was a great teaching experience. My colleagues have died in uniform and Punjab greatly contributes to the defense services of this nation. We have noticed that now, drugs have become a major problem for Punjab – our enemies send it across by drones and they also send fake currency and weapons by drones. Pakistan has not stopped its infiltration into our country and we have caught 100 Pakistanis who are in jails now and who often provoked gangsterism in our state. These are the things that Punjab has to deal with."
The next speaker was the Guest of Honor, Dr. Karan Singh, Padma Vibhushan, Philanthropist, Noted Author & Poet, Chairman, Auroville Foundation, Ministry of HRD, Government of India, who opined, "Before you make India great, make yourself capable that you can lead India. Our body is the basis of all dharma and we have to build a strong body and build our physical strength. Next, make a clear mind – always be ready to accept good ideas from wherever they come. You need to grasp them and learn lifelong. Thirdly, strive for social harmony. Let us work, sing and achieve together. We need to have a coherent society and learn to live together in a harmonious society. Fourth, strive for spiritual pursuits. This country has seen every religion prosper. The Shakti is inside of you – you'll face difficulties but you keep the faith and belief in yourself and your country. And we will be successful."
The consequent address was by Guest of Honor Shri. Kiren Rijiju, Hon'ble Minister of State (Independent Charge) Ministry of Youth Affairs and Sports & Minister of State for Minority Affairs, Government of India. He spoke of his early days as a politician and informed, "I come from Arunachal Pradesh and even the members of Parliament back in the day were not aware of my state. I decided to use my vocal power in the Parliament and started to present myself effectively in the Parliament. I was given the opportunity to speak as a lead speaker for many important bills in the Lok Sabha. But, the more powerful thing than vocal power is mind power." He further explained, "When we dream of making India a superpower, we have to have a vision and a roadmap for it. Today, as a minister for sports in our country, I have prioritized certain things and we have to ensure government supports this but it must also be driven by citizens."
Concluding Address from the Former President of India
The final and the most awaited address came from Bharat Ratna Hon'ble Dr. Pranab Mukherjee, Former President of the Republic of India, who said, "I am indeed very happy to be at the 10th edition of the BCS. An ideal CM is synonymous with good governance in state, carefully developing an efficient system of delivery within a democracy. It calls for the wider involvement of the free society and participation and engagement of youth in the process of democracy. It also calls for ethical and responsible behavior of all sections of society."
Further illustrating on the values of good governance, the former President of India noted, "Good government is essentially dependent on the adherence of law, responsiveness, accountability and corruption-free practices. It is a framework that has the wellbeing of people as its focal point. I hope that some of these values will be your guiding mantra."
Further speaking on BCS, Mukherjee stated, "BCS has become an ever-evolving educational landscape and has successfully captured the imagination of youth while enriching our politics and strengthening our democracy. We have entered the 71st year of democracy and we must continue to protect our democracy and republic. Our Constitution's Preamble set out our way forward and guided citizens for the way forward through the principles of justice, equality and fraternity. And today, as the nation celebrates the 150th birthday of Mahatma Gandhi, our challenge is to envision an India as was the vision of the Mahatma. We must fully participate in the process of governance and I'm sure you will achieve in reliving Gandhi's dream of India."
With these parting words from the former Indian President, the validation ceremony of the 10th edition of the Bharatiya Chhatra Sansad concluded at Vigyan Bhawan in New Delhi.
Follow Punekar News: