PCDA (SC) PUNE CELEBRATED 76TH INDEPENDENCE DAY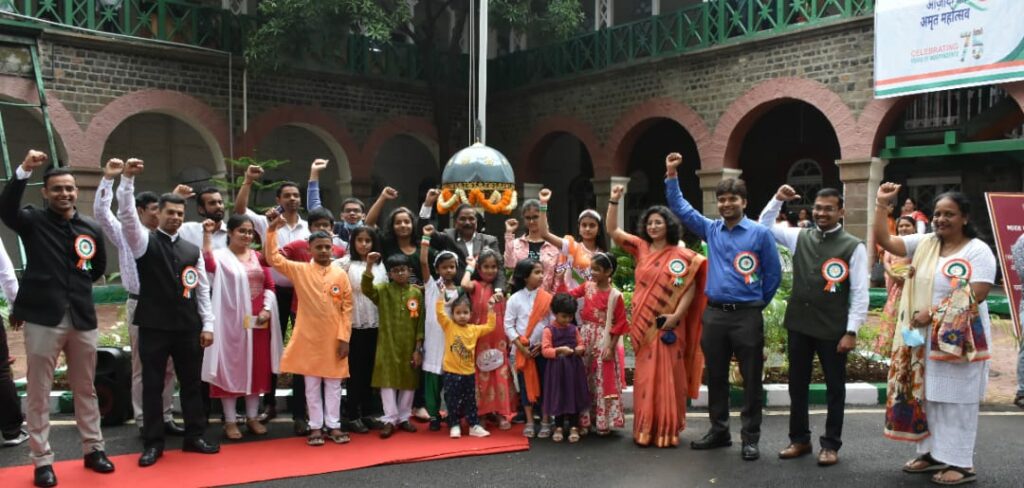 Pune, 15th August 2022: Office of the PCDA (SC), Pune celebrated 76th Independence Day on 15th August 2022 in the Office premises of the office located on No.1 Finance Road, Pune.
The Rashtriya Parv Azaadi ka Amrut Mahotsav began with hoisting of the National Flag (Tricolour) by the Chief Guest, Dr. Rajeev Chavan, IDAS, ndc, Principal Controller of Defence Accounts, Pune followed by recital of National Anthem by all the other IDAS Officers, employees and other dignitaries present on the auspicious occasion of the National Day Celebrations and observance. The Officers who attended the function included Prashant Dubey, DCDA representing the O/o IFA (Southern Command), Pune, Alok Tiwari, ACDA, Swapnil Hanmane, ACDA,S.R.Boid, ACDA. The attendees also included R.Ravi Kumar, SAO (Admin), Bimal Kumar, AO (Admin), Dr. Anil Kudia (Hindi Officer),  R.K.Sharma, AAO(Admin),  D.K.Thakur, AAO (House Keeping),  Ranjan Chakravarty (Secretary, Recreation Club), Brijesh Shukla (ESM, Anchor) amongst others.
Pooja Bhat, Dy.CDA, and Omkar Moghe, Dy.CDA then read out the Preamble of the Constitution of India in Devanagari and English. The Chief Guest paid floral tributes to the Statue of Mahatma Gandhiji and Chhatrapati Shivaji Maharaj.
Smt Pooja Bhat, Dy.CDA in her inaugural address emphasized on the positive changes that have occurred due to mental liberty after the British Yoke was overthrown and India as a young nation was born and awoke to the liberty and freedom from colonial imperial bonds/shackles. She impressed all to honour the glory and enjoy freedom as well as maintain the dignity of newly gained independence.
The Mega National Event was represented by other IDAS Officers with their family. They participated wholeheartedly with great gusto, enthusiasm and national patriotic fervor.
Speaking on the Amrit Mahotsav the Chief Guest in his key note address stated that 'we must be proud to be an Indian and continuously keep ourself deeply engaged in the nation building activity so as to make our country 'Jagat Guru' by 2047. We must remember our forefathers, great freedom fighters and revolutionaries who had scarified their live for the noble cause of our complete independence. We should safeguard the Constitutional Rights, abide by its fundamental duties and maintain the dignity of the nation. The Secular, Socialist, Democratic and National Identity and credentials must be maintained and safeguarded at all times. For our glorious tomorrow, let us please dedicate, devote and donate our today. He further added 'Together we will, together we can'.
Later during the day, the Chief Guest presented awards to certain meritorious students of the DAD family. The staff was given Sweet Box alongwith a sapling to plant in their homes.
On this great day the Chief Guest, Dr. Rajeev S Chavan, IDAS,ndc also inaugurated a SPARSH Service Center in the office premises of PCDA (SC) Pune to augment services to the pensioners and address to their grievances regarding their pension.
Inhouse Cultural performance by the staff of the PCDA (SC), showcasing local talent show studded with patriotic songs viz. Kar chale hum fida…. By Dr. Rajeev Chavan, IDAS, ndc,  Ae mere pyaare watan…. by Alok Tiwari, ACDA, Itni Shakti hame dena data…., Hai preet jahan ki reet sada…. and others, graced the show.
Shri. Omkar Moghe, DCDA proposed a vote of thanks after culmination of the Independence Day Celebrations and proceedings.