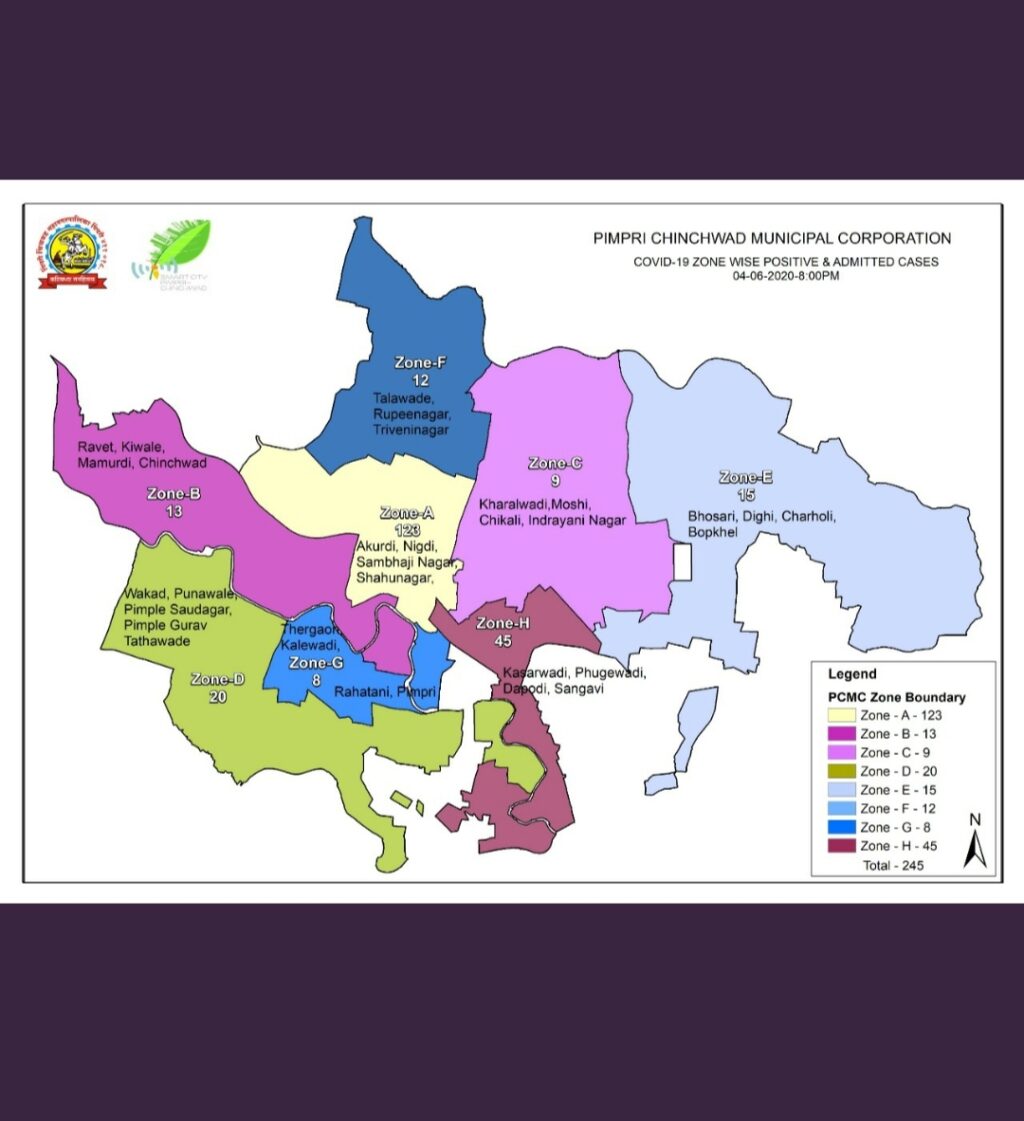 Pimpri Chinchwad, June 4, 2020: A total of 30 people were found COVID19 positive till 8:03 pm on Thursday. As a result, the total number of Coronavirus positive patients admitted in Pimpri Chinchwad Municipal Corporation (PCMC) jurisdiction has reached 635 . Out of total patients, 379 have been cured while 245 are still undergoing treatment. Till date, 11 people have died in the city.
Today 26 persons got discharged from hospitals . The new COVID19 patients found positive today are from Chinchwad (7), Pimple Gurav (2), Dapodi (1), Chikali (1), Charholi (1), Pimpri (1), Bhosri (1), Wakad (7) ,Akurdi (4), Old Sangvi (4), and Phulenagar (1) .
Till date most patients have been found in Chinchwad (225), Pimpri (62), Rupinagar (42) in Nigdi, Bhosari Gaothan area (48), Wakad (31), Old Sangvi (25). Therefore, all these places have become hotspots. However, for the last eight days, the patients here have recovered and started returning home. The administration has instructed all those who have recovered to stay at home for 14 days, i.e. home quarantine.
According to Pune Municipal Corporation (PMC), the total number of Coronavirus positive patients till date has reached 7265 out of which 4505 have been cured while 361 have died. There are still 2399 active patients undergoing treatment in various hospitals. They include 176 critical patients out of which 40 are on ventilator support. Today swab samples of 1441 people were collected for COVID tests. Till now 55,150  people have been tested in Pune city.
Across Maharashtra, there were 2933  new COVID19 cases taking the total number of cases to 77,703, Also, 123 people died while 1352 got discharge from hospitals after being cured. There are still 41,393, active cases. The total death toll stands at 2710, while 33,681 patients have been discharged till date, according to Maharashtra Health Department.
According to the Union Health Ministry, the number of Coronavirus positive patients has reached 216,919 across the country. Out of this, 104,106 have been cured and discharged from hospitals while 6075 people have died and one patient has migrated out of the country. There are still 106,737 active patients undergoing treatment in hospitals across the country.