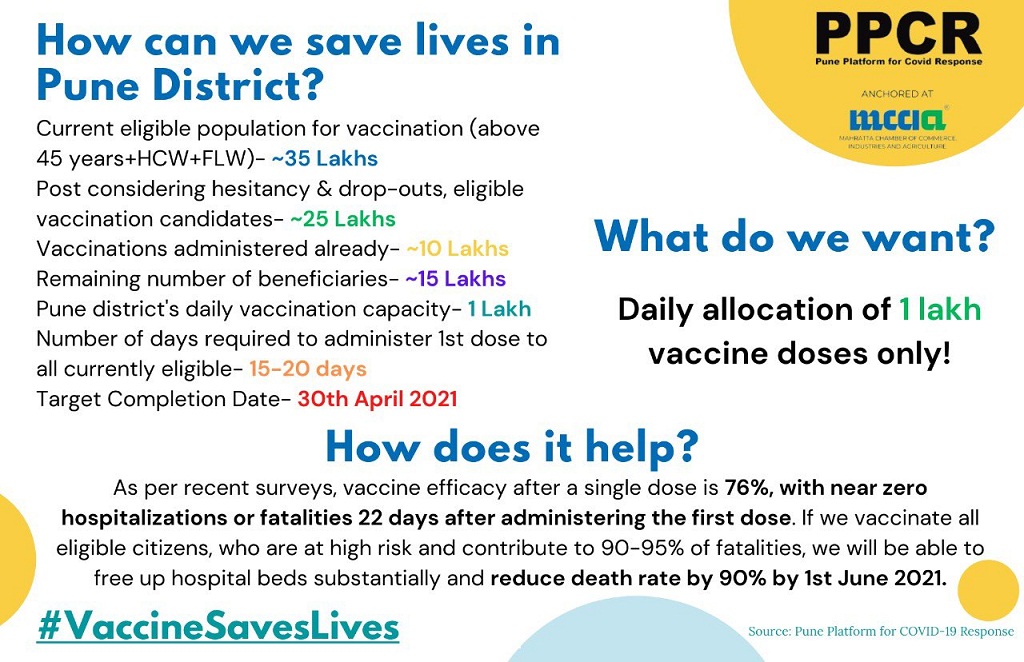 Mubarak Ansari
Pune, 8th April 2021: An online discussion about vaccination drive at workplaces was held today between Municipal Commissioners of Pune and Pimpri Chinchwad and office bearers of Mahratta Chamber of Commerce Industries and Agriculture (MCCIA), a business advocacy and networking group based in Pune.
Pune Municipal Commissioner Vikram Kumar and Pimpri Chinchwad Municipal Commissioner Rajesh Patil informed about the guidelines for vaccination at workplaces. 
Sudhir Mehta-President, MCCIA delivered his opening remarks and assured continued support to the local administration and hospitals. He suggested that the industry and administration could take advantage of this facility of vaccination at the workplace so that both speed and coverage of a larger segment of the population is achieved. 
Prashant Girbane – Director General, MCCIA outlined the context of the meeting and highlighted that more than 25 companies have already shown interest and their data is shared with the administration. Both the President and the DG also outlined the concerns of the industry about the requirement of the RTPCR testing of the industry workers and other segments of the population. They also appealed to the industry that in the meanwhile, they follow all published norms while MCCIA pursues this with the administration and the Government. 
Municipal Commissioners Vikram Kumar and Rajesh Patil assured the industry of all the guidance that is required to undertake this initiative in conformity with the guidelines issued by the Central Government dt 6th April 2021 (available on : https://mohfw.gov.in/pdf/GuidelinesforCOVID19VaccinationatWorkplace.pdf…)
It was clarified that people can now opt for RT-PCR or Rapid Antigen Test. For MSME units – they can team up with some neighbouring units and apply for a vaccination facility at their premises, as long as all other extant protocols are followed. 
Both municipal commissioners also allocated nodal officers for this purpose and their contact details were shared. 
Nodal Officers Vaccination Centres at Work Place: 
For PMC Area – Mr Ashish Agarwal Pune Smart City 09764006478 
Email: Vaccination.campus@gmail.com; Punevaccination.campus@gmail.com 
For PCMC Area – Mr. Nilkanth Poman Pimpri Chinchwad Municipal Corporation Cell : 99225 01908 Email : n.poman@pcmcindia.gov.in Mr. Vijay Vaware Cell : 7057766222 
More than 300 industry participants attended this meeting and conveyed their appreciation. MCCIA highlighted that such communications help to reduce confusion and to increase confidence thereby enhancing compliance. MCCIA promised to continue to organise more such industry administration calls as and when required. Both the municipal commissioners were appreciative of this platform and conversation and appealed one and all to increase the speed and coverage of vaccination and follow all covid appropriate behaviour.
Follow Punekar News: