PH Diagnostic Centre Fined Rs 25,000 For Violating COVID Protocols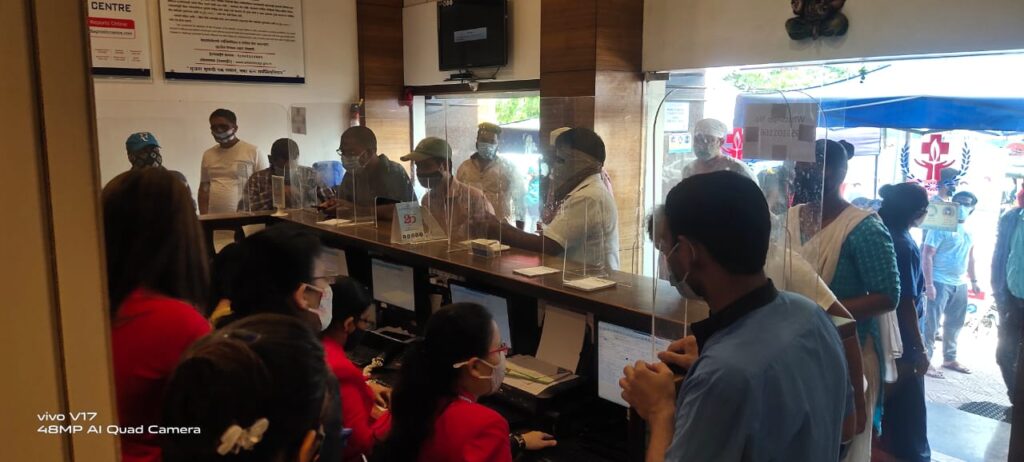 Mrunal Jadhav
Pune, April 13, 2021: The Pune Municipal Corporation (PMC) on Tuesday took action against shops on Pune-Satara road not following COVID-19 protocols on Tuesday. The shops were inspected and instructed about COVID-19 regulations.
PH Diagnostic Centre was also fined as staffers did not wear masks and did not follow social distancing. Around 25 workers at the diagnostic centre located on Pune-Satara road violated the COVID-19 rules. People without masks were fined Rs 1,000, while a total fine of Rs 25,000 was collected from people not following social distancing.
The action was taken by officials from Dhankawadi-Sahakar Nagar Ward Office under the guidance of Assistant Municipal Commissioner Pragya Potdar-Pawar and Senior Health Inspector Raju Dullam Sir and Senior Health Inspector Narendra Bhalerao.
Amol Landage, Dinesh Sonawane, Abdul Karim Mujawar, Nitin Rajguru, Pramod Dhasal, Shantaram Sonawane, Eknath Mane, Dhanaji Navale, Priyanka Kank-Bhintade, and health inspectors were present during the inspection.
Pune Family Suffers Due to Wrong COVID Report By Dr Lal Pathlabs
Marriages will be allowed with a maximum of 25 people
Join our Whatsapp Group and Telegram for each update about Pune and PCMC.
Punekarnews.in is the first and only English language news portal of Pune – the educational and cultural capital of Maharashtra – Pune.
https://t.me/punekarnews
Whatsapp Group
Follow Punekar News: