Pune: Loni Kalbhor Police Station Gets Beat Marshalls For 24-Hours Patrolling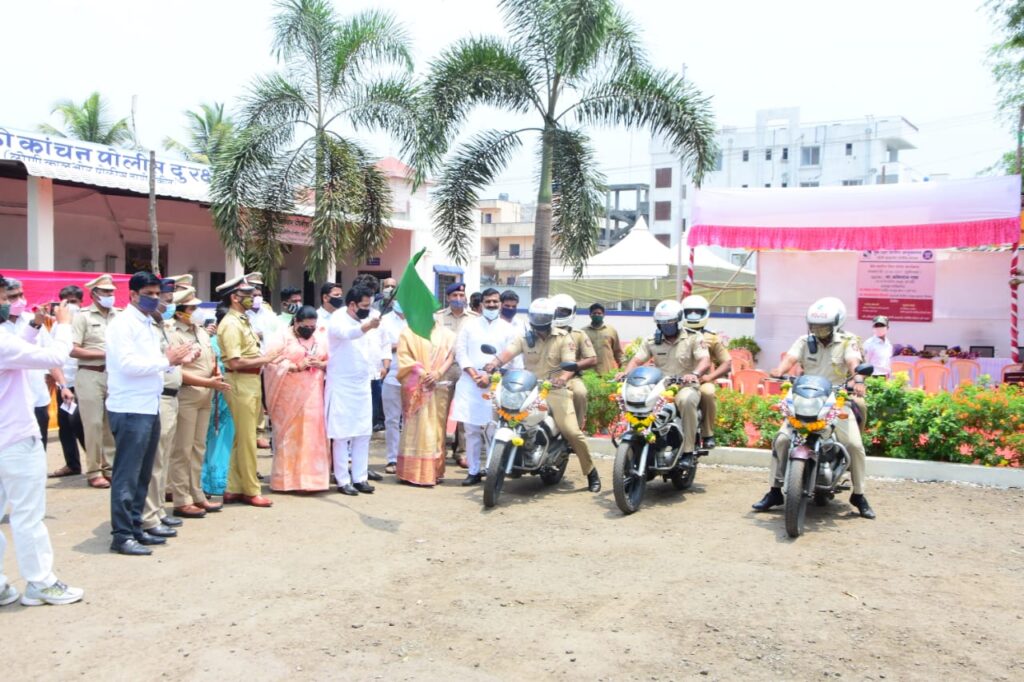 Uruli Kanchan, April 13, 2021: On the occasion of Gudhi Padwa, Loni Kalbhor police station got three beat marshalls team for patrolling in Loni town, Uruli Kanchan and Uruli Devachi. They will be the first responder to any incident after the police control room gets any information about any incident.
Police Commissioner Amitabh Gupta, DCP (Zone 5) Namrata Patil, ACP (Hadapsar division) Kalyan Vidhate, Senior Police Inspector Rajendra Mokashi, Uruli Kanchan Sarpanch Santosh alias Pappu Kanchan, Deputy Sarpanch Sankita Kanchan, Panchayat Samiti member Hemalata Badekar, District Planning Board Member Santosh Kanchan, and others were present for the occasion at Uruli Kanchan police outpost.
Loni Kalbhor police station was included Pune city police commissionerate from Pune rural police on 22 March.
Know What Is Allowed, Not Allowed During Lockdown Between April 14 And May 1
Police Commissioner Gupta said that since coming under the Pune city police, Loni Kalbhor police station has been staffed with 50 percent of the sanctioned strength. The rest of the police personnel will be sent in phases within six months.
Meanwhile, people parking their vehicles near the Loni station, Kunjirwadi, and Uruli Kanchan will face action. The police aim to eradicate traffic congestion on the Pune-Solapur highway, besides eradicating crime within the area under the Loni Kalbhor police station, informed Commissioner Gupta.
"After Lonikand and Loni Kalbhor police stations included in Pune city police jurisdiction, separate studies on crime, traffic, financial and cybercrime are underway in these two police stations. As soon as the information is analyzed, strict action will be taken against the culprits", Gupta said.
20 guntha will be provided for Uruli Kanchan police outpost
Uruli Kanchan Sarpanch Santosh alias Pappu Kanchan assured Commissioner of Police Gupta that 20 guntha of land within the limits of Gram Panchayat will be provided for Uruli Kanchan police outpost.
Suspense persists over Uruli Kanchan police station
Gupta said a proposal has already been sent to the government to make Uruli Kanchan a separate police station. With the division of Loni Kalbhor police station, an independent police station will be set up at Uruli Kanchan. However, the government has to spend Rs 8 crore to set up a new police station. Also, the whole process is expected to take at least 10 months to complete. However, this period can be further extended by the second wave of the COVID-19 pandemic. Uruli Kanchan police station may remain under Pune rural police.
Marriages will be allowed with a maximum of 25 people
Join our Whatsapp Group and Telegram for each update about Pune and PCMC.
Punekarnews.in is the first and only English language news portal of Pune – the educational and cultural capital of Maharashtra – Pune.
https://t.me/punekarnews
Whatsapp Group
Follow Punekar News: