PMC Supported, 'Mini Lighthouse' In Kothrud Providing Skill Training For Free, Completes One Year

Pune, 11th July 2022: On 1st July 2021, Kothrud 'Mini Lighthouse' started operations to provide skill and livelihood-related training to underprivileged youth aged between 18 and 30 years.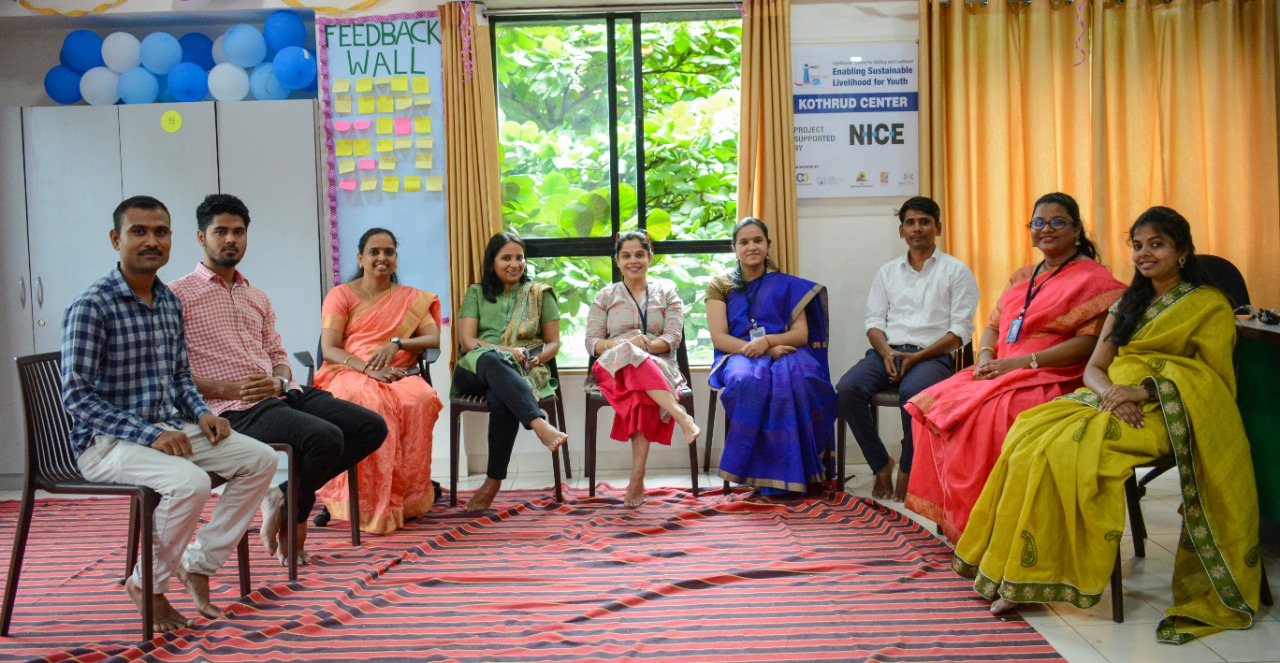 The 'Lighthouse' supported by Pune Municipal Corporation (PMC) and Nice Technologies completed one year of operations recently. It trained about 300 youths who have completed the Foundation Course – an activity-based course on understanding self, identifying one's strengths and weaknesses, and the feasible opportunities to make an informed career choice. Till date, 80 youths have been placed in jobs.
Bhavana Pagar, Centre Head, Lighthouse Kothrud said, "The youths who come for the Foundation Course have very low self-confidence and lack good communication skills. They are not able to express themselves. With the activities of the Foundation Course, we help them build their confidence and interview skills."
Deepika Kedia, Operations Head, Lighthouse, Maharashtra, said, "More than 100 students from the above 200, have also taken up different skill courses to enhance their chances in the job market. 40% are pursuing courses in healthcare and accounting. About 80 students have also joined employment with an average income of Rs 10,000."
Tripati Gupta, Senior Manager (Global Talent Center) at Nice Technologies, which sponsors the Lighthouse, said, "There are no shortcuts to success. We are all bound to succeed if we face our struggles with grit and determination."
Case Studies:
(1) Ratnamala Sasane (24) lives with her husband and daughter in the Sahyog Nagar slum. Her husband is engaged in the waterproofing business and is the chief wage earner. She has completed her education till the 10th.
She got to know about the Lighthouse through one of her friends. She got enrolled in the Lighthouse and completed the Foundation course. Lighthouse was a whole new platform and experience for her, which she was never exposed to before. She had to come out of her comfort zone and learn new things through various activities. This course helped her improve her presentation and communication skills.
Before coming to the lighthouse Ratnmala was intimidated by the English language. Spoken English classes helped her to become more comfortable with the language. Now she can understand and grasp what is being said in English.
After counseling, she enrolled in the Nursing Assistant Course. She completed the course in June 2022, and also successfully finished 5 months of internship in Shaswat Hospital with Rs 6000 per month as a stipend. She got guidance and motivation from the Lighthouse team to complete her 12th education so that she can upskill and move into the next stages of the nursing course which requires higher educational qualifications. She has taken admission to a college in her village for completing 12th. She also has applied for a job in Ingale Hospital in the Kothrud area and is now waiting for the result.
(2) Lingaraj (22) is from the slum community of Sawkarwadi in Pirangut. He resides with his mother who is a Pickwick biscuit factory worker and his father who is a fabrication worker. He has completed his graduation with a B.Sc degree in Computer Science. He has also been admitted for post-graduation.
He came to know about the Lighthouse through one of his friends. Lingaraj was facing challenges in getting job opportunities because of poor communication skills and limited knowledge of the JAVA language. According to him, there was no platform for self-improvement or self-reflection in his life so far. Foundation Course activities helped him to improve his self-confidence and also his exposure with regards to possibilities in various industries.
Spoken English class helped him to improve his English communication knowledge and Digital Empowerment helped him to understand how one can operate various websites which are important to create documents that one requires daily.
After counseling, Lingaraj chose to do Core Java as a skilling course and has completed the same. Lighthouse helped him to get an internship opportunity as a Multi Coding Engineer in MNC Gunn Solutions India Pvt Ltd with a stipend of Rs 12,000. This opportunity was given by Lighthouse alumni who work in the same company. Lingaraj will be doing an internship for 3 months and after that, depending on his performance he will be on the company payroll.