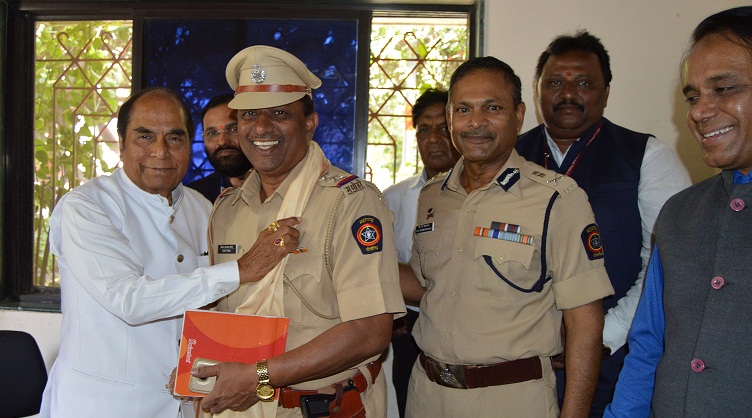 Pune – A police chowky was recently inaugurated by Padmashree Dr. D Y Patil and Pimpri-Chinchwad Police Commissioner RK Padmanabhan at the Ajeenkya DY Patil University Campus, located in Charholi near Lohegaon, Pune. The Police chowky will be under Dighi Police Station, Pimpri Chinchwad Police Commissionerate.
Considering the fact that there is no police station nearby to report any wrongdoing or issue in case of any mishaps or any hint of trouble brewing in the vicinity, this police station will definitely serve as a crucial and monumental support system for the residents and the students especially.
Dr. Ajeenkya D Y Patil, Ajeenkya D Y Patil University(ADYPU), Chairman, opined, "Safety and security of our students, teachers and other personnel is our primary concern. This police chowky will provide the much needed support to ensure the same. The immediate residential neighbourhood will also benefit tremendously by this development."
"Ajeenkya D Y Patil University has a huge intake of students and staff nearing 10,000 for different streams; which includes nearly 60% of women working in the organization and the girl students studying here. Considering the area of the university and other residential projects in Charoli area which are rapidly on the verge of completion, the "safety" has to be the primary concern. Thus, this police station will instill a sense of faith in the minds of the people who are concerned about the safety in this locality", observed Dr. Kamaljeet Kaur Siddhu, Director of Corporate Affairs, ADYPU.
Speaking on the occasion, Dr. Eknath B Khedkar, Vice Chancellor for ADYPU said, "It is a great step bearing in mind the number of students crowd in this area: their safety is the utmost important factor for us. I extend my gratitude to all the officials who took this initiative to build the police chowki. It is not just about safety but the students will even be careful regarding their actions and activities henceforth."